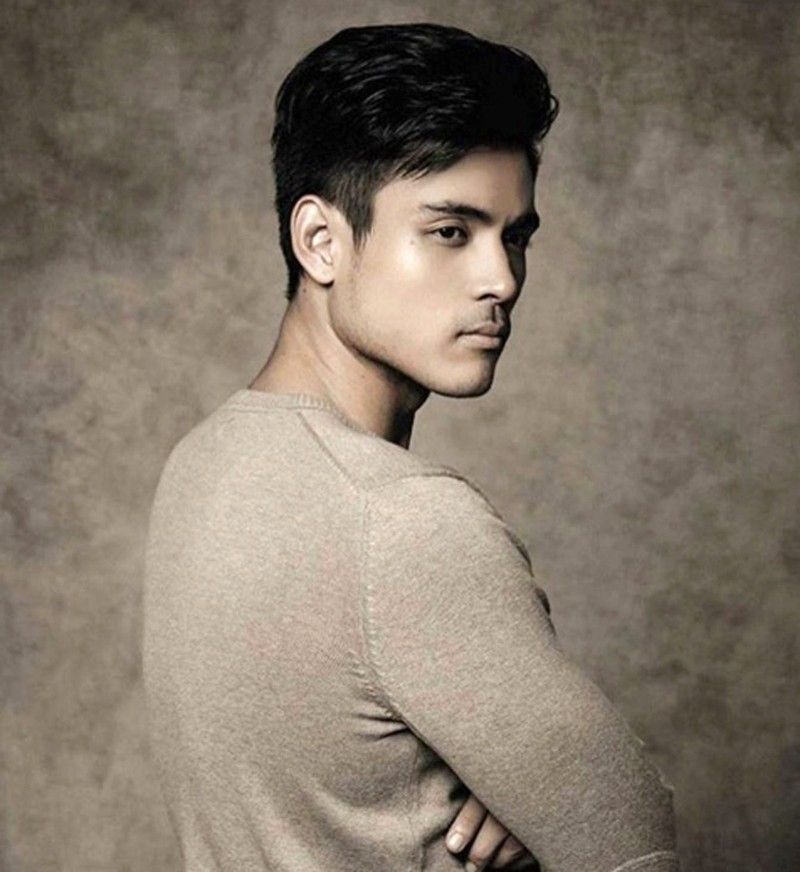 Xian Lim directs the mystery-crime about a man who comes back to the province to figure out what happened to his father
Photo from Xian Lim's Instagram
Jerry Donato
(The Philippine Star) - July 13, 2019 - 12:00am
MANILA, Philippines — Tabon, a 2019 Cinemalaya Philippine Independent Film Festival entry, uncovers the truth buried by three competing versions of truth. Along the way, it also somehow questions the quality of truth one knows.
Helming the mise-en-scene is Xian Lim, who also acts as the film's executive producer and co-screenwriter (the other is Eseng Cruz). It is the actor's first foray into directing a full-length film and at the annual filmfest. Cinemalaya turns 15 this year.
"It's a whodunit, mystery-crime," said Xian of the hybrid genre of his narrative during a recent group interview. It followed the festival's media call. The main characters Ian (played by Christopher Roxas) and his wife Erika (Ynna Asistio) "journey back" to the former's hometown to figure out the death of his father, perhaps to look for leads (like going back to the trails and piecing together the puzzle) and to make sense of the this and the that.
"I would say... three to four years ago," replied Xian when asked about how the concept began its way into words. "That was the first time na nag-lay yung pen sa paper." On hindsight, Xian shared that the inspiration initially came into being in his "me-time" adventure of hiking and biking. "And I told myself, 'Why don't I try (writing about it)?' Medyo dun nanggaling (yung) inspiration (ko)." This was the time when Xian had no intention of attending Ricky Lee's scriptwriting class (which he did later on) nor attempt to submitting his work for Cinemalaya.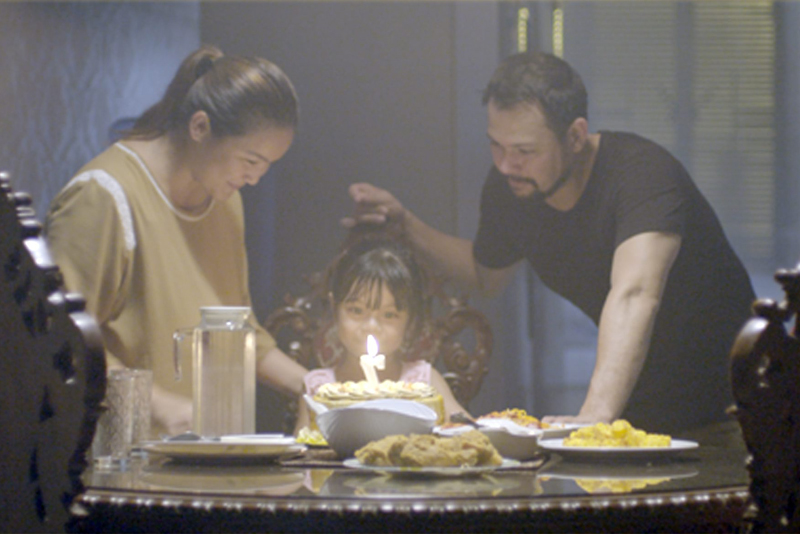 Ynna Asistio and Christopher Roxas in a scene from one of the 10 full-length feature entries at this year's Cinemalaya Independent Film Festival
"When I was writing, to be completely honest, I wanted a concept that revolved around a cave," he recalled. "Ganun lang ka-simple. I've always had this fascination, (that) there's a mysterious element in a cave." This reminds one of Nick Joaquin's Cave and Shadows. Do you remember the case of Nenita Coogan?
With the "A-man-coming-back-to-the-province-to-figure-out-what-happened-to-his-father" plotline, Akira Kurosawa's Rashomon structure also comes to mind. "That's also one of the inspirations," said Xian, who utilized flashback for a limited cinematic purpose and assured that "nanduon pa rin yung three acts structure, madali (itong) masusundan."
As for the genre, Xian reminisced his spare time spent with his mother. "I think when I was young, I've always been influenced by my mom, mahilig talaga siyang manood ng films in our pastime, ang mga pastime talaga namin ay manood ng mystery, thriller, suspense. That's our favorite. Even in our house, ang mga librong nakakalat ay mga Sidney Sheldon… yung ganong tipo. I always had that love for mystery."
When asked if his decision to become a director is part of his natural progression as an artist, Xian had this to say: "As an actor, deep inside, mayroon kaming sinasabi sa sarili namin na kung ako ang gumawa nito, (I think) I would do it this way. If I were given the opportunity (to direct that scene), this is how I would execute it. Part of me also, yun din ang pinanggagalingan." He directed the music video of his Star Records track, Getting to Know Each Other, and Mara and Isabel Lopez in the short, A Love Story, about a dysfunctional mother-daughter relationship.
How is Xian as a director?
"(What I liked about working with him was) work was easy (sobrang gaang lang)," Ynna answered. "He was open to suggestions. He would ask everyone, like 'Do you think this is OK?'... Since he is just starting (in directing), he asks for our suggestions for the movie to (be better) and for other ways of doing things, malaking bagay na open siya... he is willing to learn. Every time we had a shoot, we learned something different from each other." Ynna and Christopher were happy about Xian's directorial stint.
Benjie Felipe, also a star of Tabon, described Xian as observant and persevering — and an artist.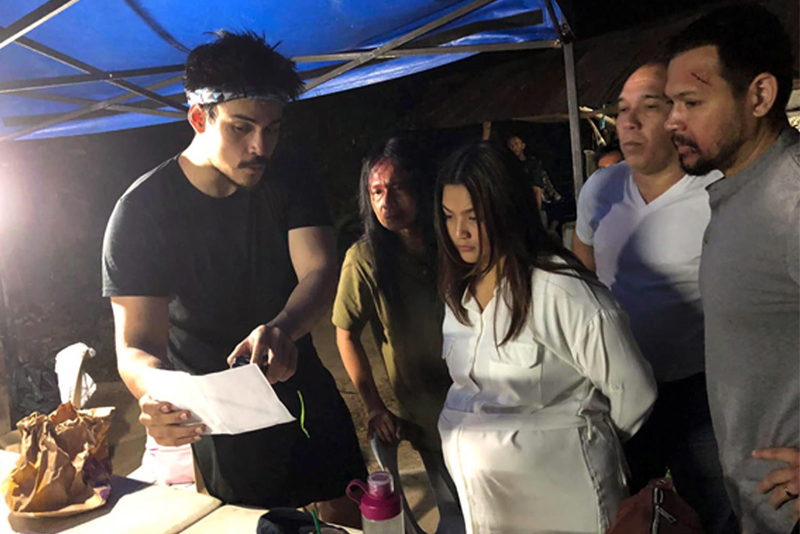 Director Xian gives last-minute instructions to actors and production crew
"We all have mystery in our lives... lahat ng character ay may mystery na dinadala, and it's for the audience to discover each mystery," shared Benjie, who considered the three suspects in Tabon as metaphors, about the movie experience cineastes and the public will look forward to.
"I think it also appeals to the belief of people, kaya rin ako naglagay ng element ng tatlong suspects," added Xian, "Which one is telling the truth? With so much information we have and we are able to access, sino ang may karapatan? Sino ang (dapat) paniwalaan (who is in the privileged position?)"
Given that, what's truth to Xian, Ynna and Benjie?
"What is truth to me is what I believe in," said Xian. "Yun yung masasabi ko na with conviction na totoo, at the same time, yun nga eh babalik tayo dun sa paano yung opinyon mo, it wouldn't be fair to say that this is true. I think that's the huge part of the film."
Ynna agreed with Xian by saying, "I would like to add that in real life — na hindi naman tayo nag-ju-judge ng tao, I would ask (sometimes) how true this friend of mine is (to me), then the mysterious (aspect comes into the picture)." Benjie shared that it all boils down to "content, ano ba yung storya na ginawa nyo, the context… the creator's credibility."
Xian, the director, who completed shooting the film for nine days, concluded that the title, Tabon, means "more of a cover-up," and for sure, he is open to the idea that audiences may give it a new interpretation.
(Cinemalaya entries will be screened from Aug. 2 to 11 at various venues of the Cultural Center of the Philippines. After, they will simultaneously be shown on Aug. 7 to 13 at select Ayala Cinemas and Vista Malls in Manila, Pampanga, Naga and Legaspi in Bicol, Bacolod, Iloilo and Davao. The other full-length features are ANi (The Harvest) by Kim Zuniga and Sandro del Rosario; Belle Douleur (Beautiful Pain), Joji Alfonso; Children of the River, Maricel Cabrera-Cariaga; Edward, Thop Nazareno; Fuccbois, Eduardo Roy Jr.; Iska, Theodore Boborol; John Denver Trending, Arden Rod Condez; Malamaya (The Color of Ash), Danica Sta. Lucia and Leilani Chavez; and Pandanggo Sa Hukay, Sheryl Rose Andes. For details, visit www.cinemalaya.org or www.culturalcenter.gov.ph.)