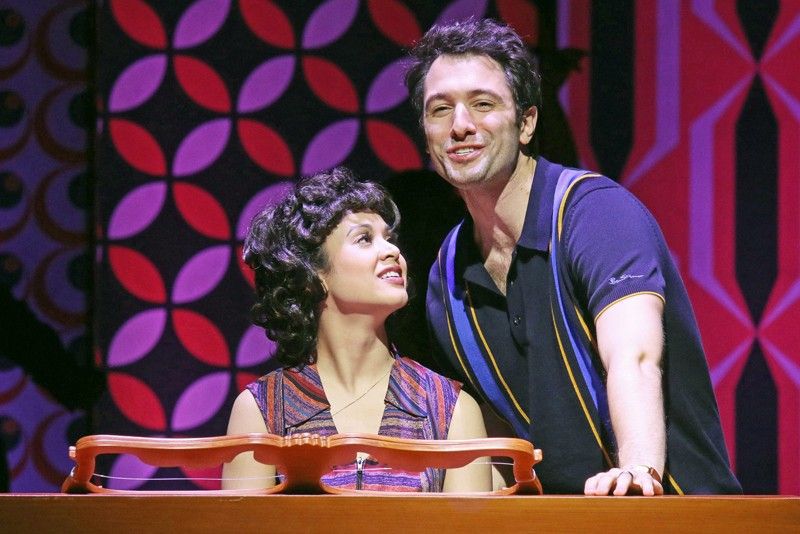 Kayla Rivera as Carole King and Nick Varricchio as Gerry Goffin, Carole's first husband and songwriting partner in Beautiful: The Carole King Musical
Carole King's Beautiful is a big, memorable throwback
MANILA, Philippines — After Atlantis Theatrical Entertainment Group (ATEG) kicked off its 20th anniversary season with Tony Kushner's Angels in America: Millennium Approaches last March, Beautiful marked the second show in Atlantis' anniversary presentation.
The musical, based on the life of Grammy Award-winning singer-songwriter Carole King, recently debuted onstage at Meralco Theater. The last time Atlantis staged a production at Meralco Theater was Matilda in November 2017. This time around, for its 20th season, Atlantis apparently left no stone unturned in presenting a major musical.
Kayla Rivera breathes life into the character of Carole, a role originated in Broadway by Jessie Mueller, who won the Tony Award for Best Lead Actress in a Musical in 2014. It is Kayla's biggest theater role to date. The Canada-based actress played Violet Hilton in last year's Atlantis production of Side Show, opposite fellow Beautiful cast member Gab Pangilinan.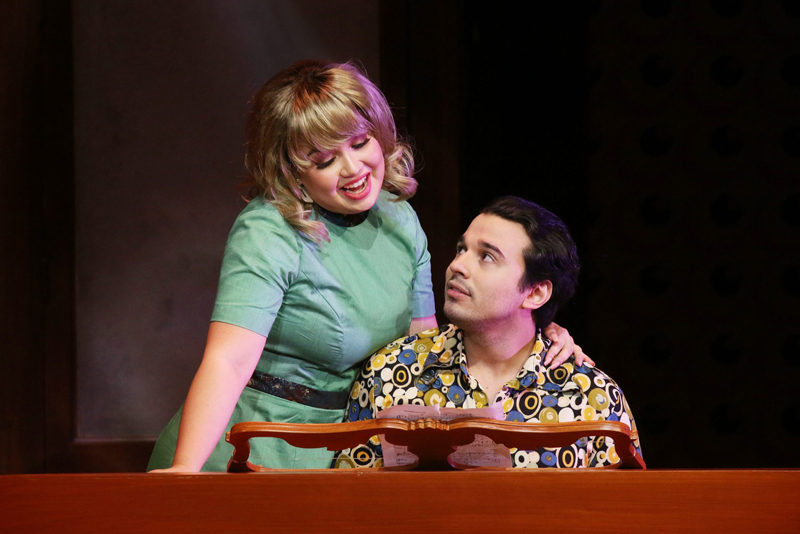 Mikkie Bradshaw-Volante as Cynthia Weil and George Schulze as Barry Mann
It is simply brilliant how Kayla was able to essay the true-to-life role of Carole. Kayla certainly knows the songs popularized by the singer-songwriter, but Kayla wasn't even a speck in her mother's womb, when those songs were penned and became popular.
Yet, Kayla rose to the challenge and delivered maybe even more. Beautiful was, for lack of a better word, inarguably beautiful.
The timeline of the jukebox musical highlighted how a 16-year-old Carole Klein made a name for herself as Carole King, with her songs that made up the score of Beautiful. The entire story told in flashback, started with Carole performing the haunting So Far Away as a successful solo artist in Carnegie Hall in New York in 1971.
Then, the story shifted back to 1958, when a hopeful Carole tried her luck as a songwriter in New York City's 1650 Broadway. She met Gerry Goffin, lyricist, songwriting partner and her first husband. Together, they wrote more than a dozen hits.
The story tracked how Carole admirably intertwined songwriting with love and marriage to eventually taste success, despite experiencing heartbreak when her hubby fooled around and cheated on her. Nick Varricchio played Carole's hubby.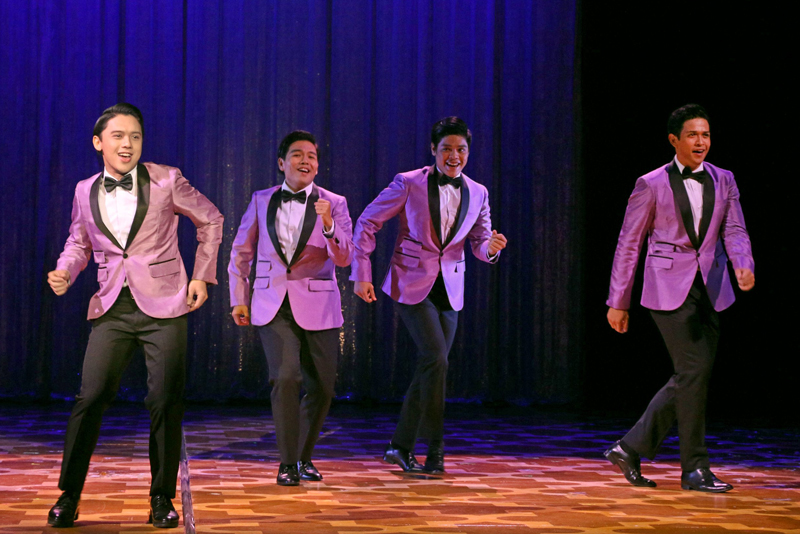 The Drifters
Even the couple's nanny/babysitter eventually rose to fame in the story, becoming a pop star in her own right singing Carole and Gerry's upbeat hit, The Locomotion.
The lead actors in Beautiful had no alternates. So even on a weekend, they had to do matinee and evening shows. Collectively, they brought so much heart into the show performing popular songs one after another — from the 1950s to 1970s.
The Drifters (with Tim Pavino, Arman Ferrer, Markus Mann and Jep Go) and The Shirelles (led by Gab Pangilinan with Maronne Cruz, Gabby Pineda and Alex Reyes) sang and danced in their colorful outfits. They were rewarded instantly. The audience was singing and clapping to many familiar songs and unforgettable classics — Will You Still Love Me Tomorrow and You've Lost That Loving Feeling.
Jukebox musicals are understandably formulaic. Yet, a number of other songs in the musical were the show's biggest draw — One Fine Day, Take Good Care of My Baby, Up On the Roof, It's Too Late, You've Got a Friend, Oh Carol, (You Make Me Feel Like A) Natural Woman and the title track, Beautiful, rendered towards the end.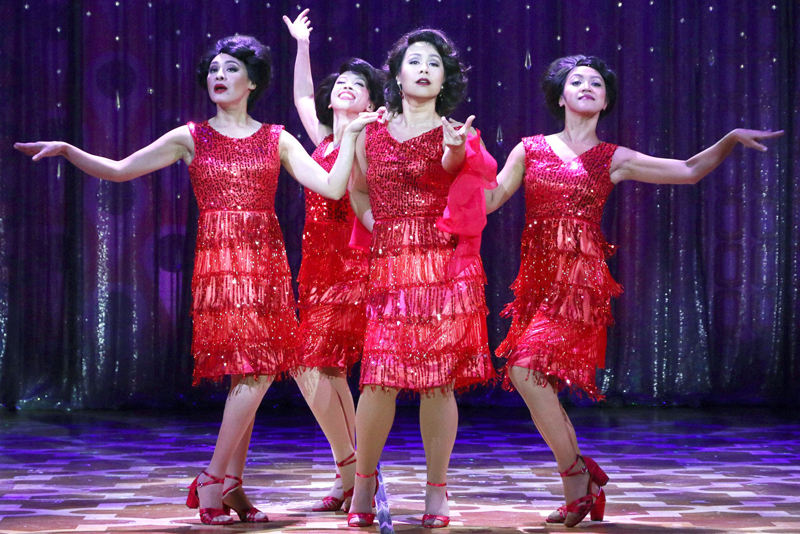 The Shirelles
The show soared on its own and successfully lifted the spirits of the audience with Carole's original music. Credit also goes to Carole and Gerry's fellow songwriting duo, Barry Mann and Cynthia Weil, played by George Schulze and Mikkie Bradshaw-Volante, respectively. The duo was amusing and had a number of scene-stealing moments.
Director Bobby Garcia unmistakably delivered a big, memorable throwback with Beautiful that will be appreciated even by the younger generation.
Beautiful: The Carole King Musical runs until July 7 at the Meralco Theater, with 8 p.m. shows from Fridays to Sundays, with 2 p.m. matinee on Saturdays and Sundays.