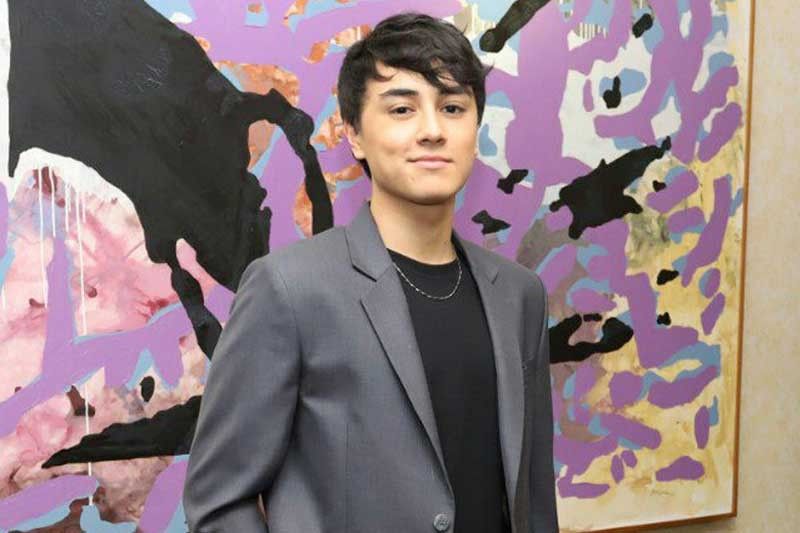 Edward nandez on Iking: He is kind and very respectful; in any form of life, he is very caring.
Edward gets biggest TV break
MANILA, Philippines — Edward Barber, as Iking, is the other half of the bat brothers in the Kapamilya Sunday night fantaserye, Hiwaga ng Kambat. He considers it his biggest break on TV. His first foray into movie-making was Loving in Tandem, with, of course, perennial loveteam mate Maymay Entrata.
Although Maymay is part of the fantasy series, Edward seems to take the spotlight this time around. After all, the main narrative revolves around his Iking and Grae Fernandez's Mateo. Their characters are twins who got separated at birth. They are destined to live apart and become mortal enemies.
"(My character) was adopted and raised by Aling Panying (played by Malou de Guzman)," Edward said of Iking's storyline and character arc in a recent media conference. "He's half-bat, half-human. When it's dark (like evening), he transforms into a whole bat complete with wings, sharp yung ngipin (niya), mas malaki na yung tenga (niya)." The Pinoy Big Brother: Lucky Season 7 fourth placer is in full-body prosthetics every time Iking shows this unknown side of him. It takes an hour and a half for the make-up and costume team to completely create and recreate this look of Edward.
"My character is the silent type, kind and very respectful to people around him; in any form of life, he is very caring and protective of his loved ones," he added. "Kahit tahimik siya, if someone attacks his circle (of friends) or loved ones, he will be stepping up to protect them."
Like the nocturnal creatures that we know, Iking is blind during daytime but can somehow see during nighttime.
"Everybody (in school) knows his condition," shared Edward of his character, who has become the butt of a joke. "He has web hands."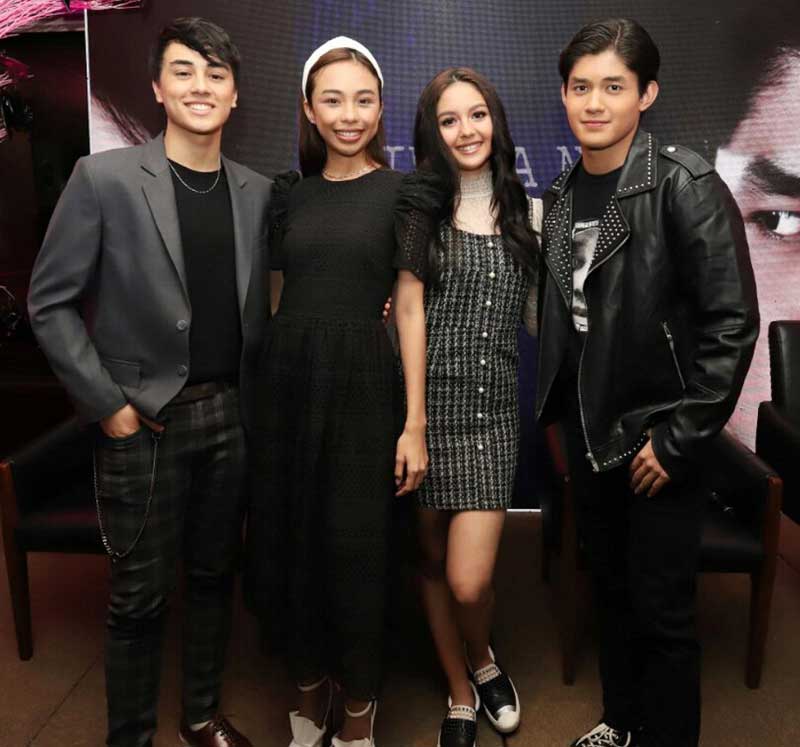 With Hiwaga sa Kambat co-stars (from left) Maymay Entrata, Chantal Videla and Grae Fernandez.
As for Iking and Mateo's "shared realities," Edward said, "Both of them have the characteristics of a bat. Mine is more of physically. Iking, despite of his blindness, has echolocation. Though he can't see literally, he can still see kumbaga." Grae, on the other hand, said that Mateo has special abilities like possessing a prolific eyesight. So he is good at firing (a gun) and shooting a bow, and arnis, the Filipino martial arts.
Similar off-screen, Iking has a reliable friend in Sarah (portrayed by Maymay).
"My character is a childhood friend of Iking," she said. "They grow up together and become scholars in (their dream) school and meet the characters of Chantal (Videla as Loraine) and Grae (Mateo). She does not know his secret — that he is a bat."
Asked if they are open to the possibility that they might be working with other stars and in separate projects, Edward said, "It's good and we're happy to learn separately and grow, kasi siyempre if we grow separately and then come back together, mas malakas kami (as a loveteam and as a) partnership as well." To be a success in their craft, Edward said they have to "always challenge yourself." Maymay agreed with Edward by saying, "We need to grow. Love na love ko yung sumuporta sa artista."
Based on the first two episodes, the romance somehow takes a backseat and focuses on the tale of brotherhood and family. Again, Maymay doesn't mind playing a supporting role, especially in a TV series being headlined by Edward. Maymay has the privilege of seeing first-hand how her on-screen partner has improved leaps and bounds from the time they left the PBB house and began their showbiz careers.
For Hiwaga ng Kambat, Mayway is witness to the sacrifices Edward has made to look and play the part. According to her, he attended a workshop and a training to learn the nuances of a bat and techniques of arnis and would go to the gym. The challenge for Edward and Grae is to show the authentic arnis techniques in Hiwaga ng Kambat.
Aside from the individual stories and the pairings of MayWard and Grae and Chantal, what the televiewers, especially the young ones, can look forward to are the lessons that Hiwaga ng Kambat can share with them.
It's respect for parents, siblings, classmates and any form of life, said Edward. "Give respect to anyone you come across," he added. Grae spoke of parents being appreciative of their children. Maymay reminded everyone of not being judgmental. Chantal and the rest emphasized the importance of family and having a sense of brotherhood.
(Hiwaga ng Kambat airs before Idol Philippines on ABS-CBN. For updates, log on to abscbnpr.com and follow @abscbnpr on Facebook, Twitter and Instagram.)