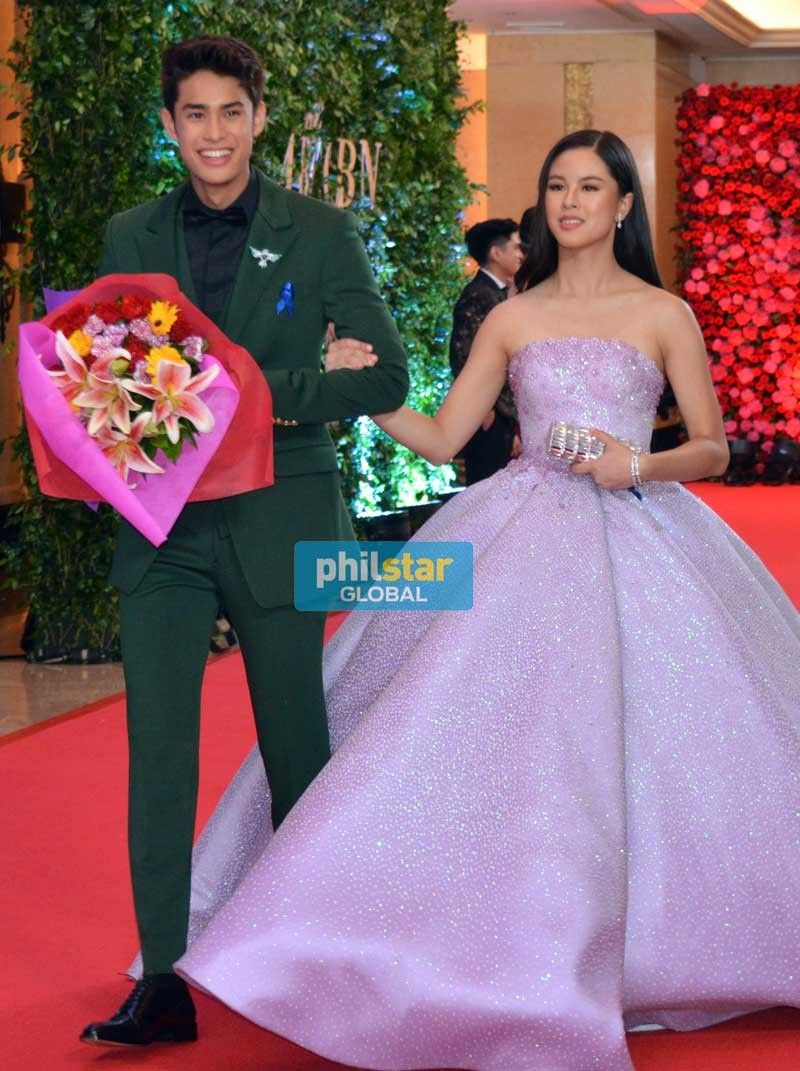 Making a handsome pair with Donny Pangilinan, her screen sweetheart, at the 2018 ABS-CBN Ball.
Ver Paulino
Kisses expects suitor(s) to possess dad's qualities
FUNFARE
-
Ricky Lo
(The Philippine Star) - January 10, 2019 - 12:00am
If ever Kisses Delavin seriously entertains a suitor, for sure the guy should possess the qualities that Kisses loves in her dad ­— loving, faithful and forever true. Kisses is turning 20 (on May 1) and yet, her parents, Gilbert and Carrie Delavin, would rather that she concentrate on her career for the meantime and let love wait.
It's understandable why Kisses' parents are protective…reasonably so. Carrie suffered seven miscarriages and lost a premature baby. After she was born, Kisses had to be put in an incubator because for a while she stopped breathing. That's why when she joined PBB (Pinoy Big Brother), Kisses was called The Miracle Baby of Masbate.
"My premature sister's name was Keithleen Gracerie; she was born on my mom's sixth month of pregnancy," related Kisses. "My dad took care of my sister at a hospital in Manila while my mom took care of me while running our business in Masbate. It was a tough time for us. Keithleen lived for only one year and eight months and she was a warrior."
Remaining an only child, Kisses grew up in a family full of love.
"My mom and my dad define what love is," Kisses told Funfare. "That's what I saw when they renewed their vows to mark their 25th wedding anniversary in Seoul where we spent the Christmas holidays. Their anniversary was on Dec. 26 but their renewal of vows was done on Dec. 29 at the St. Francis Catholic Church at Yongsan-gu. I was their official photographer and videographer."
Kisses knows by heart her parents' love story.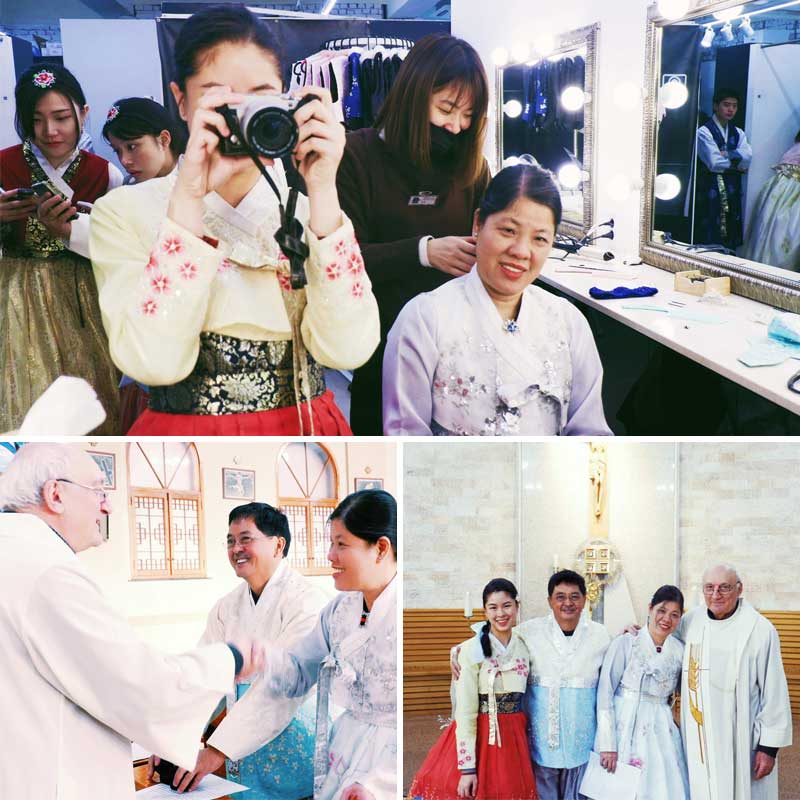 Kisses Delavin acts as photographer/videographer when her parents, Gilbert and Carrie Delavin, renewed their vows on their 25th wedding anniversary at a Catholic church in Seoul. Father Gian
Carlo was the officiating priest.
"My dad was 31, a handsome good man. He went to the miraculous church in Tiwi, Albay, to tell God that he wanted to settle down and have a family. He asked for God to guide him.
"He got a bit thirsty and looked for an ice-cold Coke. He passed by one sari-sari store but it didn't sell Coke so he went to another nearby sari-sari store where he saw my mom who was 27 and a hard-working simple lady. Right there and then, my dad recalled that he felt 'something.'
"My mom gave him the ice-cold Coke and was taken aback when my dad blurted out, 'Babalik ako.' My mom told me that as soon as my dad left, all the girls at the store started gushing about him, wondering kung sino ang 'babalikan.'"
After a few months, Gilbert kept his promise and came back.
"He asked my mom out and began courting her. He was working in Manila but he would travel every month to Albay just to see her and prove his love. The courtship lasted for one year."
Gilbert and Carrie got married at the St. Michael The Archangel Church in Legaspi City.
"After 25 years," continued Kisses, "they act as if they are still in the courtship stage."
Asked if she expected Donny Pangilinan, her loveteam-mate and predicted to be the "right guy" for her, to be as romantic and as determined as her dad, Kisses only smiled. Nope, they are not an "item"…yet.
"My dad is the coolest, aside from being the most devoted husband," Kisses said. "He is witty, funny, inspiring, selfless, expressive of his love, kind, sweet, pro-active, a leader, a man of his words, a bookworm. Most important of all, he is a man of God. He raised the standards so high, loves me and my mom so deeply, that I can't even think of suitors anymore."
The stars are aligning for Romy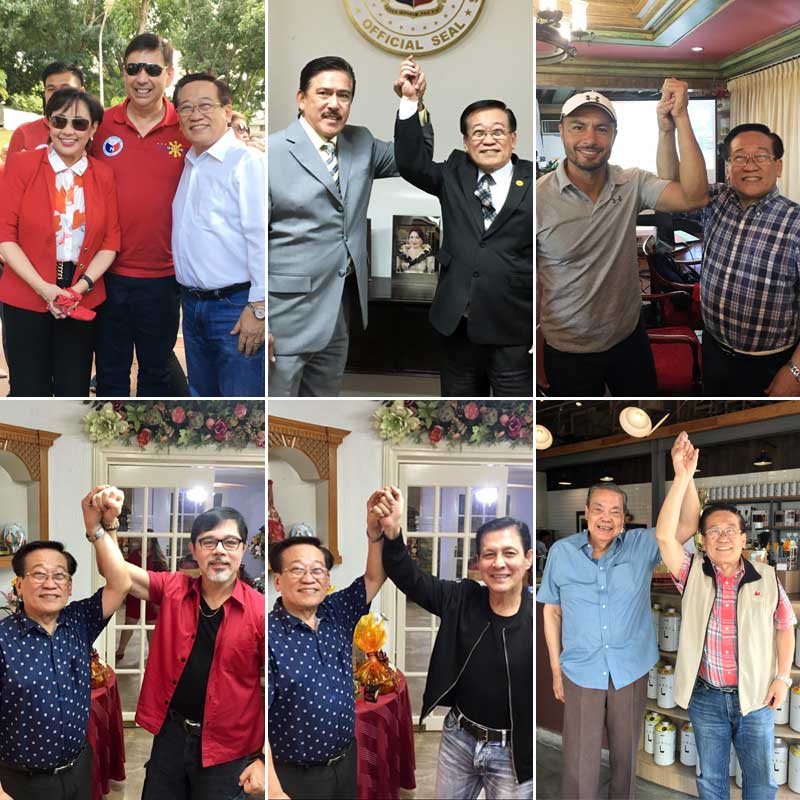 Election lawyer Romy Macalintal being endorsed by stars on his bid for the Senate in the midterms this May, clockwise from top left: Batangas Rep. Vilma Santos and husband Sen. Ralph Recto, Senate Pres. Tito Sotto, Derek Ramsay, former Sen. Eddie Ilarde, Tirso Cruz III and Christopher de Leon
The stars in the movie firmament are aligning for election lawyer Romy Macalintal who is running for senator in May's midterms.
Even before he filed his Certificate of Candidacy (COC) in October last year, Romy was already endorsed by Batangas Rep. Vilma Santos and her husband, Sen. Ralph Recto.
Romy has been attending various events where he met other celebrities who, upon knowing that he's running, did not hesitate or had second thoughts in expressing their support. They even agreed to raise his hand. Among the others were Senate Pres. Tito Sotto, Derek Ramsay, Christopher de Leon, Tirso Cruz III, Rep. Yul Servo, together with former Sen. Eddie Ilarde; former Crispa player Rey Franco, and former Caloocan City Mayor Rey Malonzo.
Romy champions senior citizens who make up a considerable number of voters.
Statement from
MMFF/MMDA chairman Danilo Lim
As the Metro Manila Film Festival (MMFF) 2018 closed on Tuesday (Jan. 7), we thank everyone who participated and supported the biggest and longest-running local film festival in the country.
Despite the incessant rain during the holiday season, we braved and survived the storms and have created new records:
1. The 44th MMFF surpassed previous Christmas and New Year box-office grosses;
2. On Sunday, Jan. 6, we hit the P1B mark and exceeded 2017's box-office earnings;
3. As the theaters closed on Jan. 7, last day of the festival, we have set a new record as the highest-grossing MMFF ever ­— earning over P1.060B, P10M more than the 2015 record of P 1.050B.
We would like to make special mention of the production and the public support during the Gabi Ng Parangal where all the films and major actors were represented and accepted the very credible results from the MMFF jury.
We are happy to announce that most of the film entries are still on extended run in cinemas nationwide. Everyone can still catch these films.
Next year, we will celebrate the 45th anniversary of the MMFF coinciding with the celebration of the Centennial of Philippine Cinema.
We want to continue the partnership and prepare for it early on. We look forward to more significant and groundbreaking entries and activities that would further develop the audiences' love for Filipino films, develop and discover new talents through the student short films, and maximize exposure and linkages with international festivals.
Sama-sama nating pagsisikapang mapaunlad pa ang MMFF.
Mabuhay ang Pelikulang Pilipino!
Maraming salamat sa inyong suporta sa Metro Manila Film Festival.
Stars in Oliver Tolentino at the 76th Golden Globes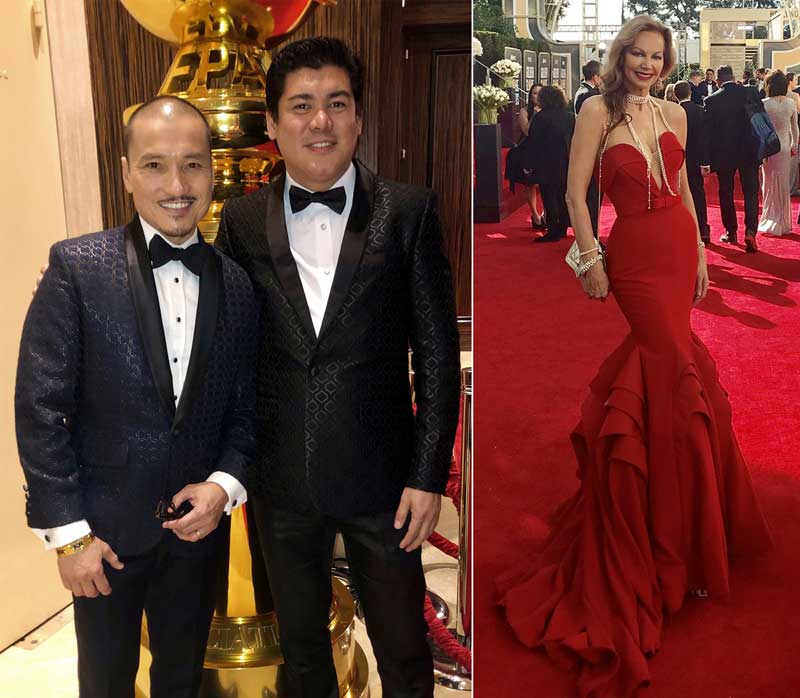 Hollywood-based Filipino designer Oliver Tolentino (above, right) dressed up Filipino actor Jonjon Briones and Margaret Gardner for the recent 76th Golden Globe Awards. Briones is in the cast of the TV series The Assassination of Gianni Versace: American Crime Story which won Best Actor for Fil-Am Darren Criss while Gardner (1978 Miss Universe from South Africa) is a member of the Hollywood Foreign Press Association (HFPA) which is behind the annual awards.
(For more updates, photos and videos, visit www.philstar.com/funfare or follow me on Instagram @therealrickylo.)