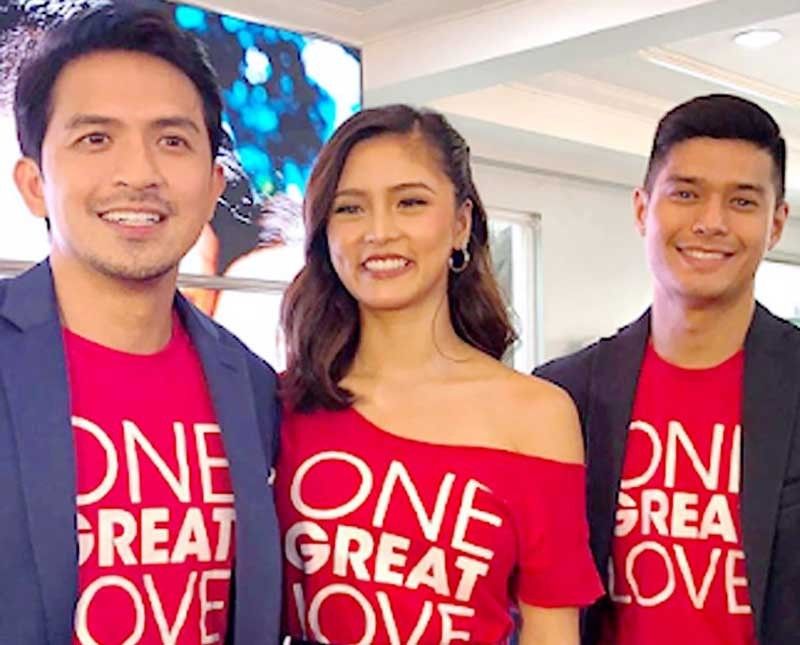 The Regal film stars (from left) Dennis Trillo, Kim Chiu and JC de Vera
Film review: One Great Love
MANILA, Philippines — The one interesting item about One Great Love is that it pays tribute to great friendship.
The characters of Kim Chiu and Dennis Trillo are forever friends but with the entrance of the character of JC de Vera, the balance tilts in one friend's disfavor.
For once like in previous love stories, the film writer plays around the word "serendipity" with such curious fascination Kim's character is transformed into a hopelessly love-driven person.
Even if the stars conspire against her.
She keeps on hoping it is going to be her last and only love (with JC) but indeed, things are not meant to be.
For this reason, you realize there is a hidden actress in her to make the character look curiously believable. When the heart dictates at the expense of common sense, you know that you have to turn to the best friend and former love for redemption.
At a glance, One Great Love has a good story going for it. Kim makes the character utterly believable your eyes refuse to blink in her daring love scenes. As a good friend, Kim strikes a good emotional balance between her and Dennis. Her character shines as a friend and plummets into oblivion as JC's lover.
But as one hopelessly in love with "serendipity," Kim's character spins with such emotional fervor you begin to suspect what was in her past that makes her so gullible to every flitting sign of "great love."
Director Enrico Quizon has a big job of keeping the story interesting even as one character is throwing every caution to the wind. He constantly redefines what links Kim to JC as former and future lover and how she connects with Dennis as a friend. It is an unusual pas de trois on love and friendship.
In the end, you treat going to the movies as an exercise in emotional redux. You see familiar scenes that happened to you in past life and now it is happening again in another movie. You wonder why this character is so dense you begin to suspect she is another character from the evening teleserye on love and betrayal.
By hindsight, it is better to leave the final judgment to the moviegoers.
As a story, One Great Love packs a million possibilities and the director simply unfurled the multiple scenarios for moviegoers to choose from. We connect with the character's field of dreams and we knock her out for being so trustful. But as they say, life imitates art and vice versa, and this movie recalls many characters who gave up a lot in the name of love and friendship.
Indeed, some relationships defy reason. Some edify the true value of friendship at the expense of one possible great love. But through all its emotional rollercoaster, One Great Love gives you a choice to connect or treat it as one of those unlikely love stories. As they say, truth is stranger than fiction because we don't meet it as often. To be fair, the film doesn't dictate on its moviegoers. Many scenes are lessons on the nobility of friendship and how very well Kim and Dennis make every moment of it. Some scenes can look utterly recurring but that is what the story of the characters dictate. Watch it and let me know what you think.
(Regal Films' One Great Love is still showing in cinemas.)