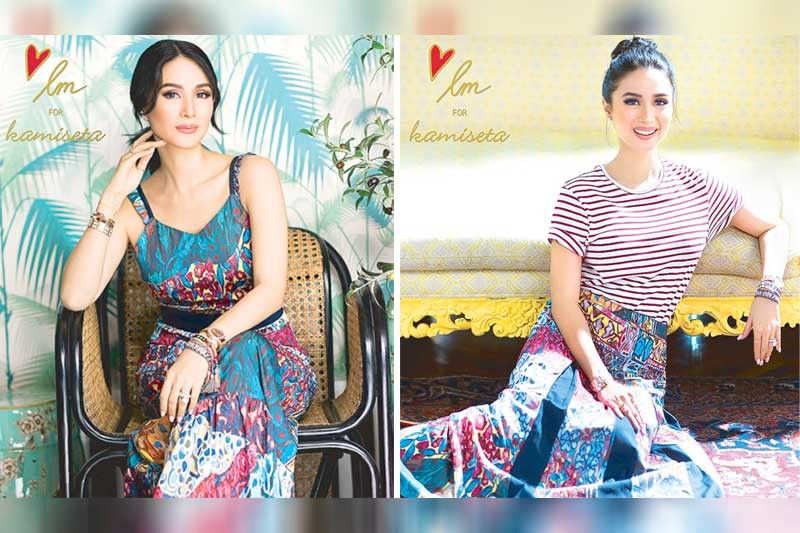 Heart Evangelista in two samples of the Kamiseta dresses she's endorsing, showcasing her paintings…
Heart: I'm happy where I am now
FUNFARE
-
Ricky Lo
(The Philippine Star) - November 23, 2018 - 12:00am
Five months after she suffered a miscarriage (twins, one after the other), Heart Evangelista has sprung from depression and is now able to talk about the time "my world stopped" and she questioned not just her being a woman but about everything.
"I've never been so depressed in my life," confessed Heart the other day when she was introduced as the endorser/collaborator of Kamiseta, touted as "the #1 women's fashion brand in the Philippines," owned and managed by Cris Roque like its sister company, Kamiseta Skin. "Of all my heartbreaks, that was the worst, the most painful. I didn't go out of the house and I stopped painting."
It was painting that served as therapy for Heart who, according to Cris, is committed to do dozens of paintings which Kamiseta will have printed on shirts and dresses just like what Heart wore to the press launch held at Vanilla restaurant which is also owned by the Roques. Wednesday night, Kamiseta held an exclusive "Love Marie (LM) for Kamiseta" showcase at the Manila House, featuring prints from Heart's paintings and designs that reflect her glamorous and elegant style, all translated into Kamiseta's "timelessly chic fashion" that the brand is famous for.
"But you know," continued Heart (a gracious stepmom to husband Sen. Chiz Escudero's twins from his first marriage), "I suffered from a vanishing twin syndrome, according to the doctors. After the first one died, there was a 60 percent danger that the other one would have had a hard time."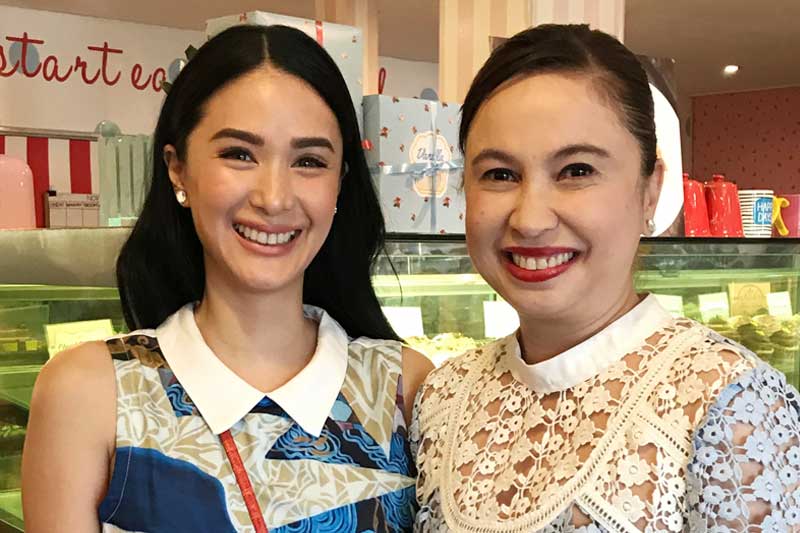 …and with Kamiseta owner-manager Cris Roque
Heart recalled what the doctors told her, "In a way, it was the Lord who made the decision for you. When the heart stopped, it was a clear sign that the baby would have a hard time."
"That comforted me," said Heart, "and that's when I realized that it was okay. I never questioned God. When something bad happens to you, you just stay positive, don't be negative. God will open doors for you and you get surprises."
Besides doing paintings for Kamiseta, between now and the 2019 post-mid-terms, Heart will be busy campaigning for Chiz who is running for governor in Sorsogon. She has signed a renewed five-year contract with GMA (her last Kapuso soap was My Korean Jagiya) and she hoped to resume acting middle of next year.
"I have been going to Sorsogon and I have learned several Bicolano words," added Heart, "You know, Diyos mabalos (thank you, God), dagos na (come in) and luway-luway sana (slowly please)."
The sequel (Book Two) of the hit all-Asian-cast Crazy Rich Asians is being prepared, so is Heart "tempted" to audition again as she did for the first film?
"I don't think so," replied Heart who auditioned for the Araminta Lee role (eventually played by Sonoya Mizuno) because that was the only one left after the other roles had been cast. "I guess I was just lucky being there at that time. When I got the call, they asked me if I shopped couture and I said that I did but not the extreme one. Do you know how much each (high couture) gown costs? P20 million!," exclaimed Heart who happens to be good friends with Crazy Rich Asians author Kevin Kwan who wrote a fashion story on Asian fashion icons, Heart included, for Vogue. "I'm not going to blow my lifetime savings for one dress! So I told Kevin, 'I don't think I'm the girl you are looking for.' I don't want to disappoint you but I don't shop 'till I drop. But still, they still wanted to feature me attending shows and my paintings on bags."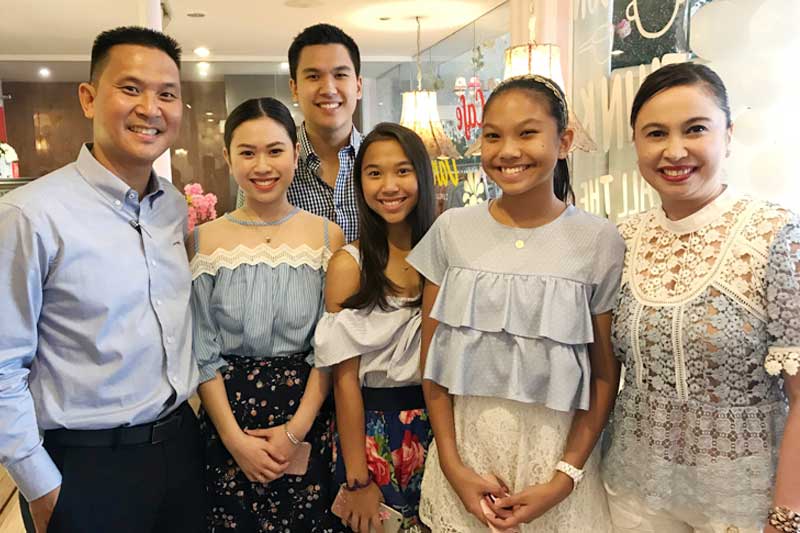 Cris Roque with husband Gonzalo Roque III and their children Gonzalo IV, Alex, Tiffany and Chelsea.
But don't get her wrong, Heart hastened to add.
"It's a dream, why not? I needed to do that just to get it over with. I am happy where I am. Had I gone there, who knows baka naiba pa ang buhay ko? Chiz nga was kidding me, 'Darling, ha, masyado ka na…' especially when I was going abroad for work (for Ferragamo, etc.) 'Ang tagal mo nawawala.' But Chiz is very supportive. He even went with me when I discussed things with Kamiseta."
Cris described Heart as "the perfect fit" for Kamiseta.
"A woman who is unapologetically herself, with fashion and with life, who loves to let 'the real her' shine. A woman who is passionate about chasing her dreams, a woman who exudes inner confidence because she knows her worth and is unafraid to follow her heart…"
Said Heart, "For me, Kamiseta is timeless, that's why I've always wanted to be with Kamiseta. I'm so happy to be representing a brand that's very me, so it's so natural, it's effortless."
(E-mail reactions at rickylophilstar@gmail.com. For more updates, photos and videos, visit www.philstar.com/funfare or follow me on Instagram @therealrickylo.)