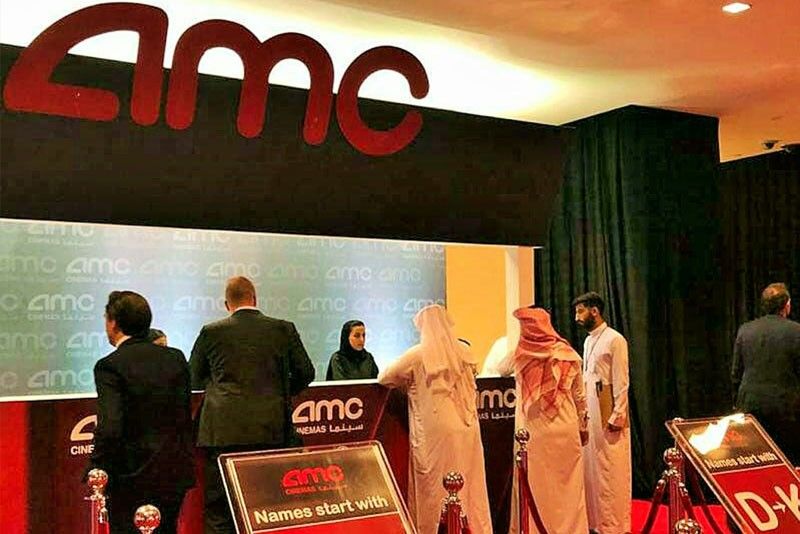 Saudi ladies are advance ticket booking personnel.
Saudis embrace the power of cinema
MANILA, Philippines — An executive assistant to a Saudi office manager buzzed viewing a sanitized screening of Black Panther at a hefty ticket price of SR75 ($20) at the newly-opened AMC Theatre, a Vox four-screen multiplex cinema converted from a concert hall at the Riyadh Park Mall. He described the mostly Saudi audience as "startled" but need to improve viewing habit.
John Travolta graced the opening as verified by a video post.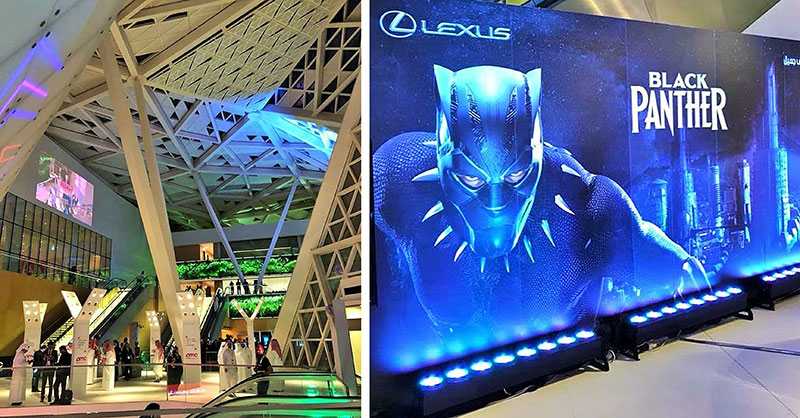 The AMC Theater lobby(left) projects a futuristic experience. Lighted Black Panther tarpaulin(right).
About a young monarch of an imaginary forest empire in Africa, the lead character parallels Saudi Arabia Crown Prince Mohammed bin Salman (MBS), the reformist king who made possible the return of the cinema in his turf.
Much awaited are fresh releases for 2018, James Cameron's Alita Battle Angel, The Darkest Minds and The Predator. But even before these, the kingdom had long joined world cinema in 2013 with Haifaa al-Mansour's Wadjda, the nation's first entry in the Oscar's Best Foreign Language Film.
In clear violation of highest-ranking cleric's admonition of the "depravity" of cinemas, it looks like they corrupt morals. At the Comic Con Riyadh a few months before, a young Saudi joyfully posed for selfie with the horned creature of Disney's Beauty and the Beast with relatively no noise.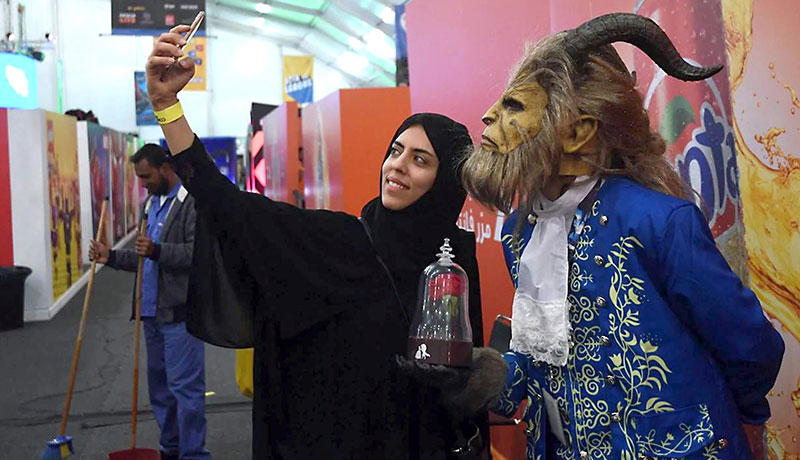 A young Saudi woman violates an old religious rule of appearing with animallike creatures. —AFP Photo
But this does not plot to wake up to the cultural shift with the shock. Its 25 million population are screen entertainment forward, a fraction able to build theaters in their residences or hop to Dubai or Bahrain to watch newly opened blockbuster.
The Riyadh cinema is not even the first as an IMAX in Khobar that has screening technology and exhibits but not full-length features.
Seating areas for grown-up males and family are separate. Non-abayah wearers and unaccompanied females are not admitted. This is expected not to alter in June when females are allowed to drive.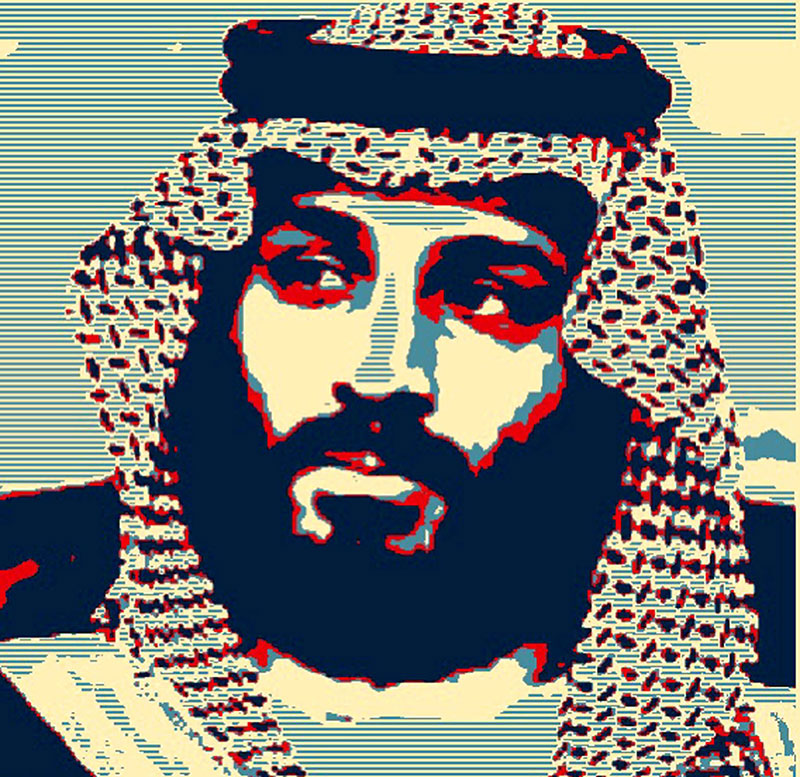 Saudi Arabia Crown Prince Mohammed bin Salman, also referred to as MBS. —Digital art by Jaime Torres of California
MBS summed his mission to return Saudis to "open, moderate Islam. We will not spend the next 30 years of our lives dealing with destructive ideas. We will destroy them today and at once."
The cinema as a super tool to bring Saudi Arabia to the future, MBS zooms.