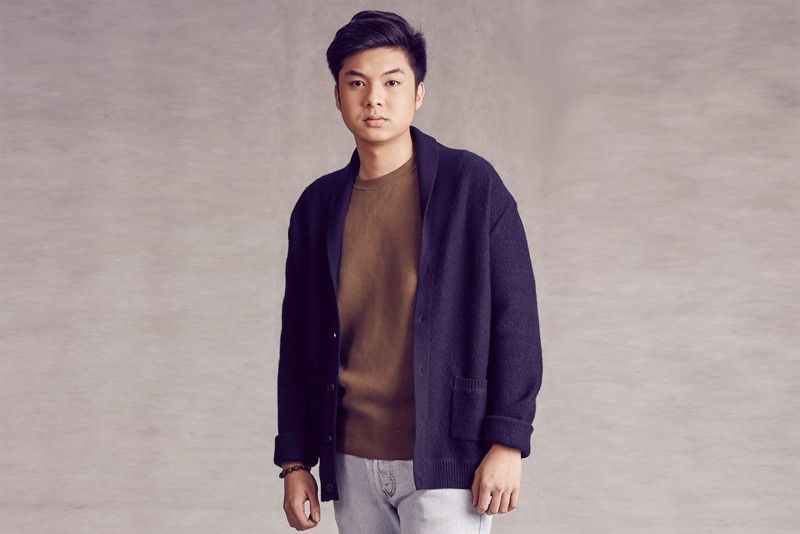 Drei Rana finds acoustic the best in expressing his emotions through songs
Acoustic artist is newest AAA talent
Among all music genres, Drei Rana finds acoustic the best in expressing his emotions through songs. Its tone, he says, feels like caressing the heart and soul. More so, when he starts strumming the guitar.
Drei is the latest addition to Asian Artists Agency, Inc. (AAAI) stable of talents. Aside from singing, he is also into songwriting, dancing and human beatboxing.
If you give a listen to Drei's performances of covers, you'll end up either humming or singing with him. The 22-year-old Travel Management student of University of Santo Tomas has a love affair with music even before he was born. He shares that his mom would put a radio or a headphone on her belly for him to hear varied melodies, aside, of course, from the strong belief that it is good for the baby's brain development.
"Growing up, I've learned to love music even more at the age of 6, the start of my kindergarten years. I started as a dancer and continued up to high school," says Drei. "I gained a lot of experiences and achievements such as championship titles in dance competitions. Then, I was in second year high school when I got interested in playing the guitar. There's this very old guitar that was kept in our storage room and my dad took it out and asked me if I could play it. Without any background, I gave it a try and learned in only two weeks, maybe because of my pure passion and devotion to music."
How long have you been doing covers and uploading them on social media?
"I've been uploading covers online for more than a year now and I use my Facebook page as a platform."
What inspires you to do this kind of music?
"I'm inspired to do acoustic music obviously because I love to play the guitar so much and I think my voice is tailor-fit to this kind because acoustic sound doesn't require too much vocal acrobatics for it to be good. You just have to keep it simple and sing with all your heart."
Who are your primary influences? What is it about their songs that attracted you the most?
"Growing up, my taste in music was not consistent. It changes from time to time. I think, it's a good thing because I've learned to love every music genre and appreciate the good in everything. But my current music influences are Ed Sheeran, independent OPM band Ben and Ben and TJ Monterde. What makes me fall in love with their music is that aside from great and catchy melody, the lyrics of their songs are pure poetry for me."
Do you also write songs? If so, what is your songwriting process like?
"Yes, I write songs whenever I feel extreme emotions. I'm also inspired to write songs whenever I hum a melody that sounds good."
How do you choose your song/s?
"I choose my songs depending on how I feel. It's more of the emotional aspect rather than intellectual."
What would be your dream gig?
"My dream gig is simple — I dream of having a concert but before that, I just want to have a gig wherein I get to gather all my fans and perform in front of them. In that way, I can show my gratitude for their unwavering support."
How would you describe your musical image?
"I think my musical image is basically my voice and my guitar. People say that my voice and guitar-playing is very unique and authentic. By just listening to my music, they can tell that it's me."
How important do you think image is to musician?
"I think the image you're trying to build to your audience is very critical. But for me what's important is to be yourself all the time."
Have there been any surprises working as an AAAI talent and as Polyeast recording artist?
"Being new to this industry, I can say that AAAI and Polyeast records have given me one of the greatest things in life that many people dreamt of having. That's why, I'm very thankful to them."
Given today's song preferences, do you think your musical style perfectly fits? Why?
"My style definitely fits perfectly with what is going on in the music scene. Slowly, OPM is rising back up with the help of indie bands, groups and artists that write original Pinoy music. I want to be part of that movement."
Are you working on a new album?
"Yes, I am. Day and night I write songs to make a mark in the music industry and I also do this for my fans. I want them to remember me by listening and loving my songs."
If you are to describe yourself through song, what would it be and why?
"I think the best song that will describe my personality is Drag Me Down by One Direction. I am a fighter and I don't easily give up. The song goes like this, 'Nobody can drag me down, nobody, nobody.'
I always keep that in mind no matter how hard or painful life may be. I won't let it stop me from doing what I love. Whenever I feel like someone is dragging me down, I just smile and tell myself that maybe this is happening because I'm getting there. I always make sure to see the good in everything."
What do you always remind yourself now that you are in the music biz?
"To keep on improving. The industry taught me to keep my feet on the ground. But I think one of the most important things is to always remember to thank the people who got me into wherever I am."