Joyce Peñas, young-looking, sexy and gorgeous at 63.
MANILA, Philippines — If Sharon Stone is proud to be sexy with a boytoy and doing a film role half her biological age at 60, couture designer Joyce Peñas Pilarsky is fulfilled of her bikini bod with a Doctor of Naturopathy degree and certificates from acting schools Repertory Philippines and Star Magic workshop at 63.
This fulfills Joyce's girlhood dream to be a movie actress that her lawyer father did not allow as it would disrupt her education and result in premature marriage. Every chance she gets from her busy schedule, Joyce enrolls in tutorials in Germany and her home country to perfect her entertainment skills in acting, singing, hosting and dancing.
"We must never stop learning," Joyce shares her education philosophy. "Age, gender, economic status must not stop us from acquiring additional knowledge. I would have not fulfilled my dreams if I did not have this attitude."
Officially adapting her maiden name Joyce Peñas as screen name, Joyce enrolled in Star Magic's Teen and Adults Acting Workshop Introductory Class, a weekly, four-hour public workshop with 18 sessions spread in six months with 21 millennial participants under trainers Air and Ruby.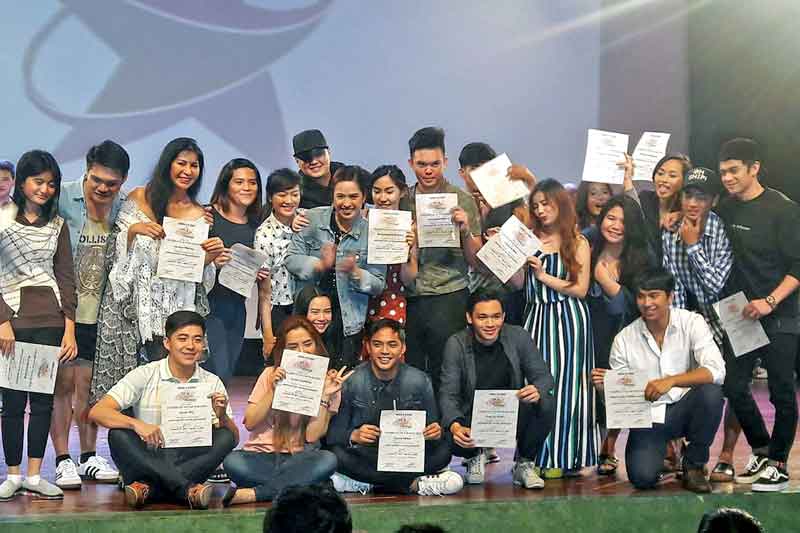 Jubilant workshoppers (Joyce standing third from left) proudly show off their certificates of completion
She held her recital at Dolphy Theater last March 11 by interpreting a crucial scene from Four Sisters and A Wedding, the 2013 critically-acclaimed Best Comedy Drama as megged by Cathy Garcia-Molina.
Doing the role of Grace Salazar as played by Coney Reyes, Joyce acted the loving mother of the masculine nicknamed sisters, Teddie (Toni Gonzaga) as played by workshopper Nicole, Bobbie (Bea Alonzo) by Shanai, Alex (Angel Locsin) by Crissy, and Gabbie (Shaina Magdayao) by Lindy. The sisters attempt to halt the wedding of younger brother CJ/Rebreb (Enchong Dee) as played by Kevin.
Grace confronted Teddie about the buzz as a domestic helper in Spain. She admitted that when the country was in crisis, she was laid off as a teacher. The confrontation opened the chance to talk about family issues and the jealousy the sisters feel with one another. In the end, Teddie held her mother's hand to ask for forgiveness. They have a group hug and found peace.