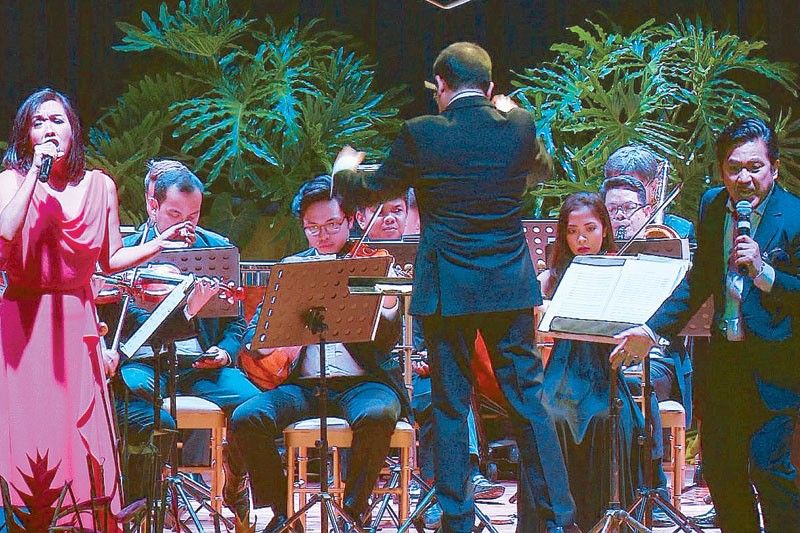 Isay Alvarez and Robert Seña perform with the Manila Symphony Orchestra led by Arturo Molina
Isay, Robert & MSO in HAU's 85th anniversary
MANILA, Philippines — The Holy Angel University (HAU) in Angeles City, Pampanga is described as the biggest Catholic school in the country. And for its 85th anniversary, school authorities opted for a special concert featuring Isay Alvarez and Robert Seña, who are equally at home in musical theater, straight drama and even indie films and TV guesting.
And the husband-and-wife team was to be accompanied by the Manila Symphony Orchestra (MSO), no less, the oldest symphony orchestra in Asia (give or take some years of forced inactivity), led by conductor Arturo Molina. The concert was titled Return to Broadway.
But first a bow to Kapampangan culture, in keeping with the slogan "To be a better Filipino you must be a good Kapampangan."
In his welcome remarks, HAU president Luis Ma. Calingo noted that, "The first non-Spanish zarzuela in the Philippines was staged in Pampanga in 1901." And so the prestigious Holy Angel University Chorale and the newly named Holy Angel Symphonic Orchestra performed a number from Alang Diyos, a Pampango zarzuela by Juan Crisostomo Soto.
Then maestro Molina cut loose with a lively Broadway medley which was well-received by the audience and keyed up with expectation. Isay and Robert rendered medleys and solo numbers.
There were numbers from the Phantom of the Opera, Cats, My Fair Lady, Starlight Express, Miss Saigon and the less familiar Hercules. But the two songs from the latter, Go the Distance and I Believe were significant.
Isay was in top form. Her voice sounded never better when last heard a few years ago in the stage musical Katy! although she did not reach the high notes in the coda to "I could have danced all night," the way the young Julie Andrews did during the '60s. Robert's singing voice also sounded great, although with a slight tremolo at times.
It was a real treat listening live again to all those familiar and beloved arias, duets and numbers sang as well as played instrumentally. Robert brought the house down with a show-stopping rendition of This Is the Moment from Jekyll and Hyde. And, in another encore, Isay and Robert ended the show with the touching Wonderful World, popularized by Louis Armstrong.
It was a highly successful concert, marred only by a stubbornly uncooperative mic which had to be replaced.