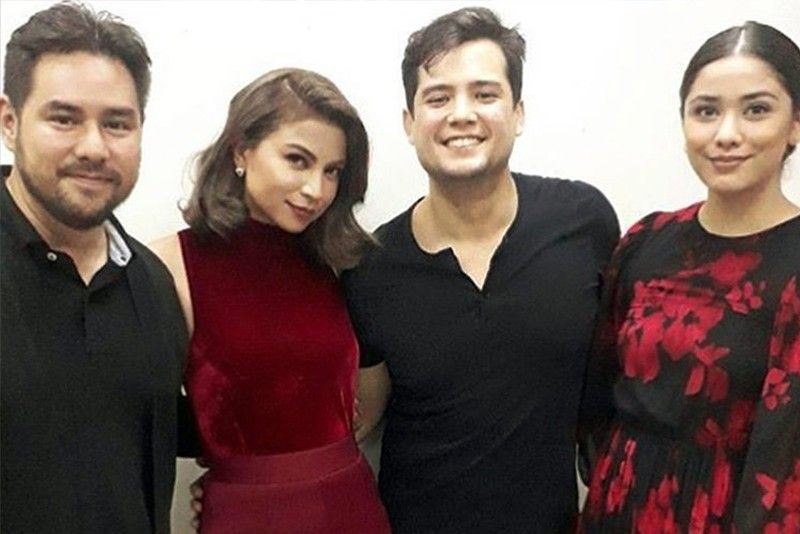 With co-stars (from left) Gabby Eigenmann, Glaiza de Castro and Lauren Young —Photo from Geoff Eigenmann's Instagram
Geoff back in the drama groove
Jerry Donato
(The Philippine Star) - March 16, 2018 - 12:00am
MANILA, Philippines — Geoff Eigenmann is back to teleserye drama via Contessa. It's a genre that he knows like the back of his hand — and his first soap opera after a Kapuso hiatus.
"I would say a little rusty," said Geoff on getting back on the acting track again during the GMA Afternoon Prime soap's media launch, "ang tagal mong hindi nag-me-memorize, ang tagal mong hindi nag-re-recreate ng eksena (It has been quite a while since I last memorized lines and recreated scenes)." But it just took him a few days to get "back in the groove." "For this one, it was easy, kasi lahat magagaling," he shared. "It was easy with their help. We had the chance to do workshop before the show started. So everyone got to know each other. Naging madali lang naman ang naging adjustment namin."
Although the premise behind the Contessa narrative will be known to all on March 19 after Eat, Bulaga, Geoff was generous to share some details with the print media.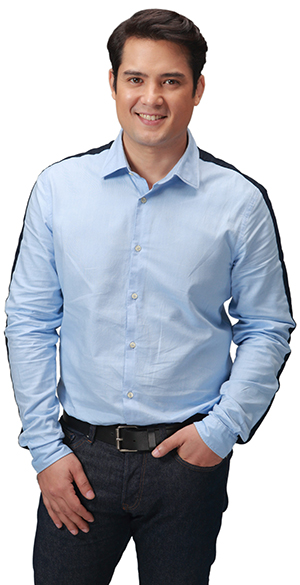 Geoff Eigenmann, star of GMA 7's Contessa: As
an actor, I have matured. I'm conscious of where my character is going.
"We've done a few weeks. Ngayon pa lang nag-i-intensify ang mangyayari sa character (ko). During the fourth or fifth week ko pa lang malalaman ang katotohanan. (In) the first few weeks, he has no idea what has happened (to his family) since he is a balikbayan (returnee)," said Geoff about his self-made man and successful Overseas Filipino Worker (OFW) character named Gabriel Caballero. "He returns to his country and his brother is dead. He is trying to figure out what has happened to his brother. (At the onset), he is a bit gray (character) because he doesn't know anything and doesn't know (what to believe or) who to believe. Is it Lauren's character or Glaiza's? Eventually, the truth will be unveiled."
In the story, Lauren Young portrays Empire Publishing Group head Daniella Imperial, while Glaiza de Castro plays the title role and Beatrice "Bea" Resureccion. Mark Herras is Marco Caballero, sibling of Geoff's Gabriel.
For an actor who has done more drama than any other genres in his career, Geoff admitted that "honestly, I'm not comfortable doing drama. Like Glaiza, I just take on whatever challenge that is given to me. I don't try to find out what role I'm playing. I don't say I want to play this kind of role. Whatever lands on my lap, I will take on it and do it. Never akong naging mapili with the projects I want to do, but sometimes I get to choose who I will be with… I'd rather not choose. I'd rather be surprised and then surprise myself along the way."
Away from the klieg lights, Geoff busies himself attending to the needs of his and Maya's Baby Arabella Simone. He is a doting young dad.
"Definitely, my priorities are different now," he said. "…timing na timing ang pagdating ng Contessa now that I have a baby and a family of my own. It's more of not me, actually it's totally not me anymore. It's no longer me anymore. It's about my daughter already. All the decisions I'm making in my everyday life affect whatever will happen in the future. It's not about me, it's about my daughter."
Everything that happened in his private life, Geoff said, "wasn't planned at all. It was unexpected. (It was like whirlwind) with what had happened around us. Mabilis ang mga pangyayari." The actor wouldn't trade it for anything in the world. "I would still choose things to go this way. I was always forever tito in my family. Having a child of my own is really a different feeling. Hindi ko alam kung bakit ako naghintay ng ganito katagal. Tama lang. It came at the right time."
What is clear now with Geoff is, this man is "more inspired" to live life and to work. His new perspective in life also manifests in "How I see things, how I react to things, (I'm more) understanding of people, not just people but everything that's happening around me."
Fatherhood has changed Geoff in more ways than one — and he has matured. That maturity is also crossing over to the small screen.
"(As an actor) definitely I have matured," he said. "There were times before when I was just swinging it, kahit anong lumabas na (lang), sometimes kahit walang emosyon. If I get the chance to watch it, para anong ginawa ko (I'll ask myself, 'What did I do?'). Now I'm more serious with the continuity of the emotions of my character. Kasi may pinanggagalingan ang lahat yan, ang mga emosyon. I have become (more) professional in that sense that I'm (conscious) of where my character is going."
(Contessa is directed by Albert Langitan and also stars Jak Roberto, Gabby Eigenmann, Tetchie Agbayani, Chanda Romero, Bernadette Allyson, Dominic Roco, Leandro Baldemor, Tanya Gomez, Melissa Mendez, Karel Marquez, Phytos Ramirez, Denise Barbacena and Will Ashley.)