Meet Karencitta, the Cebuana
February 9, 2018 | 12:00am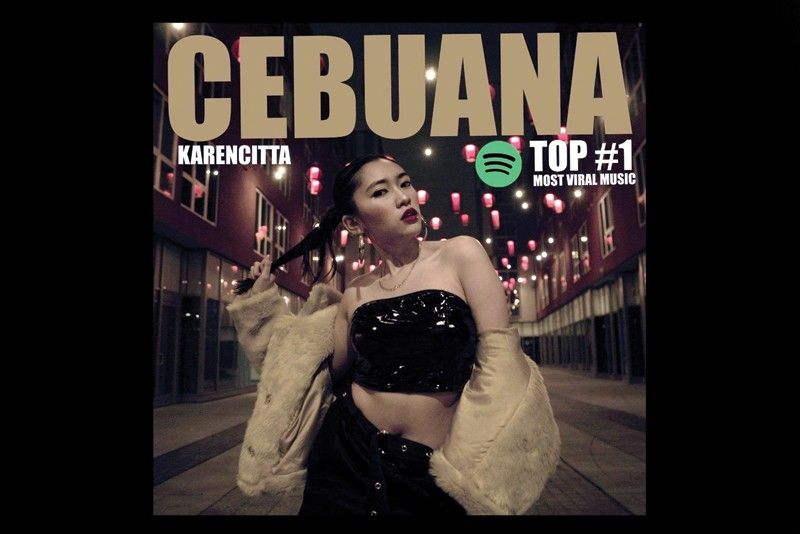 For a few years now, I was fearfully under the impression that Filipino pop music has been destined to stay mired in Tadhana, Dahil Sa 'yo and the pained musings of Moira de la Torre. I was hoping for something exciting to happen but had no idea what it should be. And then, literally out of the blue, it was there. Surprisingly, it turned out to be hip-hop and even more surprising, with a mix of English and Cebuano lyrics.
The song is Cebuana which after being uploaded on Spotify last November was named Top Most Viral Music on the site. The music video notched a staggering one million views in only 24 hours after it was uploaded on YouTube. A few weeks ago, the song became the theme of the Sinulog Festival in Cebu.
The honor was unofficial. No proclamation was made. But everywhere you go in Cebu, pick out any of the festivities and you will surely hear "drop your glasses/ n shake ya asses/ I wanna get witchu/ and I'm feelin' real nasty…ari ba, ari ba…" chanted to pulsating beat.
What happened was a dream come true for 22-year-old Karen Ann Cabrera who goes by the byline of Karencitta. After years of trying to make it in show business as a singer, actress and songwriter, she went to bed nursing her hopes as usual and woke up to a million hits. Not only that, she had always wanted to write and perform something distinctly Filipino and preferably in her native Cebuano. She felt that she was able to accomplish that with Cebuana.
Karencitta was born in Australia of Filipino parents from Cebu. She came home when she was four years old to compete in the Little Miss Philippines contest in the TV show, Eat, Bulaga. She did not win the title but she was named Little Miss Friendship. "From that time on, I knew I wanted to be in show business," recalls the tall, reed-thin and bubbly Karencitta in her mix of Los Angeles English and Cebuano.
She continues: "I had lessons in everything. Singing lessons, dancing lessons, violin lessons, acting lessons, even swimming lessons. My parents supported my dream." She also developed the discipline of going to auditions like X Factor and Miss Saigon here. "I live in L.A. now and 90 percent of an actor's life there is spent going to auditions. I go everywhere. I was doing all right. I was getting small roles like in Grey's Anatomy and How To Get Away With Murder and I was working with producer Jon Ingoldsby."
It was Ingoldsby who hooked Karencitta up with Tc, a then only 14-year-old producer from Austria. "I liked the way he used the violin in his work. That was important to me because I wanted to mix old and new, hip-hop and native Cebuano. I also insisted to Jon that we use the Sinulog beat in the song. It took a while to convince him but he finally got it and it was all that I wanted."
Cebuana has opened up a lot of doors for Karencitta in the Philippines. "And to think I never won anything and didn't make the auditions here." Her contract with Viva Communications covers concerts, she is guesting in the JaDine Revolution show at the Araneta Coliseum tonight; recordings, she has plans of releasing an album soon; and films, a musical titled Indak is now in the works. Then, there is still L.A., where she has established a base and the album with Ingoldsby.
As for us, we now wait for what Karencitta will do next. She says, "It is my conscious decision to become a trendsetter." We are in for interesting times.
The Top 20 tunes in the Spotify Philippine Viral Chart that Cebuana conquered last November are the following: Killing Me Softly With His Song from Four by Zhavic; Rewrite The Stars by Zac Efron and Zendaya from the soundtrack of The Greatest Showman; Hayaan Mo Sila by the Ex Battalion OC Dawgs; God's Plan by Drake; IDGAF by Dua Lipa; Mau by Shanti Dope; This Is Me by Keala Settle also from The Greatest Showman; Never Enough by Loren Allred from the same movie; Unforgettable again from the soundtrack of the TV show Four by Zhavic; St4y Up by Nadine Lustre.
Dying Inside To Hold You by Darren Espanto; Mine by Bazzi; Shantidope by Shanti Dope featuring Gloc-9; These Days by Rudimental feat. Jess Glynnie, Macklemore and Dan Caplan; Nadarang by Shanti Dope; A Million Dreams again from The Greatest Showman by Ziv Zaifman and Hugh Jackman; When I Saw You by Bumkey; Slowly by Korean pop idol Vincent Blue; When I Dream About You by Gracenote; and OTW by Because.