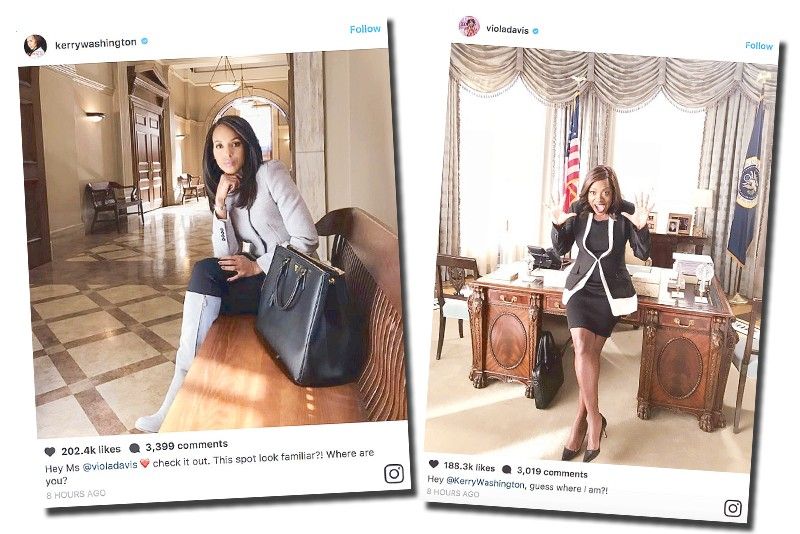 How to Get Away with Murder & Scandal crossover to finally happen
MANILA, Philippines - What happens when political crisis fixer Olivia Pope meets defense attorney Annalise Keating?
How to Get Away with Murder and Scandal fans went crazy after actress Kerry Washington posted a hint of the two shows' crossover.
In her Instagram post, Washington, dressed in a full Olivia Pope attire said, "Hey @violadavis check it out. This spot looks familiar?! Where are you?" She was in the courthouse set of How to Get Away with Murder.
Davis responded on her own Instagram account with her photo as Annalise Keating in the Oval Office set of Scandal. "Hey @KerryWashington, guess where I am?!," Davis said.
Shonda Rhimes, the producers of both series, confirmed the crossover on social media. "People, it's happening," she said, accompanied with part of the script and the hashtags #TGITCrossover and #HowToGetAwayWithScandal. (TGIT or Thank God It's Thursday is when three Shondaland-produced series are watched back-to-back-to-back: Grey's Anatomy, How To Get Away with Murder and Scandal.)
The two series have some similarities: the women protagonists are both black, successful women who fix problematic circumstances in such incredible ways. In How to Get Away with Murder, Annalise Keating, a law professor and defense attorney, solves different criminal cases. In Scandal, on the other hand, Olivia Pope is the name to call when a politician suddenly becomes involved in a mess that will tarnish his reputation.
In an interview, Peter Nowalk, writer and executive producer of How to Get Away with Murder, revealed that the episodes will be connected in a two-hour block. There are no details yet as to which series will carry the first crossover.
The fans are wondering how their stories will be intertwined, but most fanfics say they will be helping each other in their personal problems.
In the past, Rhimes' two shows Grey's Anatomy and Private Practice also had crossover events. Character crossovers have been a network's strategy to boost viewership.