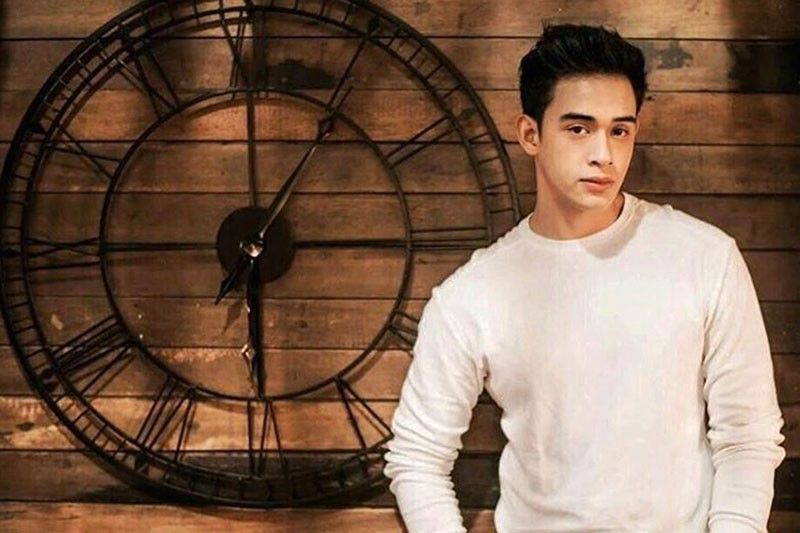 Diego Loyzaga on issue with his father Cesar Montano: I wish things could've been different. — Photo from Diego's Instagram account
Biggest lesson Diego learned in 2017
One of the top-rated episodes of Tonight with Boy Abunda last year was with Teresa Loyzaga, who touched a lot of hearts when she began talking about her children. She has two sons, Joseph and Diego. Her statement was so touching, anyone could sense how deeply she spoke from the heart. She said, "I'm proud of my boys. I don't know what good I did in the world, what I did right to deserve my two wonderful, lovely boys."
Last Tuesday, Jan. 9, Diego Loyzaga was on the show, sharing that he had seen that particular episode. What his mom told on national TV struck his heart.
"Touched ako doon," Diego shared his reaction. "If mom thinks that she's blessed by having me and Kuya Seph, we're beyond blessed. Words cannot explain how blessed we are to have a mom like our mom. And that cannot be more true talaga after the stuff we've been through, after all the things we had to push through as a family. We have persevered."
At 22, the young actor is aware of mistakes he had done in the past and the learnings that came with them. There was also an issue that circulated about him hating his dad Cesar Montano. Showing a sign of maturity, Diego admitted that it had given him the greatest lesson.
"I think the mistake that I learned the most from that was probably the issue that happened last year with my father and I think it was a really a big stepping stone, it made me grow as a person and it made me realize a lot of things. I wish things could've been different. I wish we could have talked in person. Sana nag-usap kami," he said.
He's reaching out to his father but Diego didn't know if Cesar was aware of it. Diego recounted about talking to Bayani Agbayani, who everyone knows is close to Cesar from way back their comedy-cum-action stint heydays. The latter's absence in show business is due to his holding a government position as Tourism Promotions board chief operating officer.
"During the Christmas special last year of ABS-CBN, I was with Tito Bayani. They are neighbors and he was telling me di na n'ya nakikita si erpat, lagi s'yang busy. He said why not text him. You know what, why not (because) nanghihinayang ako eh kung kailan ako sobrang seryoso na sa ginagawa ko sa showbiz na 'to and I wanna learn so much. I've been taking workshop with Tito Pen Medina kung sino-sino pa why not my dad. Nanghihinayang lang ako na siguro kahit may konting oras kami. I think it's about time even just for showbiz's sake whatever I can learn from him," said Diego, who plays one of the lead roles in Pusong Ligaw, the ABS-CBN afternoon drama series which will have its final episode today.
Another controversy involving Diego recently was his video clip that went viral on social media. It created a buzz over the weekend when netizens saw the video of him in his birth suit.
The actor made an apology and cleared that he accidentally posted the said clip online when he wrongly hit the "My Story" button on his Instagram account.
"As soon as I found out na it was posted, I deleted it. I didn't know and I'm very sorry," said Diego before explaining that he was only following the Swedish tradition that one needs to be totally naked when in a sauna. "Gusto kong mag-sorry sa lahat ng taong nabastos ko. I know that I have followers who are young. It's a Swedish culture that you go on to the hot tub in the middle of the night butt naked. Kailangan talaga butt naked. To be honest, I was shy the one or two nights but it's the culture (there) after the celebration you had dinner, you had drinks then hot tub in the snow. Kuya Seph and my mom were there the whole time."
He said that he deleted the said post right away when one of his friends texted him about it. That Europe trip was part of Diego's bucket list and he was, indeed, sorry for that particular incident.
On a lighter note, Diego gamely talked about things people may not know about him in "5 on 45." He gave only three. Find out.
*My right foot is bigger than my left by .5 or a little bit more.
*I love eating chilli… I think in all of my food lagi akong kumakain ng sili.
*I'd rather be at somewhere that's cold than the beach, somewhere na may snow.