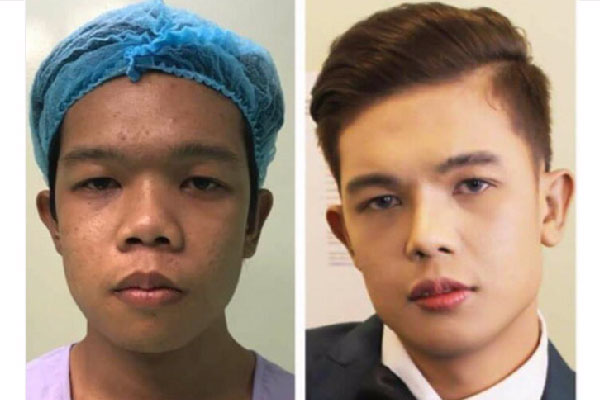 Before and after shots of Xander Ford circulating on social media. Screenshot from Twitter/TheNelsonRemo
Xander Ford shocks, delights netizens
(Philstar.com) - October 2, 2017 - 10:13am
MANILA, Philippines — Count Marlou Arizala as one of those who does not believe in the old adage "Sticks and stones may break my bones, but names will never hurt me."
The Hasht-5 member who first got noticed after viral lipsync "papogi" videos, and got his biggest break when he was asked to guests in "Gandang Gabi Vice," got sick and tired of being called ugly when he was younger.
So he decided to undergo plastic surgery and morph into the handsome Xander Ford with the clear skin, aquiline nose and fuller cheeks.
The transformation was so amazing, Marlou and Xander Ford became the number two trending topic worldwide.
Netizens are having a field day describing his transformation from that of a pinipig to a classy magnum ice cream. Up high in the list of most well-loved comments is how "words could affect a person either physically or mentally."
Netizens who support Marlou say it's just right for him to change his looks if it makes him happy. Another says that Marlou's experience proves that poverty can make one look ugly.
Perfection is the disease of a nation...it's the soul that needs the surgery. (Pretty Hurts, Beyoncé 2014) #MARLOUISDEAD #XANDERFORD pic.twitter.com/wQxbVrTD1D

— The Nelson Remo (@MrNelsonRemo) October 2, 2017
From pinipig crunch to Magnum! Hype! #XanderFord #RatedK pic.twitter.com/txJJPTvnsJ

— Aja (@ajaaaaa23) October 1, 2017
Now that Marlou is dead, and Xander Ford has taken over, the man of the hour, his parents and growing number of fans agree a brighter future awaits him.
During a recent appearance in "Rated K," the camera showed howXander Ford's fans, waving banners with his name printed on them as they chanted his name over and over.
His parents, Aniceto and Merly, who were present at the studio, shed tears of joy. They went on stage to hug him and show their happiness over his new look.
Xander Ford told the audience he can now finally work seriously as an actor to help his parents. He now talks and moves with more confidence, and his stylist can come up with various types of clothes Xander can wear with ease and composure.
Xander has also become a photographer's delight as he changes his poses every now and then to look more interesting before the camera.
Star Image Artist is managing Xander Ford.