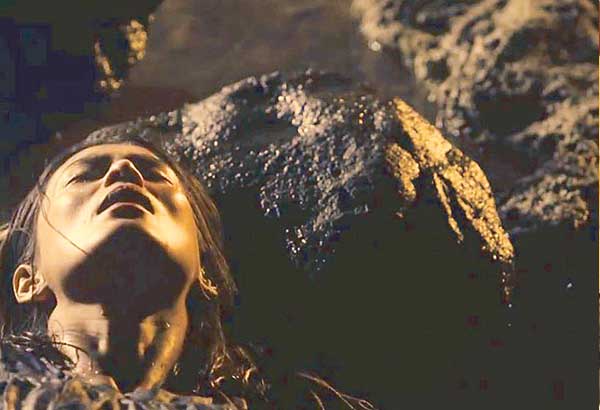 Angel Aquino plays the grief-stricken Magda in a scene from the film
A film that could break the silence
Film review: Sa Gabing Nanahimik Ang Mga Kuliglig
MANILA, Philippines - Of the full-length films exhibited at the UP Town Center during the first weekend of the 13th Cinemalaya, one of the most impressive is the Sa Gabing Nanahimik Ang Mga Kuliglig (Clouds of Plague).
And no film dilettante worth his cheap ticket would complete the entire filmfest without seeing this film, a drama-fraught tale of murder and revenge triggered by one illicit relationship in a quiet distant island.
It is a seamless tapestry that wove together individual dilemmas, working themselves around a woman's cry for forgiveness and a parish priest being drawn into the vortex of the conflict but being steadfast through the church's mandate on the seal of the confessional.
What started as a gut-wrenching confession of a woman wronged by her husband's relationship with another woman whom she murdered would unravel a series of events in a well-paced film rich in subplots and imagery.
There was the compelling scene of a grief-stricken Magda (Angel Aquino) as she waded through waist-high waves carrying a heavy bamboo cross, tormented by the thoughts of the murder she had just committed.
Then she submerged herself with the cross, doing a Christ-like crucifixion pose like an ancient rite of cleansing and unburdening herself of the guilt.
There was the priest Father Romi (Jake Macapagal) also in a dream, digging himself out of the sand to underscore his self-doubt and the father (Ricky Davao) grieving over the death of his wife but eventually finding himself in the very core of the struggle, coming to the rescue of his son Lester and owning up to his misdeed in the end.
And the son turning from an innocent young man into the killer of his mom's lover. And one could feel his emotional turmoil, watching her mother calling him in a piece of parched field being consumed by fire in his own dream.
The film, written and directed by Lar Arondaing, is allegedly based on his experience as an altar boy overhearing the confession of a woman on the murder she had committed that put him and the priest in a predicament — whether to report it to the authorities or keep it within the confines of the confessional.
It was shot on location in Cuyo, Palawan and the place itself, idyllic and tranquil, would be jolted by the incidents with womenfolk talking in whisper about the scandal during the wake.
Are these the kuliglig (cicadas) in the movie title? And why would it be long and esoteric (Clouds of Plague)? Why sacrifice the impact of immediate recall?
No matter. This is one film that could easily break the silence and create a lot of noise in the filmfest.
(The rest of the cast of Sa Gabing Nanahimik Ang Mga Kuliglig are Jess Mendoza, Anthony Falcon, Sam Quintana, Mercedes Cabral and Mark Dionisio.)