On the street where Boyce Avenue lives
FUNFARE
-
Ricky Lo
(The Philippine Star) - January 29, 2016 - 9:00am
Aside from Abbey Road in England which was immortalized by The Beatles as title of an album and Chicago which was used by its members as name of their band, no other street or place has been so honored except Boyce Avenue.
"The street reminds us of our entire beginning," said Alejandro Luis Manzano (lead vocals, guitar, piano), on behalf of his brothers Fabian Rafael (guitar, vocals) and Daniel Enrique (bass, percussion, vocals), in an exclusive e-mail interview with The STAR.
The Puerto Rican-American band (formed in 2004 in Sarasota, Florida) that gained millions of followers through YouTube is returning to Manila after a year for a headline tour that will open with a major concert on Feb. 16 at the Smart Araneta Coliseum in Cubao, Quezon City.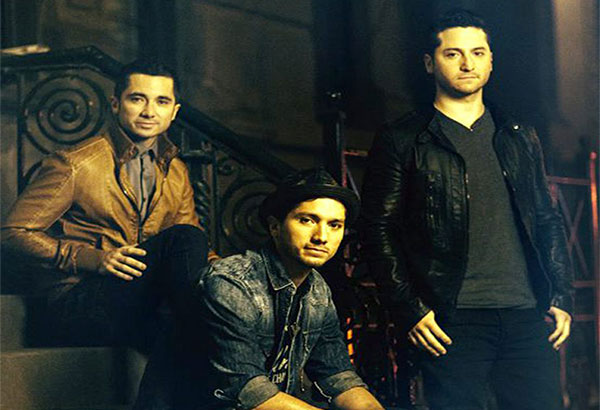 To be mounted by Ovation Productions, the five-city concert series billed as Boyce Avenue Philippine Tour 2016 also includes stops at Waterfront Hotel & Casino Cebu on Feb. 18; Limketkai Mall Cagayan de Oro City on Feb. 19; St. La Salle Coliseum Bacolod City on Feb. 20; and University of Baguio on Feb. 22.
To be featured as special guests at the Big Dome concert are American singer, songwriter-musician Savannah Outen and the fast-rising Australian band, At Sunset, both of which enjoy a huge following on YouTube.
The tour, which is part of Boyce Avenue's ongoing Be Somebody world tour, comes one year after its last performances before thousands of ecstatic fans at the Big Dome and at the SMX Convention Center in Davao City.
Boyce Avenue is also known for its killer covers of hits of other big-name music stars such as Ed Sheeran, Wiz Khalifa, Ellie Goulding, Sam Smith and Bruno Mars, among many others. The band was recently named by Spotify as the No. 1 "most streamed international artist."
It was Alejandro who answered the questions. Excerpts:
What has been your most memorable experience living on Boyce Avenue that you decided to name your band after it?
"It is a combination of two streets we grew up on as kids. So for us, it has significance because the vast majority of all of our childhood memories together stemmed from those two streets. It reminds us of our entire upbringing."
What are the advantages and disadvantages of being brothers in one band?
"Being able to work with my brothers is amazing! We each have our own individual roles within the band which makes working together really fun but also pretty easy. It is an added plus that we get to travel the world together and that our entire family can come with us sometimes."
Do you always agree on what music to play?
"We don't always agree, specifically on songs to cover but that also helps us bring a fresh perspective on what songs to play. We don't have the exact same taste in music but that is what helps us make unique covers."
Is it good that you don't have the same taste in music?
"There is just enough overlap in musical taste so that we are mostly on the same page but just enough difference in opinion to add some diversity."
How are you similar to or different from each other?
"We are all very different, honestly. Of course, we have similarities because we are brothers but at the end of the day, we are all unique. Fabian is the more artistic, graphics, design brother. Daniel is more focused on the business side of things (he went to Harvard Law school) and I am focused mainly on the music…rearranging songs, choosing covers, etc."
How does Boyce Avenue differ from other bands?
"I would say one thing that really sets us apart is that we are completely independent. We have a small team that we work with day in and day out but we aren't part of a label or machine like that. We are very hands-on and we do a ton of stuff on our own!"
As brothers, how were you brought up, who influenced you into becoming musicians, who are your musical influences, do you have the same idols/role-models?
"We were largely influenced by our parents and our grandfather who would play guitar at family gatherings. They all introduced us to music at a young age and instilled in us a passion for it. But I think the idea of taking it seriously as a career stemmed from us always enjoying doing things together and realizing that our chances of success and fulfillment are always greater when we do things together. We look up to timeless artists like Coldplay, Journey, Julio Iglesias, Foo Fighters, Goo Goo Dolls, John Mayer, Oasis and many others."
You started as social-media sensation. How effective is social media as forum for building up artists? Any pointers for aspiring artists on how to use social media effectively?
"I would say that finding a platform that works for you to be honest is the most important. YouTube worked well for us because it allows us to share our message directly with fans in a very personal way. We had no idea that YouTube would have the effect that it did and we are forever grateful to everyone who watches our videos and listens to our music online."
You are performing in Manila on Feb. 16, two days after Valentine's Day. How will you spend Valentine's Day, separately with your respective partners or all together?
"We will all be together, playing a show in India, doing what we love with people we love!"
Any memorable Valentine experience? How do you usually celebrate Valentine's Day?
"We've often been in the Philippines playing shows for Valentine's Day and we absolutely love it. In 2009, we brought some teddy bears on stage and threw them into the crowd, which was fun, hahahaha! We met a fan years later and she still had her teddy bear. So, whenever there is an excuse to hurl teddy bears into a crowd of fans, we seize that opportunity!"
You were recently named by Spotify as "the No. 1 Most Streamed International Artist." How do you feel about it?
"I think we have our Filipino fans to thank for that!"
Any message to your Filipino fans waiting for your fifth visit to the Philippines?
"We love the Philippines and can't wait to be back. Our very first international show was in the Philippines and that was one of our most memorable experiences to date. We appreciate your love and support and all those tweets, posts and comments do not go un-noticed!!!"
(Boyce Avenue Philippine Tour 2016 is presented by Ovation Production in cooperation with Fox International Channels and Imarflex Airconditioners. It is brought to you by The Philippine STAR, Manila Bulletin, BusinessWorld, RX 93.1 Monster Radio, 96.3 Easy Rock, Retro 105.9 DCG FM and Mellow 94.7. It is also supported by 8 List, ClickTheCity.com, Philstar Global, Inquirer.net, G/ST, Philippine Entertainment Portal [pep.ph], Rappler.com, Lion Heart TV and Optima Sign Solutions. Ticket prices and outlets are as follows: Smart Araneta Coliseum concert on Feb. 16 — P5,280, P4,755, P4,225, P3,700, P2,115 and P785. Tickets are available at all Ticketnet outlets nationwide and online at www.ticketnet.com.ph or call Ticketnet at 911-5555; Waterfront Hotel & Casino Cebu show on Feb. 18 — [032] 232-6888/0917-6228705; Limketkai Mall,Cagayan de Oro City show on Feb. 19 — +63 88 856-8881; St. La Salle Coliseum Bacolod City show on Feb. 20 — [033] 514-0199/0928-6916661; University of Baguio show on Feb. 22 — [074) 423-3912/0923-2168038.)
(E-mail reactions at entphilstar@yahoo.com. You may also send your questions to askrickylo@gmail.com. For more updates, photos and videos visit www.philstar.com/funfare or follow me on www.twitter/therealrickylo.)