Ang lalaking walang pahinga
FUNFARE
-
Ricky Lo
(The Philippine Star) - September 13, 2015 - 10:00am
Like the rest of the Bulaga dabarkads, Jose Manalo can't explain how or why the AlDub kalyeserye became a monster hit worldwide.
"Biglaan lang," Jose told Funfare. "It wasn't planned at all. We were just told that Wally was going to change his duktora character to a lola with a yaya."
That's in Eat, Bulaga's Juan For All, All For Juan segment. Wally is Wally Bayola who plays Lola Nidora in the two-month-old kalyeserye that catapulted the split-screen love team of Alden Richards and Maine Mendoza/Yaya Dub to overnight stardom. Jose plays three characters: as Frankie Arenolli, Yaya Dub's jilted Italian suitor; as Don Franing, the suitor's Gucci-clad grandfather; and as Tinidora, one of the triplets with Lola Nidora and Paolo Ballesteros as Tidora.
"A few days after Maine joined the show," continued Jose, "Alden was caught by the camera on the other screen watching Maine. Parang kinilig si Maine. That's how everything started. Biglang naging love team na sina Alden at Maine."
AlDub followers agree that Jose, as well as Wally and Paolo, play a big part in the kalyeserye's success. When the AlDub pair is off-screen, Jose and Wally help sustain the viewers' interest with their crazy-wacky comic style, dressed in identical fashion with over-done make-up. Jose clicks with his harot (flirtatious) portrayal of Tinidora which is how people have started calling him.
"We are supposed to be triplets with different personality," said Jose, "so I thought of how to make Tinidora different from Lola Nidora and Tidora. Si Paolo maganda na, si Wally mataray at masungit, so ginawa kong malantong na matanda si Tinidora."
While Lola Nidora has three bodyguards all named Rogelio and Paolo has his own hunk bodyguards all named Bernardo, Jose also has his own bodyguards (Cuando, Cuando, Cuando) who seem to have, as Jose himself jokingly described them, risen from the grave.
The kalyeserye cast is given bullet points every day as guide, there's no script at all, and it's up to them to improvise on the sequence.
"The studio hosts are a big help," said Jose, referring to Tito Sotto, Vic Sotto, Joey de Leon and Allan K who usually monitor the Juan For All segment. "They feed us pointers on what to do."
With Alden and Wally, Jose is seen on TV from Monday to Saturday, now including Sundays on the new GMA noontime show Sunday PINASaya. Saturday nights, he co-hosts Celebrity Bluff with Eugene Domingo, also on GMA. Every now and then, he performs at Zirkoh which is owned and managed by Allan K. Yes, you can call Jose ang lalaking walang pahinga.
Jose also acts as field reporter Gasgas Abelgas (patterned after you-know-who) for Tuko TV, keeping viewers on what's coming next during the kalyeserye's cliffhanger portion in which the triplets are shown "frozen."
What you see is what you get, assured Jose.
"Palabiro na talaga ako since I was a child growing up in Moriones, Tondo, Manila. Lahat ng tao d'un alaskador. Hilig kong mambuska ng tao. If you don't know me, mapipikon ka sa akin, sa mga biro ko."
He's the second to the eldest among five children.
"I come from a happy family. Medyo kapos pero masaya," said Jose who reached only up to second year in college at UE. "Bulakbol kasi ako, sayaw lang nang sayaw."
He started as a clown with Caloy Atayde's Boyoyong Clowns that performed in kiddie parties.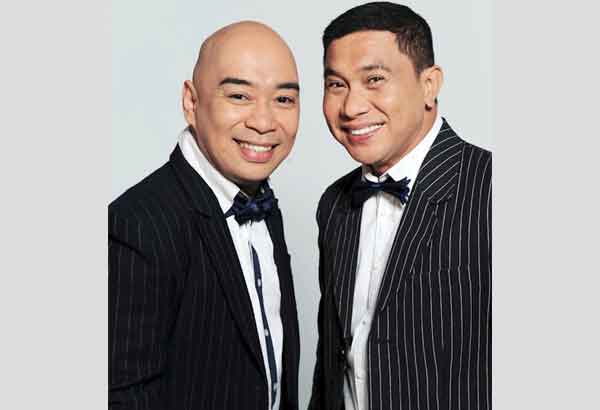 Jose and Wally during their 2012 sold-out concert at the Smart-Araneta Coliseum
"I also dance and I used to join dance contests in Eat, Bulaga. It was direk German Escueta who got me into GMA. I was a member of direk's dance group and his basketball team."
His acting debut was dramatic, not comedic.
"It was on the GMA action-drama series Valiente," related Jose whose real first name is Ariel. "Ang role ko parang boy-boy, Jose ang pangalan. When Valiente ended, direk German hired me as PA (Production Assistant) and audition master of Bulaga! The name Jose stuck. They always told those auditioning, 'Look for Jose!' Then, I became the floor director.
"Magulo na talaga ako. Mando ako nang mando sa mga artista. Every now and then they would show me on the screen wearing a headset. They asked me to remove the headset and got me as alalay in the Laban O Bawi segment, then in Bulagaan. I woke up one morning and realized na tuluy-tuloy na ako sa Bulaga."
While Wally has theater experience in high school in Naga City, Jose has no acting background at all.
"Natuto na lang," said Jose.
Wally (real name: Walter James Bayola) grew up in Bicol, in Malinao, Albay.
"Ever since I was a kid," Wally told Funfare in a previous interview, "laruan na ako ng mga tiyahin at tiyuhin ko. When I joined the church choir, my friends treated me the same way, laruan nila. I finished grade/elementary school at a Catholic school in Tabaco, Albay. It was the priest who took care of me. When he died, I went back to stay with my lola in Naga City. I joined the theater so I could get a scholarship in Naga College. I have a college degree, X-Ray Technician."
He started at The Library as a stand-up comedian, along with Pooh and Teri Aunor, and got into Bulaga! as part of the Bulagaan segment where his tandem with Jose was born. They clicked as hosts of the Juan For All, All For Juan segment of Bulaga! In 2012, they topbilled A Party For Every Juan, a sold-out concert at the Smart Araneta Coliseum.
They are both separated from their wives. Wally has four children and Jose has five, one of them indie actor Nicco Manalo.
No, there's no professional jealousy between them; neither is there any scene-stealing from each other.
"Nagtutulungan kami," said Jose.
They are like two peas in a pod, useless without the other.
Incidentally, asked how Maine/Yaya Dub is on the set, Jose echoed what Wally said in a Funfare interview.
"She's very quiet, tahimik na bata pero masaya din. Pero may kalokohan din sa ulo."
Do they talk about Alden?
"Oo naman. I usually tease her and Alden."
Does he think Alden and Maine will end up as sweethearts in real life?
"I think so. Parang may tama na ang Maine na 'yan. They are always being teased so mukhang nagkaka-igihan na. Madalas niloloko ko siya about Alden. It's possible."
Alden said he's fancy-free and so is Maine. So, Jose is right, it's possible!
(E-mail reactions at entphilstar@yahoo.com. You may also send your questions to askrickylo@gmail.com.)