Chuck Gomez
(The Philippine Star) - August 9, 2015 - 10:00am
MANILA, Philippines - Gay: meaning, happy. Broadcast journalist Korina Sanchez-Roxas is "out and proud," so to speak, about her advocacy on equal rights for the LGBTQ Community. "This might seem sudden to some. But for people who have long known me, alam nila ang puso ko para sa mga beki (popular term of endearment amongst gay men), matagal ko na silang mahal at tinutulungan. All my career I've been surrounded by bekis," said Korina in an interview after a grand event titled KeriBeks last Tuesday, at Araneta Coliseum, which she supported.
KeriBeks is a national gay congress that aims to empower Filipino gay men through livelihood programs, viable career options, education and extensive information about their health and over-all wellness. The event also celebrates the countless contributions of gay men to their individual families and, to Philippine society and culture.
"KeriBeks is the brainchild of several gay friends from the entertainment industry. They approached me with this idea and I fell in love with the concept. I've always wanted to help bekis in a bigger way. This event was actually just the beginning of other projects we are thinking of to help empower the LGBTQ Community against several forms of discrimination in the areas of employment, education, opportunity and health," said Korina.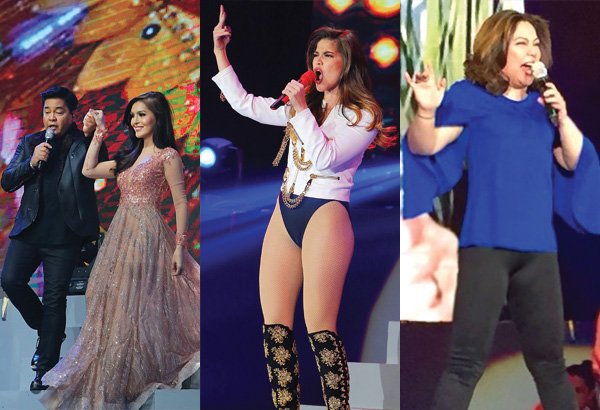 Left: Martin Nievera serenades Miss Gay Manila 2015 winner Trixie Maristela. Center: Anne Curtis raises howls from the Beki crowd as she sings a fabulous medley of R&B chart-toppers. Right: Maricel Soriano renders a torchy I Am What I Am, her signature song.
KeriBeks was conceived late last year and took almost 10 months to plan. Korina said she didn't tell her husband Mar Roxas about what she was doing until a month prior to the event. "I wasn't sure what he would think, so I was ecstatic when he said what we were doing 'is good' and that he supports it."
"I've been in the business for over 30 years and gays have always been there for me. They were with me through every creative process at work, through the good and bad times of my personal life. They accept me for who I am as I accept them. Malapit talaga sila sa akin. Alam ko ang mga pinagdadaanan nila. For me, they are unsung heroes because they support their families, they send their nephews and nieces to school, and they still manage to be fabulous," said Korina.
The bekis were treated to an evening of star-studded production numbers and heartwarming inspirational messages from some of the country's most respected gay icons and leaders. The venue was also jam-packed with booths that offered job options for the delegates and information on how to manage their finances, and how to stay healthier and more secure for their future.
The main event was hosted by Arnell Ignacio, Chokoleit and Rufa Mae Quinto. Highlights of the night were a surprise and rare performance by Diamond Star Maricel Soriano; an appearance by international online sensation Maria Sofia Love; a high-energy medley by Anne Curtis; Martin Nievera serenading transgender beauty queens; and a moving rendition of songs of empowerment by Vice Ganda who ended the evening with a powerful speech encouraging gay men to love themselves and have their voices heard.
Other artists who supported the event were Carla Abellana, Tom Rodriguez, Elmo Magalona, Megan Young, Jay-R and Kris Lawrence. Comedians who brought the house down were KitKat, Negi and Lassy. Power singers Dulce, Donita Nose, KZ Tandingan, Frenchie Dy, Klarisse de Guzman, Leah Patricio, Anton Diva, Gerphil Flores and Mis Tres roared through the coliseum. Love songs were sung by Bradley Holmes, Jason Fernandez, Daryll Ong and Jason Dy. El Gamma Penumbra and Buganda opened the show with local transgender beauty queens from all over Luzon. Needless to say, performances by the group Masculados Dos, Tondo Machos and Zeus Collins got the whole coliseum screaming and dancing. Inspirational talks on gay empowerment were delivered by Ang Ladlad's Bemz Bendito, Danton Remoto and Rica Paras. Businessman Joel Cruz and fashion designer Renee Salud also spoke. Co-authors of the Anti-Discrimination Bill, Rep. Leni Robredo and Rep. Kaka Bag-ao along with Quezon City Vice Mayor Joy Belmonte and other congressmen attended the event.
"It all boils down to love and acceptance. Gays are an integral and important part of society and our country. And the event was really intended to honor them," said Korina.
Vice Ganda, as the show ended, left a powerful message about KeriBeks and to all who were present at the event. "This is now. This is so now. Bakit ngayon lang naganap ito? Ngayon dinig na nila ang ating tinig. Tignan natin kung kaya pa nila tayong apihin," declared Vice before a cheering crowd of gays.
KeriBeks was supported by San Miguel Corp., Aficionado, AMA, ATC Healthcare, McDonald's, IMG, Capsinesis, Frontrow, Belo Medical Group, MET, Novuhair and Lumina.