Villanueva, chef Boy Logro face off in skills showdown
MANILA, Philippines - A makeshift kitchen in a covered court in Brgy. Sta. Cruz in Antipolo City became the stage for the showdown of skills between Technical Education and Skills Development Authority (TESDA) Secretary Joel Villanueva and GMA 7's Idol sa Kusina host chef Boy Logro.
Villanueva and Logro complemented each other as Villanueva whipped up his signature Cappuccino to match Logro's Sizzling Salmon Steak in Mediterranean lemon butter sauce. The friendly culinary face-off was dubbed Idol Ko si Sec, Idol Ko si Chef. At the end of the skills demonstration, the crowd was treated to a free taste of chef Boy's dish and Villanueva's coffee concoction.
Logro, one of TESDA's career ambassadors, said they hope to stir up interest among the youth to get into technical vocational education.
"From humble beginnings, chef Boy showed us where the tech-voc route took him, and how hard work paid off," said Villanueva.
To recognize trainees who completed their courses, Villanueva led the ceremony for the graduation of finishers of TESDA programs, namely, Training for Work Scholarship Program (TWSP), Private Education Student Financial Assistance (PESFA), Special Training for Employment Program (STEP) and the Bottom-up Budgeting (BuB). There were a total of 639 graduates.
Among the guests were local officials led by Antipolo City Mayor Jun Ynares III, Rep. Robbie Puno and wife Chiqui Roa, Vice Mayor Sofia Schuck, Rizal Technical Vocational Schools Association president Jose Montenegro and TESDA officials Luisita dela Cruz and Velma Salazar.
"TESDA has been part of developing their skills as they journey to the world of employment. Our graduates are in demand globally like Qatar, USA and Canada," Villanueva said.
In Cainta, Rizal, Villanueva also attended the graduation of TESDA scholars who completed their respective tech-voc courses. Joining TESDA officials at the rites were Rizal Governor Rebecca Ynares, Cainta Mayor Jhonielle Nieto, Rep. Joel Roy Duavit, Tanay Mayor Rafael Tanjuatco, Binangonan Mayor Cecilio Ynares, former Vice Mayor Susan Say and Rizal Provincial Technical Education and Skills Development Center administrator Vergel Soriano. — VER PAULINO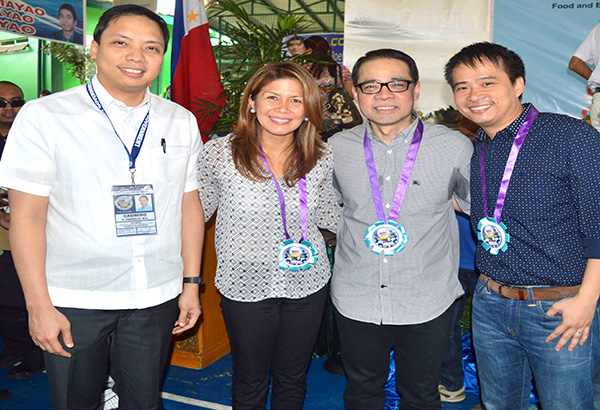 Sec. Villanueva with Antipolo City Mayor Casimiro 'Jun' Ynares III (leftmost), Antipolo City Rep. Robbie Puno and wife Chiqui Roa