Why infidelity clicks as TV/movie theme
Infidelity is one of the human weaknesses or errors in judgment that have been the focus of many films and television series. As a matter of fact, the top-rating The Legal Wife, which aired its last episode recently, has already been pitted against another similarly plotted TV series, Ang Dalawang Mrs. Real, showing on the rival channel.Not too long ago, the film The Other Woman raked in millions as did the teleserye My Husband's Lover, a topic of interest and discussion for several months. Even the Koreanovela, The Temptation of Wife, had a Filipino adaptation. The American motion picture The Other Woman joined in the competition.
So why the proliferation? Is it because it is now a rampant occurrence in the reality of life? Or is it because the once tight-lipped secret of married men and women is now openly portrayed and glamorized? Or is it because it pricks the interest of so many televiewers who try to find justification for their own bleeding consciences as they are in similar situations? Is it a fad and a passing fancy? Has it become part and parcel of the consciousness of present society? Perhaps, the incidences of all these in the present-day marriages have increased, and society is more open to admit it. But as many as there are questions, so are there no answers.
Infidelity is not something new that has come in with the industrial revolution. On the contrary, it has existed from ancient times with its many chronicles of lovers and paramours written about. An exceedingly popular play purportedly written by William Shakespeare is that of Camelot based on the illicit romance of the Queen and one of the most trusted Knights of the Round Table. This story found itself on Broadway in 1960, directed by Moss Hart, featuring the music of Frederick Loewe and the lyrics of Alan Jay Lerner. It ran for 873 performances, winning four Tony Awards and spawning several revivals, foreign productions and a 1967 film version.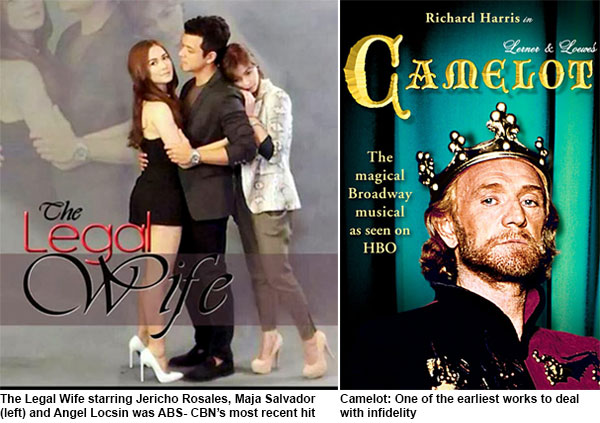 More often than not, it is said that the eating of the forbidden fruit gives one more excitement and pleasure, as does an illicit relationship. It is also perhaps the reason why infidelity becomes a more interesting topic to work with as it challenges the creativity and skills of both scriptwriter and director. It is also about how the actors and actresses can bring to life fictional characters depicting daily occurrences that televiewers can identify with. And most often than not, these are our human indiscretions that bring about the full circle of emotions — love, hate, anger, trust, perseverance, forgiveness and understanding. It has also afforded material for sub-plots within the story, which provide more excitement for the viewer.
Top-grosser or not, the audience has been warned not to feel that it is right. Infidelity is immoral and wrong, and again that explains the root of its attraction.
My Husband's Lover told the story of Vincent (Tom Rodriguez) who got his girlfriend Lally (Carla Abellana) pregnant while they were still in college. They decided to get married even if Vincent's mom, played by Kuh Ledesma, was very much against it. But for the love of her husband, Lally endured the hardships in dealing with her mother-in-law. However, when she got pregnant with their second child, her husband became distant and cold towards her. Unknown to Lally, Vincent had been keeping a secret from everyone — the fact that he is a closet gay and the object of his affections is Eric (Dennis Trillo) who has been his greatest love. Eventually, Lally discovered her husband's deepest, darkest secret.
The Legal Wife, on the other hand, was a melodramatic family drama series, directed by Rory Quintos and Dado Lumibao that served as primetime comeback for Angel Locsin and the first TV series for JC de Vera on ABS-CBN. The series was also topbilled by Jericho Rosales and Maja Salvador. The story revolved around Monica (Angel), her mother (Rio Locsin), her father (Christopher de Leon) and her two brothers. Through a set of circumstances, she would meet and fall in love with Adrian (Jericho), the man who would teach her how to love and would break her heart.
Ang Dalawang Mrs. Real is another teleserye from GMA starring Dingdong Dantes, Lovi Poe and Maricel Soriano. It tells of a man marrying two women and loving them both equally at the same time. More than just another drama that highlights infidelity or unfaithfulness in relationships, viewers are shown the consequences of such actions where there are no victors and everyone is a loser. Until when can Dingdong's character live the life of being a husband to two wives? Will he let go of one to keep the other, or will he end up losing both?
The Other Woman, on the other hand, is a 2014 American romantic-comedy with Cameron Diaz, Leslie Mann, Don Johnson and a host of others. Despite mostly negative reviews, the film has been a box-office success.
(E-mail your comments to bibsyfotos@yahoo.com aor text them at 0917-8991835.)