Remembering the art & life of Lino Brocka
MANILA, Philippines - Last month was the 23rd death anniversary of filmmaker and National Artist for Film Lino Brocka who died in a car accident on May 21, 1991.
Film lovers are lucky that the cable channel, Cinema One, continues to show some of his classic films, among them, Ina, Kapatid, Anak which showed actors Lolita Rodriguez and Charito Solis at their best. The parting scene between sisters had a quiet Solis looking at Rodriguez from the window. That scene was so taut and illuminating it bagged for Solis the Best Actress award over her closest competitor, Rodriguez.
On the other hand, Brocka's 1970 film, Wanted: Perfect Mother, was a virtual nostalgia trip as we saw today's adult stars in their rare childhood roles namely Snooky Serna, Gina Alajar and Arnold Gamboa, among others. Of course, we saw a younger version of Caridad Sanchez and Mary Walter and the rare appearance of the emcee for all seasons, Eddie Mercado. The film had a virginal Boots Anson-Roa paired with the once young and dashing Dante Rivero.
Indeed, today's cineastes can have the best of Brocka not just on cable channel but on YouTube as well.
We were able to savor Tubog Sa Ginto, which was a far more engrossing movie than the hit teleserye, My Husband's Lover. Here, you see a young Eddie Garcia making it with the younger Mario O'Hara to the shock of his son played by Jay Ilagan.
On his 23rd death anniversary, Brocka was given a special tribute by Cinema One with a pilot episode of a talk show Inside Cinema Circle aptly called Mga Anak Ni Brocka hosted by Boy Abunda.
Gathered for this occasion were Brocka's protégés, namely Philip Salvador, Bembol Roco, Rio Locsin and Chanda Romero, among others.
What the talk show revealed was that Brocka got the best performances from these actors who happen to be personally close to the director.
Roco recalled he was a virtual beginner when he was tapped for the lead role of Maynila Sa Mga Kuko Ng Liwanag after a chubby Ilagan was eased out from the part. But with the magic of Brocka, Roco said he was able to summon the best that he could give to the part — even with his then non-existence theater and film credentials.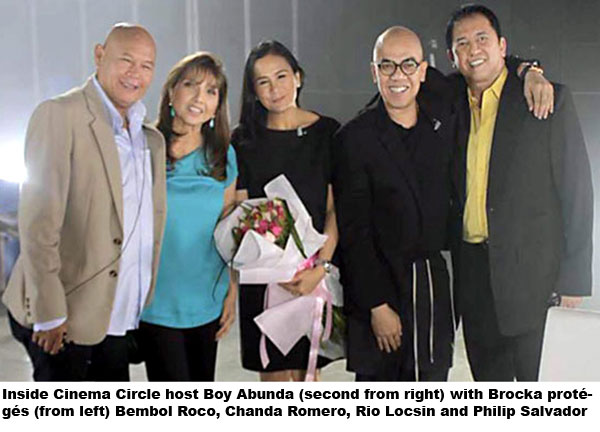 The talk show became veritable teleserye as Roco became very emotional and cried recalling what a wonderful person Brocka was and a first-rate director.
This was echoed by Locsin and Romero who revealed they didn't know they could act until Brocka came along and gave them self-confidence.
But the most revealing recollection was from Salvador who appeared in such landmark Brocka films like Jaguar, Bona and Orapronobis, among others.
Salvador said Brocka was not just a director to him. He was also big brother and probably a special friend. "I loved him and I love his family," Philip declared.
To be sure, they had their share of misunderstanding but in the end, they were the true friends they were.
Philip continued: "The last time we saw each other after we patched up our minor differences, Lino (Brocka) kissed me on my lips in full view of construction workers in the neighborhood. He loved me, he said and I told him, I love you, too. It didn't occur to me that he would soon die and leave us forever."
The art and life of Brocka is summed up in the Cultural Center of the Philippines (CCP) publication, Lino Brocka: The Artist and His Times edited by Mario Hernando.
Among others, the book has assorted articles on Brocka's life including film reviews of his landmark films.
The book confirms Brocka was a true-blooded Bicolano (he was born April 3, 1939 in Pilar, Sorsogon) and had a traumatic childhood made worst by close relatives. He grew up in San Jose, Nueva Ecija, studied at UP where he had short theater stints in the company of Wilfredo Ma. Guerrero and Behn Cervantes.
Later, his name became synonymous with Philippine Educational Theater Association (PETA) and the rest was history.
The best account in the Hernando book was Jo-Anne Maglipon's Brocka's Battles.
Here, she summed up Brocka's battles with the board of censors from Maria Kalaw Katigbak to Manoling Morato including his private battles that included a discovery of a family secret: His mother was a mistress of a town policeman.
Maglipon wrote: "To the day he died, he wasn't done. These last years, the world began to appear to him bigger, more urgent. His political cinema had found its groove. There seemed to be an outpouring of stories to tell in his celluloid: Of the wives and mothers and daughters who waited for their men in prison, of corruption in government, of morals ran aground, of little men's little joys. He spoke about birds and scuba diving, and how he could never get used to fast cars. He tried up cleaning his finances and investing his money somewhere wise. In his last days, he was still slugging it out merrily for those he held dear, and still hurting friends miserably that had cared for him. 'Twas said that the man's judgment was not always the best; his heart not always wise. He was, after all, of many wild and immodest passions driven. He had will, he was stubborn, he was flawed. But always, — always — he was significant. There was no way a man like Lino Brocka would have left the world the same way he found it."