What Maricel loves, hates about her Real role
MANILA, Philippines - The idea of portraying an understanding, faithful and caring wife, despite knowing her husband's infidel ways in the GMA 7's latest primetime drama Ang Dalawang Mrs. Real, makes Maricel Soriano want to "freak out." She could hardly hide her "strong feelings" for the kind of persona she is about to portray.
Maricel is pertaining to her role as Millet Gonzales-Real, a successful woman who is willing to do everything for her family, especially for her husband Anthony Real (played by Dingdong Dantes). But never did she expect that she will one day discover that there is another Mrs. Anthony Real in the person of Shiela Salazar-Real (Lovi Poe).
The actress relates that while reading the script, her heart started to beat faster in anger towards Millet. "I told them (the production staff), 'Huh? Could this really be possible? Millet's undying love is surreal, nanggigigil ako sa kanya."
And until the day the cameras started to roll, Maricel was still trying to convince herself that she is able to plunge into the character easily "because I cannot take her personality. Millet has this unconditional kind of love no matter how painful it is for her to be cheated by her man. Naloka ako, may tao bang ganito?"
Maricel even jokes that she needs to sit down face to face with Millet to make her realize her foolishness. But given her personal feelings, Maricel does not ask the writer if a moment of redemption will occur in the end. "I'm not the type who will keep on asking about the next phase. Gusto ko nagugulat ako. And I did when I read the part where Dingdong and I will have a heated argument and there is this line where he will tell me, 'Pakialamera ka kasi!' That line suddenly made me feel cold, my flesh was shaking in outrage. Should that happen to me in real life, I will definitely hit him hard on the face."
Oops, don't get her wrong. Maricel is not the violent type. "Violence is different from keeping your dignity intact. Aren't you going to feel mad and fight back with that kind of man?"
But Maricel is certain that Millet could serve as a good role model when it comes to her eagerness to maintain the good image of her husband to her father. Televiewers will also about to learn a tip or two on how a wife will do everything to keep her family intact, despite the bumps and hitches along the way.
"That's the quality I love in Millet, 'yung pinipilit n'ya na magustuhan ng tatay n'ya si Anthony. Everything is okay and positive for her. Just like me, all I want is to live and think positive," she affirms, adding that she no longer wants to be involved in any controversy.
In fact, Maricel exudes an aura of happiness these days. She no longer bothers about the minor hitches life brings every single day. She is mostly concerned about the things that truly matter and that would make her improve as a person.
"I cannot think of anything bad about working on this project. Everything is working out fine. Happy kami sa set."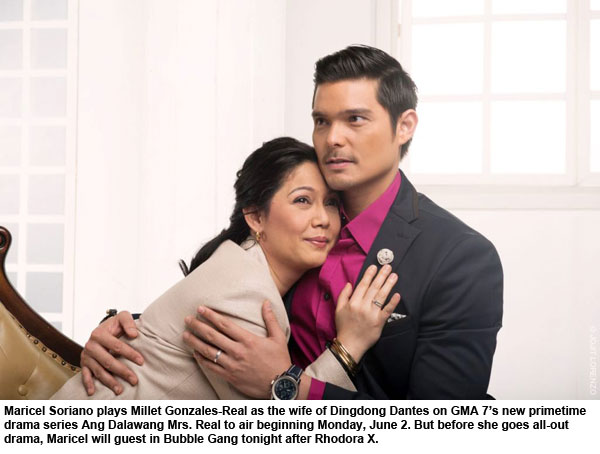 She, too, has nothing but praises for her co-stars, particularly to the younger ones like Dingdong and Lovi. "Dingdong is an excellent actor; he listens to me. With Lovi, we haven't shot a scene together yet but I know she is also a good actress. I have watched her in her recent drama shows."
Lovi, in a recent report, said that she feels blessed to be working with the Diamond Star for the first time. "It's my dream, ever since to be with Maricel Soriano and all of these people that I have worked with. Exited na 'ko maka-eksena si Ms. Maricel."
Does Maricel feel any pressure knowing how essential it is for a show to do well in the ratings game?
"I keep telling myself to remain calm about that TV show rating thing but sometimes, I can't help feeling nervous so I am praying to God for strength to face anything. I am leaving everything to Him."
(Directed by Andoy Ranay, Ang Dalawang Mrs. Real will air weeknights beginning June 2.)