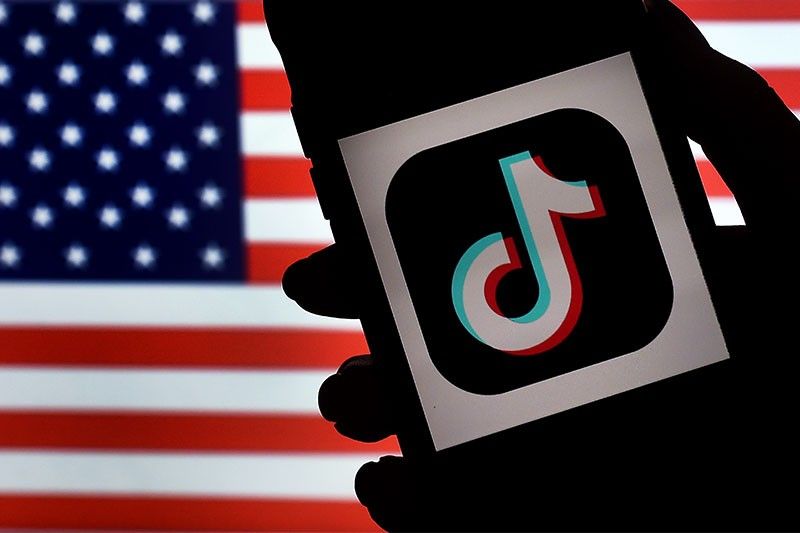 In this file photo illustration taken on August 3, 2020, the social media application logo, TikTok is displayed on the screen of an iPhone on an US flag as the background in Arlington, Virginia. President Donald Trump on September 21, 2020 threw into doubt a deal to restructure ownership of the popular video app TikTok, vowing to block any deal that allows its Chinese parent firm to retain any control.The comments raised fresh concerns over a weekend deal that appeared to avert a US-ordered ban of TikTok, which the Trump administration has called a national security risk.
AFP/Olivier DOULIERY
TikTok deal aims to thread needle on US, China demands
Rob Lever
(Agence France-Presse) - September 22, 2020 - 7:41am
WASHINGTON, United States — A fragile deal to put the popular video app TikTok in American control appeared in jeopardy Monday amid disagreement on the ownership structure and Chinese involvement.
The plan unveiled over the weekend would make Silicon Valley data giant Oracle the technology steward for the social platform and allow retail giant Walmart a stake as a commercial partner.
But the deal was being portrayed in different terms in the two countries. Here are key points:
Ownership
According to US officials, the deal would establish a new entity called TikTok Global with Oracle managing data security through its cloud servers.
Walmart and Oracle would control 20 percent of TikTok Global ahead of a share offering, and Americans would hold four of five board seats.
US President Donald Trump said he would not approve a deal with any Chinese ownership or control.
Oracle said that as TikTok shares are distributed, "Americans will be the majority and ByteDance will have no ownership in TikTok Global."
But TikTok parent firm ByteDance — a Chinse firm with US investors — disputed what it called "false rumors" and said it would retain 80 percent of the new firm.
Data security
Trump, who has repeatedly charged that TikTok could threaten national security and be used for spying, said the data would be under American control.
"Everything is going to be moved into a cloud done by Oracle... totally controlled by Oracle," he said.
In ByteDance's view, the plan does not allow "the transfer of any algorithms and technologies" while enabling Oracle to review the source code of TikTok USA.
James Lewis, head of technology policy for the Center for Strategic and International Studies, said the plan appears structured "where TikTok Global will license the algorithms as a service" without giving up the technology, under terms used frequently in cloud computing.
Chance of success
The deal has a potential to satisfy both Washington and Beijing because "ByteDance doesn't have to share the algorithm and doesn't have to give up its shares," Lewis said.
For the US side, "Oracle gets to review the ByteDance source code for problems and spyware," Lewis added.
But the Chinese state-controlled newspaper Global Times suggested Beijing should veto what it called "robbery" of Chinese technology.
"China will not accept this kind of bullying arrangement of the US," the newspaper said in an editorial.
"If China surrenders, which country in the world can resist?... Once Washington succeeds, the US will enjoy global technological hegemony forever."
Yun Zhu, a professor of finance at St. John's University, said he is skeptical of a deal with China as the two countries battle for technological supremacy.
"I don't think this is going to be resolved quickly," Zhu said.
"I see this as a beginning," he said, adding that this is one stage of a long conflict over "mining digital assets."
As It Happens
LATEST UPDATE: December 23, 2020 - 5:38pm
The latest news about Facebook, Twitter, Instagram and other social media platforms.
December 23, 2020 - 5:38pm
Messaging app Telegram will launch pay-for services in 2021, its Russian-born founder Pavel Durov says Wednesday, as the growing company needed "at least a few hundred million dollars per year".
"Telegram will begin to generate revenue, starting next year," he says in a statement. "We will be able to launch countless new features and welcome billions of new users." — AFP
December 7, 2020 - 12:40pm
The Bureau of Immigration has issued a ban on employees posting content on TikTok of them dancing or performing social media challenges while in uniform.
Immigration Commissioner Jaime Morente says in a press release that the prohibition "was imposed to strictly enforce the bureau's regulations on the wearing of the BI uniform, whose integrity must be upheld at all times because it represents the institution of the Philippine immigration service."

"Our policy on the wearing of the BI uniform is clear. As public servants and supposed model Filipinos, employees must proudly wear their uniform at all times, present a professional image to the public and observe proper decorum and good taste in all their actions while they are on duty," he also says.
December 5, 2020 - 10:34am
A souce says shortform video app TikTok and the Trump administration had not come to terms over sale of the company's US operations late Friday as a deadline loomed.
The Committee on Foreign Investment had given TikTok parent ByteDance, based in China, until midnight to come up with an acceptable deal to put TikTok's American assets into US hands.
Talks between TikTok and government negotiators will continue even after the deadline passes, and people in the US will still be able to use the popular smartphone app for sharing video snippets, the source says. — AFP
December 1, 2020 - 5:21pm
Twitter on Tuesday rebuffs Australian calls to remove a Beijing official's incendiary tweet targeting Australian troops, as China doubled down on criticism in the face of mounting international condemnation.
Chinese foreign ministry spokesman Zhao Lijian sparked outrage in Canberra on Monday when he posted a staged image of a man dressed as an Australian soldier holding a bloody knife to an Afghan child's throat.
The post came just days after Australian prosecutors launched an investigation into 19 members of the country's military over alleged war crimes committed in Afghanistan between 2005 and 2016.
Twitter says it had marked the tweet as "sensitive," but adds that comments on topical political issues or "foreign policy sabre-rattling" by official government accounts were generally not in violation of its rules. — AFP
December 1, 2020 - 8:34am
Facebook and Google are fast becoming "human rights-free zones" in Vietnam, Amnesty International warns Tuesday, accusing the tech titans of helping censor peaceful dissent and political expression in the country.
Communist Vietnam has long jailed its critics but has come under fire in recent years for targeting users on Facebook, a popular forum for activists in the country where all independent media is banned.
The social network admitted earlier this year that it was blocking content deemed illegal by authorities, while its latest transparency report revealed a nearly 1,000-percent increase in the content it censors on government orders compared to the previous six months.
Amnesty said in a Tuesday report that it had interviewed 11 activists whose content had been restricted from view in Vietnam by Facebook this year. — AFP