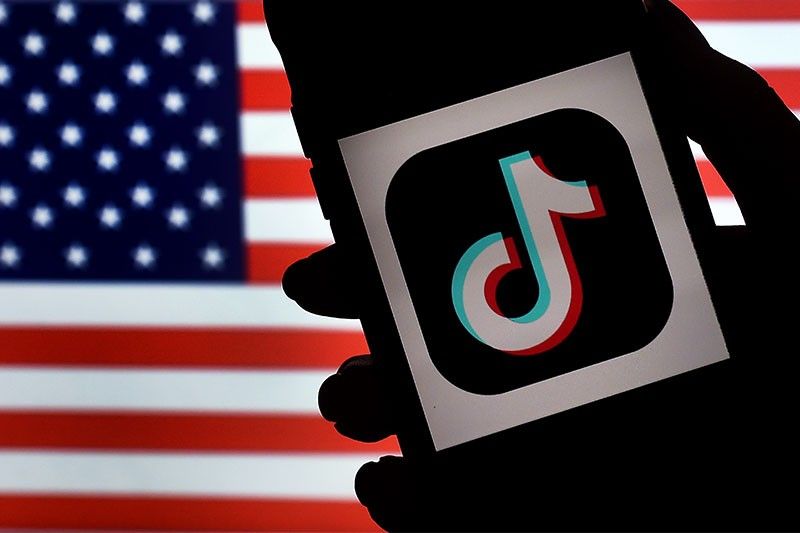 In this file photo illustration taken on August 3, 2020, the social media application logo, TikTok is displayed on the screen of an iPhone on an US flag as the background in Arlington, Virginia. President Donald Trump on September 21, 2020 threw into doubt a deal to restructure ownership of the popular video app TikTok, vowing to block any deal that allows its Chinese parent firm to retain any control.The comments raised fresh concerns over a weekend deal that appeared to avert a US-ordered ban of TikTok, which the Trump administration has called a national security risk.
AFP/Olivier DOULIERY
TikTok deal aims to thread needle on US, China demands
Rob Lever
(Agence France-Presse) - September 22, 2020 - 7:41am
WASHINGTON, United States — A fragile deal to put the popular video app TikTok in American control appeared in jeopardy Monday amid disagreement on the ownership structure and Chinese involvement.
The plan unveiled over the weekend would make Silicon Valley data giant Oracle the technology steward for the social platform and allow retail giant Walmart a stake as a commercial partner.
But the deal was being portrayed in different terms in the two countries. Here are key points:
Ownership
According to US officials, the deal would establish a new entity called TikTok Global with Oracle managing data security through its cloud servers.
Walmart and Oracle would control 20 percent of TikTok Global ahead of a share offering, and Americans would hold four of five board seats.
US President Donald Trump said he would not approve a deal with any Chinese ownership or control.
Oracle said that as TikTok shares are distributed, "Americans will be the majority and ByteDance will have no ownership in TikTok Global."
But TikTok parent firm ByteDance — a Chinse firm with US investors — disputed what it called "false rumors" and said it would retain 80 percent of the new firm.
Data security
Trump, who has repeatedly charged that TikTok could threaten national security and be used for spying, said the data would be under American control.
"Everything is going to be moved into a cloud done by Oracle... totally controlled by Oracle," he said.
In ByteDance's view, the plan does not allow "the transfer of any algorithms and technologies" while enabling Oracle to review the source code of TikTok USA.
James Lewis, head of technology policy for the Center for Strategic and International Studies, said the plan appears structured "where TikTok Global will license the algorithms as a service" without giving up the technology, under terms used frequently in cloud computing.
Chance of success
The deal has a potential to satisfy both Washington and Beijing because "ByteDance doesn't have to share the algorithm and doesn't have to give up its shares," Lewis said.
For the US side, "Oracle gets to review the ByteDance source code for problems and spyware," Lewis added.
But the Chinese state-controlled newspaper Global Times suggested Beijing should veto what it called "robbery" of Chinese technology.
"China will not accept this kind of bullying arrangement of the US," the newspaper said in an editorial.
"If China surrenders, which country in the world can resist?... Once Washington succeeds, the US will enjoy global technological hegemony forever."
Yun Zhu, a professor of finance at St. John's University, said he is skeptical of a deal with China as the two countries battle for technological supremacy.
"I don't think this is going to be resolved quickly," Zhu said.
"I see this as a beginning," he said, adding that this is one stage of a long conflict over "mining digital assets."
As It Happens
LATEST UPDATE: October 20, 2020 - 9:45am
The latest news about Facebook, Twitter, Instagram and other social media platforms.
October 20, 2020 - 9:45am
Facebook unveils software based on machine learning which the company said was the first to be able to translate from any of 100 languages without relying on English.
The open-source artificial intelligence software was created to help the massive social network deliver content better in 160 languages to its more than two billion users around the world.
"This milestone is a culmination of years of Facebook AI's foundational work in machine translation," research assistant Angela Fan says in a blog post. — AFP
October 16, 2020 - 5:14pm
Twitter has altered its policy on hacked content after its decision to block a news report critical of Democratic presidential candidate Joe Biden provoked Republican fury.
The social media behemoth -- used by hundreds of millions worldwide -- says it would in future only block stolen information which was posted directly by hackers, and label any other information of questionable provenance. — AFP
October 16, 2020 - 7:31am
Twitter was working Thursday evening to resolve a global outage of the social media platform used by hundreds of millions worldwide.
The outage marked a new setback for the network, which is fending off accusations of bias over the decision to block a news report critical of Democratic White House candidate Joe Biden.
"We know people are having trouble tweeting and using Twitter. We're working to fix this issue as quickly as possible," a company spokesperson told AFP at 2225 GMT.
Repeated attempts to post a tweet were greeted with the message: "Something went wrong, but don't fret — let's give it another shot."
According to downdetector.com, users on every continent had reported being unable to use the platform, but the outages were concentrated on the east and west coasts of the United States, as well as Japan. — AFP
October 10, 2020 - 10:31am
Twitter says it will take down calls for violence starting after polls close on US election day and slap warnings on premature victory claims to fight efforts to undermine the election.
When it comes to a winner in any race, Twitter will require an announcement by an election official or a public projection from at least two authoritative, national news outlets making independent election calls.
The California tech giant will also invite people to add their thoughts to retweets instead of just mindlessly sharing, according to legal lead Vijaya Gadde and product lead Kayvon Beykpour. — AFP
October 7, 2020 - 1:31pm
A US House of Representatives panel in a report Tuesday accuses four Big Tech firms of acting as "monopolies," calling for sweeping changes to antitrust laws and enforcement that could potentially lead to breakups of the giant firms.
But the report by the House Judiciary Committee failed to win the endorsement of Republican members, highlighting a partisan divide despite widespread criticism of the tech giants.
The 449-page document concludes that Amazon, Apple, Facebook and Google "engage in a form of their own private quasi regulation that is unaccountable to anyone but themselves."
"Companies that once were scrappy, underdog startups that challenged the status quo have become the kinds of monopolies we last saw in the era of oil barons and railroad tycoons," the report says. —AFP