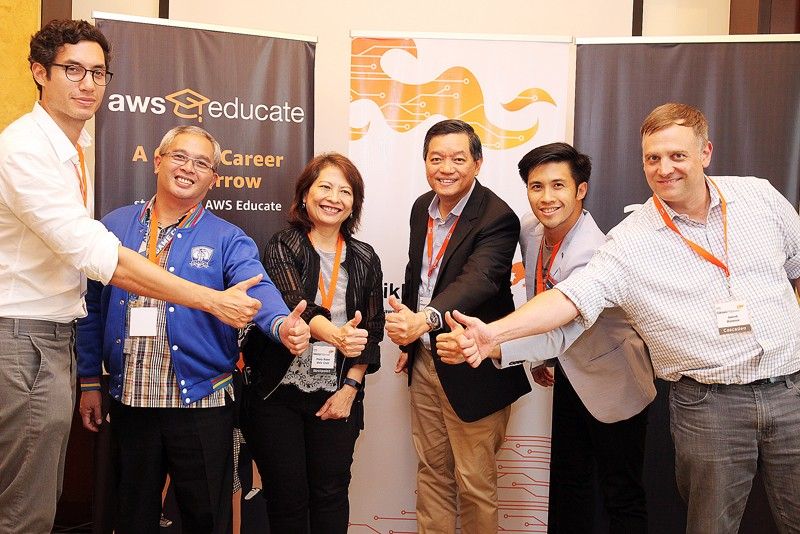 United in developing a cloud-ready workforce. Several Amazon Web Services (AWS) customers in the Philippines join forces for the launch of this year's AWS Siklab Pilipinas, a large-scale cloud technology-training event for colleges and universities. (From left) Edukasyon.ph CEO and founder Henry Motte-Muñoz; iAcademy School of Computing dean Mitch Andaya; Stratpoint CEO Mary Rose dela Cruz; AWS Asia-Pacific regional head for education, research, and not-for-profit – worldwide public sector Vincent Quah; Globe Telecom cloud financial analyst Francis Arjonillo, and Cascadeo CEO Jared Reimer.
Photo by Joey Viduya
AWS Siklab Pilipinas 2019 to train cloud-ready workforce in major Philippine cities
MANILA, Philippines — For the second consecutive year, Amazon Web Services (AWS), an Amazon.com company, is hosting AWS Siklab Pilipinas 2019, a large-scale cloud technology-training event for higher education institutions. Responding to demand, this year's event is expanding from Manila to other major cities including Cebu, Davao, and other parts of Luzon, to reach more graduating students and educators. The weeklong training events will be conducted monthly from May to December 2019 in cities across the country, with the first session commencing in Manila recently.
According to World Economic Forum's Future of Jobs Report 2018, 72 percent of the companies in the Philippines are expected to adopt cloud-computing technology across a wide range of industries, and 84 percent of the companies surveyed are likely to hire new permanent staff with skills relevant to new technologies. In January 2019, IDC Philippines report stated that at least 30 percent of local organizations will be digitally determined by 2020.
"At the inaugural AWS Siklab Pilipinas event in Manila last year, we saw enthusiastic participation from hundreds of students, educators and customers. Since then, more education institutions have asked us to bring the AWS Silklab Pilipinas back to the Philippines, to continue with our cloud skilling program on AWS services," said Vincent Quah, APAC Regional Head for Education, Research and Not For Profit - Worldwide Public Sector, Amazon Web Services.
He added, "We listened to our customers, and are pleased to increase the training this year to two more cities in the Philippines, and to hold the events on a monthly basis. Participants will access more in-depth learning modules for specialized areas, such as Internet of Things, Machine Learning and Big Data Analytics, which are aligned to what our customers are telling us are important skills for the future."
Edukasyon.ph, an AWS customer and a social enterprise that connects students to education opportunities through an online platform, is a co-organizer of this event.
Henry Motte-Munoz, CEO and founder of Edukasyon.ph, said "In the Philippines, we face a significant challenge of ensuring students are equipped with the right technical skills that will lead to successful employment. We are fortunate to work with a global technology leader like AWS that understands the needs of industry, and provides the resources to help elevate our future workforce."
AWS Siklab Pilipinas 2019 will provide more technical learning sessions, with practical advice from AWS customers and members of the AWS Partner Network (APN), as part of the intensive training curriculum. Participants will complete learning pathways on AWS Educate program such as Cloud Computing 101 and Solutions Architect, as well as AWS Security, as part of the Cloud Practitioner Essentials workshop.
Students will also undergo specialized training in learning how to deploy applications on AWS, one of the important skills that is highly demanded by large enterprises and unicorn start-ups around the world. Additionally, students will have the opportunity to immediately apply their new cloud technology skills by participating in AWS GameDay — a half-day gamified hackathon competition for participants to solve a set of challenges related to real life scenarios.
On the last day of the event, participants who completed the training will be invited to the job fair, where AWS customers and members of the AWS Partner Network (APN) such as Globe, Cebu Pacific, Stratpoint, and Aboitiz, will meet with participants to discuss employment and internship opportunities.
The global AWS programs that support the AWS Siklab Pilipinas 2019 event include:
AWS Educate, a global program that provides a robust set of learning content, resources and AWS Promotional Credits for students and educators to acquire cloud computing skills. Currently, over 2,400 education institutions and hundreds of thousands of students across the world have enrolled in the program.
AWS Training & Certification provides trainers for the instructor-led training to prepare the students for AWS Certification, which students can undertake at their own pace after the event.
The AWS Siklab Pilipinas events in Cebu, Davao and parts of Luzon will be rolled out in the coming months.
To find out more, visit mailchi.mp/787d2d8ec1c7/siklab2019.