Cemex announces P2.1-B tender offer by owner to 'consolidate interest'
January 26, 2023 | 9:05am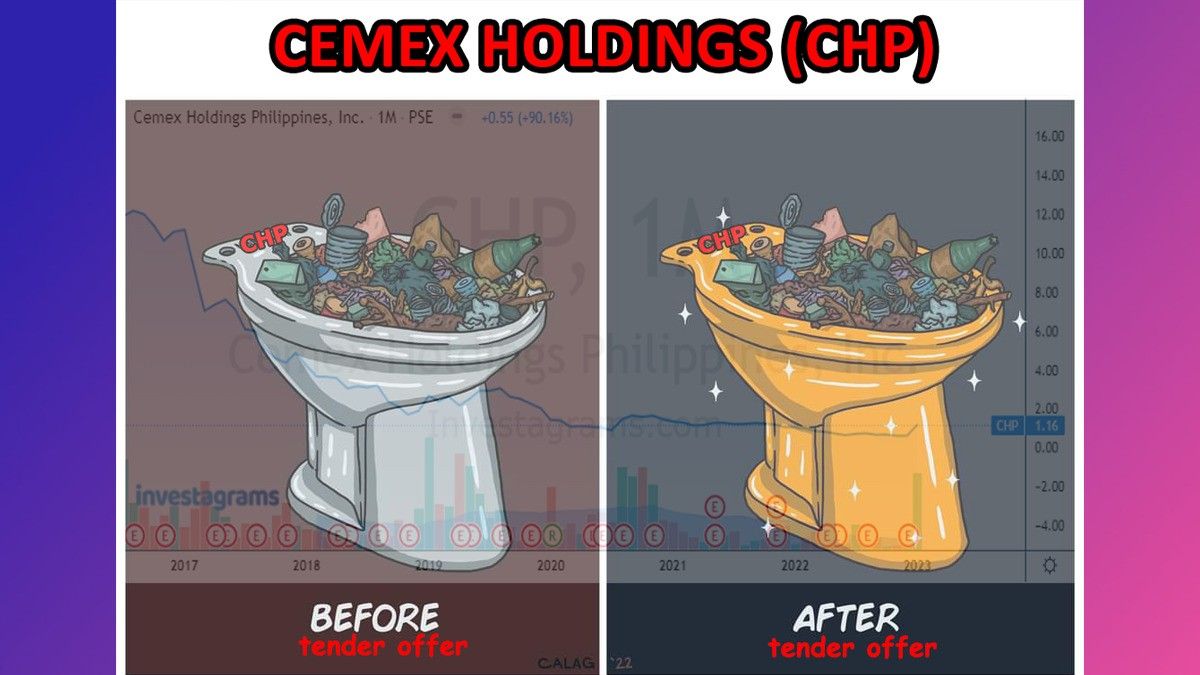 Cemex Holdings [CHP 1.2 13.7%] [link], a local corporate subsidiary of a Mexico-based cement multinational super-corporation, announced that its owner, CEMEX Asian South East Corporation (CASEC), will conduct a tender offer in February to acquire 1,614,000,000 common shares of CHP for P1.30/share.
The purpose of the tender offer, according to CASEC, is to "consolidate" its interest in CHP, and to "provide an opportunity for existing public shareholders to realize their investment at a premium to the current trading price" of CHP shares.
CASEC said that the tender offer price represents a 51.2% premium over its January 23, 2023 closing price (P0.86/share), and a 68.5% premium over its one-month volume weighted average price of P0.772/share.
While the successful completion of the tender offer would push CASEC's ownership stake up to 89.87%, and therefore the public float down to just 10.13%, CASEC took pains to stress that it is not conducting this tender offer "for delisting purposes".
CASEC originally took CHP public in 2016 for a price of P10.75/share.
The tender offer period is scheduled to run from February 16 through March 16, 2023, with a settlement date scheduled for March 30, 2023.
MB BOTTOM-LINE
This one had the forums howling, and for two main reasons.
The first being that the tender offer price offered by CASEC is 88% lower than the price it sold the shares at to the public during the IPO.
Sure, it's bad optics.
The stock has performed terribly. But it's not like things were going great for CHP bagholders before this tender offer came along.
Value has been consistently dropping for a company that was spun-up to take advantage of Duterte's cement-hungry "Build Build Build" program.
This is a chance for those badly-beaten folks to hop out of CHP for close to double what it was trading for just a couple of days ago.
But that brings me to the second thing that had people angry: the sudden and sustained uptick in daily volume that had been pushing CHP up in recent days before the announcement.
Before the uptick, CHP was trading 300k to 1M shares per day, but starting two weeks ago, that daily volume shot up to around 7M.
Then 45M.
Then 76M the day before the announcement.
What would have happened to make so many investors so aggressively optimistic for a stock that had been such a poor recent performer?
Was it just a spontaneous eruption of irrational exuberance that shot the price up in something of a positive feedback loop, with hunger for CHP stock increasing with each subsequent day of price gains?
Or were there traders in the mix that had private, non-public information about the coming tender offer that took the opportunity to cash-in on the potential for a massive double-up in just a few weeks' time?
Did CHP or anyone involved have knowledge of any potential leak of private information?
--
Merkado Barkada's opinions are provided for informational purposes only, and should not be considered a recommendation to buy or sell any particular stock. These daily articles are not updated with new information, so each investor must do his or her own due diligence before trading, as the facts and figures in each particular article may have changed.