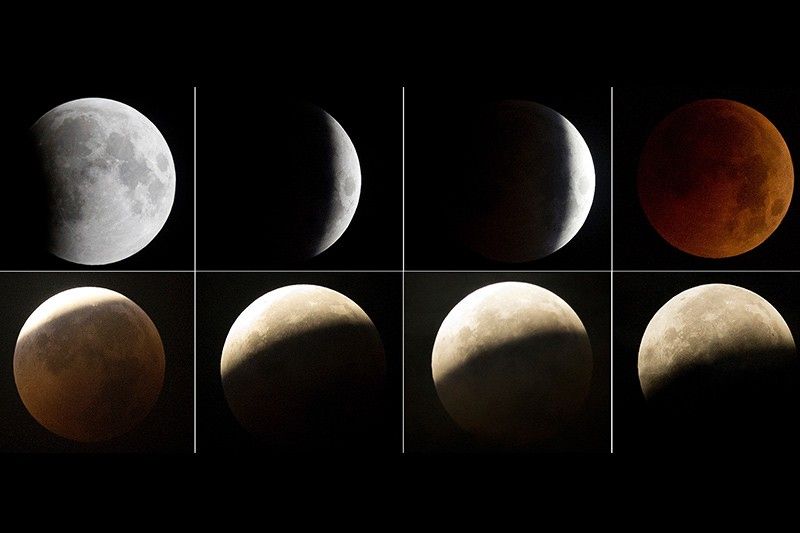 This combination of eight photos shows the different stages of the moon, from top left to bottom right, during a complete lunar eclipse, as seen from Hyderabad, India, Saturday, July 28, 2018. Curiosity and awe have greeted a complete lunar eclipse, the longest one of this century.
AP Photo/Mahesh Kumar A
Missed the longest lunar eclipse of the century? Watch it here
MANILA, Philippines — Much of the world had witnessed an astronomical marvel this week as the longest total lunar eclipse of the century awed skywatchers.
The lunar eclipse which was visible in Australia, Africa, Asia, Europe and South America, lasted for one hour and 43 minutes with the entire event lasting closer to four hours. This was 27 minutes longer than the Super Blue Blood Moon last January 31.
Filipinos were able to see the event in the wee hours of Saturday, July 28, between midnight and sunrise.
The so-called "blood moon," when it turns a deep red, occurs when the sun, Earth and moon line up perfectly, casting Earth's shadow on the moon.
Experts have earlier said those anticipating the event might witness a blood moon with a deeper crimson shade due to dust spewed in the atmosphere by recent volcanic eruptions in Hawaii and Guatemala.
"The reason that the moon turns red is because atmospheric scattering causes red light to pass through the atmosphere and the composition of the atmosphere can change if volcanic eruptions or forest fires occur," said Tom Kerss, an astronomer with the Royal Observatory Greenwich.
"And the density of dust increasing in the atmosphere can cause the moon to appear a particularly deep red, and indeed it has the same effect on our sunsets and sunrises."
Meanwhile, Mars is also at its closest approach to Earth this week since 2003, making it appear bigger and brighter.
To those who missed the astronomical event, you can get a glimpse here and also get trivia and commentary from astronomers:
— with AP