GAZOO Racing GT Cup Asia 2023: Indonesia, Philippine reps advance to Global Finals
September 26, 2023 | 3:00pm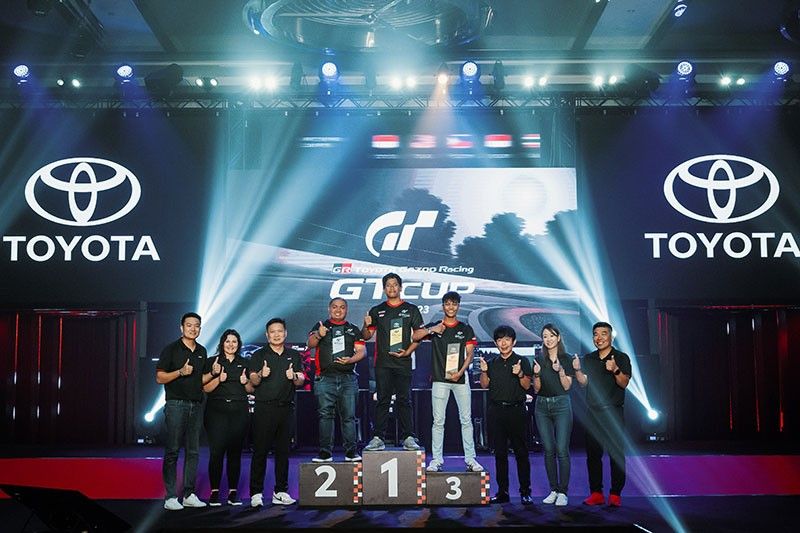 KUALA LUMPUR, Malaysia — The GAZOO Racing (GR) GT Cup Asia 2023 played out across three heart-thumping races last September 24.
E-motorsports enthusiasts saw 15 local qualifiers—from Indonesia, Malaysia, Philippines, Singapore, and Thailand—pit their driving skills, dexterity, and wits against one another, as they battled for the regional championship title and a spot in the Global Finals.
Indonesia's Andika Rama came out tops with a total of 65 points throughout the competition. Slow and steady won Rama the race, with the seasoned racer clocking 4th and 5th places in Race 1 and 2 before boldly claiming pole position in Race 3 by maximizing his time on track against increasingly bad weather.
The Philippines' Luis Moreno similarly bided his time, securing 6th and 4th place in earlier races before scorching to pole position in Race 3's qualifying round, and maintaining his podium spot in the race to come out overall second in the championship with 52 points.
Singapore's Fadtris Isa and Malaysia's Dhanesh Wigneswaran also performed remarkably, although several misjudgments in weather and pitting put them further down on the championship table.
"I knew that my pace in the final race was not as good as Luis and Dhanesh, so even though it started to rain, the wetness on track was low, I gambled on another two laps with hard tires while everyone went to pit. I tried to manage my pace after pitting, and it paid off," Rama recounted elatedly.
"I'm thankful to my family, friends, and fans who are here watching me live or online at home, and of course grateful to Toyota Indonesia for supporting us all the way. I look forward to racing with Luis at the Global Finals against our Italian and Japanese peers."
Rama and Moreno will proceed to the Global Finals, slated for November in Barcelona, Spain.
This year's GR GT Cup Asia saw a change in race format where all regional finalists participated in a total of three races on PlayStation®'s "Gran Turismo 7". The first race, played on Mount Panorama with GT Supra Gr.4 cars, began with a 5-minute time attack as a qualifying round to determine grid positions, followed by a 15-minute race.
The second race on the Tokyo Expressway – East Clockwise track was played with Race 1's grid positions reversed using GR Corolla cars over a 25-minute race time.
The third and final race, played on the legendary Spa Francorchamps racetrack with GR010 Hybrid Hypercars, once again began with a 5-minute time attack qualifying round, before concluding with a 35-minute race amidst dynamic weather.
The championship was determined from cumulative points earned through finishing positions in all three races, the first five positions in qualifying rounds, and bonus points for the fastest laps in each of the three races.
Aside from the revised race format keeping things fresh for spectators, the fourth season of the GR GT Cup Asia in 2023 continues to underscore Toyota's commitment in making e-motorsports accessible across generations, by enabling racing enthusiasts from around the region to experience the thrill and joy of competitive racing.
Fans and participants were also treated to a visual feast of fascinating livery designs inspired by each participating country's national colors.
Toyota Motor Philippines (TMP) shares their pride and congratulates Luis Moreno and the rest of Team Philippines who all worked hard in the GT Cup Asia Finals 2023.
"This is truly an unforgettable milestone for the TOYOTA GAZOO Racing Philippines family that have always championed Filipinos' world-class skills and passion for e-motorsports," Danny Cruz, TMP First vice president for Vehicle Sales Operations, said.
"Luis, along with his Toyota Philippines teammates Russel Reyes and Matthew Ang, have been great examples of our amazing local sim-racing talent. We look forward to seeing them achieve greater things in the future, especially Luis who has our full support as he carries our flag in the world finals in Barcelona this November," Cruz added.
To re-watch the Regional Finals for GR GT Cup Asia 2023, click here.
---
Editor's Note: This press release is sponsored by Toyota Motor Philippines. It is published by the Advertising Content Team that is independent from our Editorial Newsroom.
---