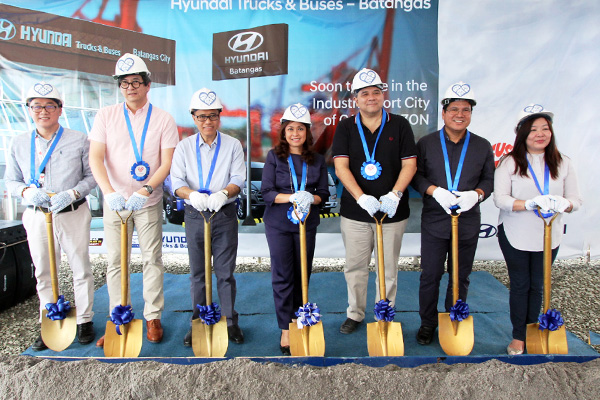 Leading the groundbreaking of Hyundai Trucks and Buses Batangas were (from left): Hyundai Asia Resources Inc. (HARI)'s VP for Commercial Trade Jimmy Trazo, SVP of Trade Operations and Development Cluster Numeriano Cortez Jr., EVP and CFO Ladislao Avila Jr., and President and CEO Ma. Fe Perez-Agudo, as well as Shaw Automotive Resources Inc. (SARI)'s President Felix Limcaoco 3rd, SVP and COO Doroteo Sornet, and VP for Operations Maria Antonietta Alonzo.
Hyundai/Released
Hyundai empowers industries in Batangas City
(Philstar.com) - February 27, 2018 - 3:07pm
MANILA, Philippines — Batangas City will soon have its own Hyundai Trucks and Buses branch located along Diversion Road in Balagtas.
Leading the recent groundbreaking ceremony were Hyundai Asia Resources Inc. president and CEO Ma. Fe Perez-Agudo and Shaw Automotive Resources Inc. president Felix Limcaoco III, along with other top executives.
Limcaoco expressed the team's strong commitment to serve businesses in the provincial city. "We are ready to address Batangas City's growing mobility needs, especially those of its logistics and transport sectors," he said.
Agudo took note of Batangas' strategic location for the branch.
"Batangas is in the heart of CALABARZON, and the Batangas port serves as the international gateway for industrial and commercial trade with the rest of the world, requiring vast potential for moving international cargo, local produce and people. With the valuable addition of Hyundai Trucks and Buses Batangas to our Hyundai CV dealer network, we are empowered to move the economy further," Agudo said.
Hyundai trucks and buses' 2017 was a banner year. In its first full year of operations, HARI's CV business grew by 883 percent from 2016, eclipsing the previous distributor's all-time-high sales. It is also poised to account for 10 percent of total vehicle sales in the next five years, aiming to double in scale by 2025.
Moving into 2018, HARI aims to continue broadening its corporate horizon by addressing the freight, payload, and mass mobility needs of enterprises in Metro Manila and the emerging growth centers in the regions.