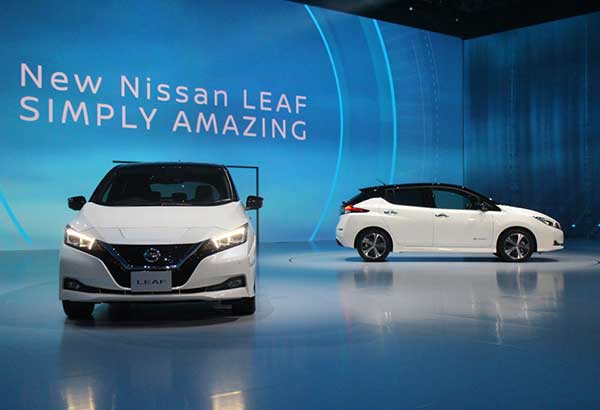 How Nissan will make us all drive EVs
Ulysses Ang
(The Philippine Star) - September 19, 2017 - 4:00pm
MANILA, Philippines — "The era of electric vehicles has come," boldly declares Hiroto Saikawa, Nissan's president and CEO, as the company pulled the curtains off the all-new, second-generation Leaf. Electric vehicles or EVs are currently in vogue right now in Japan and much of the Western Hemisphere. With several countries announcing plans to ban the internal combustion engine soon, your next car could very well be an EV.
Dismissed by a number of automakers 10 years ago as being "crazy" for going all gung-ho with EVs, those same automakers are now joining the EV race as well. This assures Nissan that they've made the right decision. Though the world has its attention on Tesla, Nissan has quietly tapped into its 84 years of EV-making experience to proclaim that the 2018 Leaf is the icon of their future.
Considering mainstream compact cars as the Leaf's competitors and not just other EVs or hybrids, Nissan believes that more people will begin shifting to EVs. In fact, sales are expected to double or even triple compared to the previous Leaf. Yutaka Sanada, Nissan regional SVP, head of OC – ASEAN and Oceania, said that the adoption of EVs will increase at a faster rate, thanks to the democratization of technology. This is reiterated as Nissan announced that Thailand is getting the 2018 Leaf. Thanks to the forward thinking of the Thai government, it joins the 49 countries where this zero-emissions vehicle is currently sold.
As Nissan moves the Leaf from a proof-of-concept to making it a core part of the company's Intelligent Mobility strategy, the challenge was to make a car that appealed to the senses as it does to the sensibilities.
For Alfonso Albaisa, Nissan SVP for global design, the all-new Leaf represents how far EVs have come and points the direction where Nissan is going. Constrained by the need to come up with an aerodynamically efficient design, Albaisa successfully designed an emotionally striking car that also meets the company's criteria. He summed it up quite nicely, "The Nissan Leaf looks like it's one step ahead, every step of the way."
Another way is by offering a balanced performance. Simply slapping in a larger battery or more powerful motor would have been the easy way out for Nissan, but a big consideration was also to keep its price low. In order to do this, engineers came up with a more efficient, yet powerful motor that produces 110 kW (150hp) and 320 Nm of torque. By making the batteries store more energy (density is up 67 percent), the result is a range of up to 400 kilometers on a single charge. Not only does this remove the range anxiety associated with EVs, but it also allows the possibility of charging the Leaf just once a week.
So how much does the all-new Leaf cost? 3.15 million yen or P1,500,000. That's about P300,000 less than the comparable Tesla Model 3. If the savings from the purchase price isn't incentive enough, Nissan sees the low ownership cost as the final way to convince people to make the switch. While a comparable compact sedan may cost around P6 to run per kilometer on fuel alone, Nissan's internal figures show that the Leaf can do that at just the cost of P0.71 per kilometer. And with electric motors not having more than a hundred parts, it's less prone to mechanical problems. Aside from suspension components and tires, visits to the dealer is limited to just once a year. Even then, it's mostly a "Hi and Bye" affair, according to a Nissan executive.
Seeing Nissan Philippines's continued sales rise (it's up 40 percent year-on-year thus far) and having been to Manila himself, Daniele Schillaci, EVP for Global Marketing and Sales, Zero Emission Vehicle and Battery Business says that while the Philippines won't be getting the all-new Leaf just yet, he also reiterated that the country is at the right time for electrification.
Citing the country's strong economy and population clustered in dense cities, Nissan may consider bringing in the Note e-Power first. This car is unique in that it uses a full-electric motor drive system that drives the front wheels, but uses a small gasoline engine for the sole purpose of power generation. The engine has, in fact, no influence on the throttle pedal operation, allowing the engine to always operate in an optimal manner. With 254Nm of torque, performance is said to be comparable to that of a turbocharged 2.0-liter engine but can deliver up to 34 km/L. It also removes the so-called "range anxiety" since the gasoline generator can be filled up at any petrol station.
Schillaci believes that products such as the Note e-Power will help speed up the electrification process because this can be rolled out to markets without heavy investments in charging infrastructure. His statement is echoed by Nissan Philippines president and managing director Ramesh Narasimhan who said that the company is studying the possibility of bringing in the Note e-Power and perhaps even the Leaf into the Philippines.
"The Note e-Power is a very strong product for Nissan, selling around 14,000 units per month in Japan alone. I believe it'll do well in the Philippine setting as well given the constant traffic and densely populated cities. Above all, it's a core part of Nissan's strategy to provide sustainable mobility," Narasimhan declared.
Both Schillaci and Narasimhan cautioned though that for Nissan to carry out electrification, a concrete action plan must be in place first. Both emphasized that government incentives, monetary or otherwise, must be in place to make vehicles such as the Leaf and Note e-Power more readily accepted. The fact that current Land Transportation Office (LTO) rules cannot accommodate pure EVs for registration is telling of how much work needs to be done.
Though Nissan thinks that countries such as the Philippines, with no EV-friendly government policies or incentives in place, may take longer to embrace electrification, the carmaker is still firm in their belief that this is their future. They're pushing ahead, opening the door to offer an increasingly electrified line-up with perhaps an electric or e-Power crossover. Though nothing has been signed off just yet according to Schillaci, it's a logical move, given the Japanese automaker's strong DNA in producing SUVs and crossovers.
"We sold 5.62 million units globally last year with just three brands and thus we have a big ship to steer," he said. "But as the production cost of EVs equal that of the internal combustion engine, there is no reason for people not to consider an electrified car and we believe this can come as early as 2025," closed Schillaci.
The electric vehicle such as the Nissan Leaf does sound like the right vehicle with the right technology at the right time. The only question is, will you be willing to make that jump towards electrification?