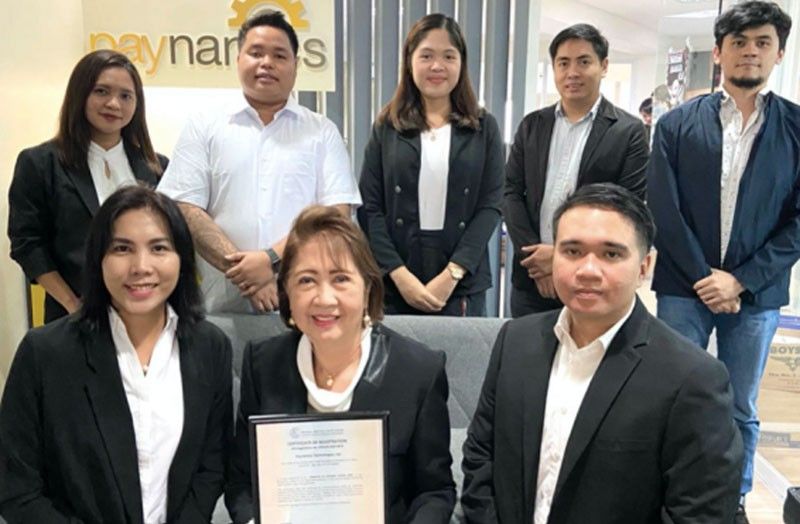 The BSP has certified Paynamics Technologies Inc. as an operator of payments systems. Photo shows (from left, seated) Paynamics president and CEO Mylene Magleo, co-founder and chief finance officer Esther Magleo, founder and chairman Ronald Gerald Magleo, (from left, standing) HR/admin manager Rachel Charmaine Condes, risk and compliance manager Ernelo Malalad, accounting manager Bridget Tubale, sales and operations manager Mark Alvin Espiritu, and CIIS manager Achilleo Trinidad.
Bills payment operators required to register with BSP
MANILA, Philippines — All operators of bills payment service that obtain the service of banks and other financial institutions as agents are also required to obtain a license from the Bangko Sentral ng Pilipinas (BSP).
BSP Deputy Governor Chuchi Fonacier said operators of bills payment service are required to register with the regulator as stated under Circular 1049 and Memorandum Order 2019-023.
Fonacier issued Memorandum Order 2020-004 stating all BSP-supervised financial institutions (BSFls) that offer bills payment services or perform services resulting to similar arrangements are considered as operators of payment systems (OPS).
"However, if delivery of the bills payment service is made by the BSFI thru an arrangement where the BSFI merely acts as an agent of the operator of the bills payment service, the latter as operator is the entity required to register with the BSP as an OPS, and not the BSFI that is acting as an agent," Fonacier clarified.
The regulator has given OPS more time to register with the central bank as it extended the Jan. 1 deadline for the submission of applications for three more months or until April 1.
BSP Governor Benjamin Diokno said earlier the extension is intended to give operators of payment systems more time to register and address various concerns that they may have concerning registration.
The requirement is part of the phased-in implementation of the Republic Act 11127 or the National Payment Systems Act approved by President Duterte that prioritizes the creation of a baseline inventory of all operators of payment systems.