Enrique Razon to acquire Malampaya project from Dennis Uy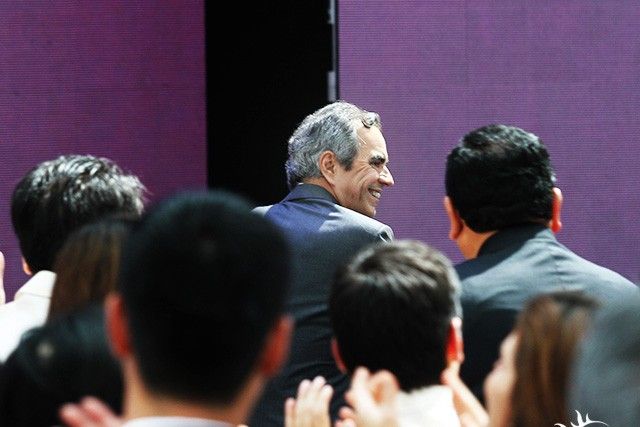 MANILA, Philippines (Updated 3:58 p.m.) — Tycoon Enrique Razon, Jr. is set to acquire a controlling stake in Dennis Uy's Malampaya gas-to-power project, as the Davao-based businessman reportedly shops for worthy bids for some of his major assets.
In a statement on Thursday, Razon's infrastructure business, Prime Infra Holdings, Inc., confirmed that the deal will push through.
The gas project, operational since 2001 and accounts for 40% of Luzon's annual energy requirements, is seen for decommissioning between 2027 and 2029 after a projected decline in energy output starting 2024 — the year the service contract with companies would expire.
That said, Prime Infra believes its entry is "critical" to "be able to continue operating the project while applying for an extension so it can invest in its expansion."
"We will invest and sustain the development and production of domestic gas as long as the terms of the operating license and the natural resources permit," Razon said.
As it is, Razon, the second richest man in the country, is emerging as a white knight for Uy, whose debt-backed empire expansion coincided with the rise to power of his friend Rodrigo Duterte, the outgoing Philippine president.
Uy's group was too leveraged when it faced a pandemic that tarnished the balance sheets of many of his businesses. The financial troubles prompted him to sell his controlling stake in shipper 2GO to the SM Group and some assets of Phoenix Petroleum in 2021.
Apart from the Malampaya project, Uy is reportedly planning more divestments, with Razon being the preferred buyer for one more major asset: the Clark Global City which leases commercial land in a former American military base. Just last month, Uy sold some of his shares in his casino businesses in Cebu and Clark to Razon.
"Uy is unlikely to enjoy the same political cover in the incoming administration. But he will surely spend the comings months attempting to secure as much political cover from that new power locus," Philippine Strategic Associates (PSA), a business risk and security consultancy firm, said in an e-mailed reply to questions.
Less controversy?
Uy grabbed the headlines when bought the combined 90% share of Chevron Malampaya LLC and Shell Philippines Exploration B.V. in Malampaya. The remaining 10% stake belongs to state-run Philippine National Oil Corp. (PNOC).
Last year, Uy, Energy Secretary Alfonso Cusi and 24 others were sued before the Office of the Ombudsman over alleged anomalies in the sale of Malampaya shares. The complainants claimed that the respondents violated the Anti-Graft and Corrupt Practices Act when they "conspired to give unwarranted benefits and advantage" to Uy.
While any takeover of strategic assets like Malampaya is prone to controversy, PSA believes Razon's acquisition of the project would be "less controversial" compared to Uy's case.
"The perceptions around Uy, as a Duterte 'crony,' as well as potentially uncomfortable links to the Chinese state made for bad optics," PSA said.
"By contrast, Razon is not considered specifically tied to a particular political patron nor perceived to be overly exposed to potential foreign influence. Razon's international business footprint and longer track-record also lend him a credibility advantage," it added.