Philippine economy grows 8.3% in Q1, beating expectations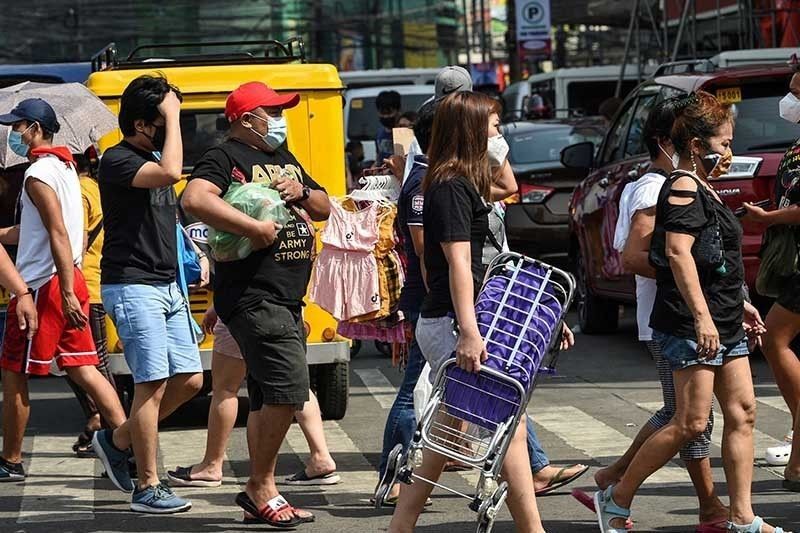 MANILA, Philippines — The Philippine economy managed to post a stellar growth in the first quarter, smashing expectations despite the Omicron onslaught at the start of the year.
Gross domestic product, the sum of all products and services created in an economy, grew 8.3% year-on-year in the first three months of the year, the Philippine Statistics Authority reported Thursday.
The latest reading exceeded analysts' expectations. A BusinessWorld poll of 17 economists yielded a GDP growth median estimate of 6.7% for the period.
Quarter-on-quarter, GDP grew 1.9%. National Statistician Claire Dennis Mapa said real GDP in the first quarter exceeded the comparable period in 2019, or before the pandemic hit.
If anything, the faster-than-expected growth last quarter might prompt the Bangko Sentral ng Pilipinas to start hiking rates soon. Governor Benjamin Diokno last month said the BSP might consider lifting rates in June if the economy, which has grown dependent on cheap money amid the pandemic, is strong enough to sustain its recovery.
But Alex Holmes, Asia economist at London-based Capital Economics, said there's a chance that "the strength of the recovery will begin to wane soon" amid an uncomfortably high inflation that could cripple consumer spending anew. And the BSP's looming tightening to fight price spikes could weigh on growth.
"The recovery will have gained momentum in recent months after the Omicron wave faded and restrictions were almost all removed. But while day-to-day disruption from COVID-19 is largely in the rear-view mirror, new headwinds are building," Holmes said in an e-mailed commentary.
"A jump in prices is eating into consumers' real purchasing power, with inflation hitting 4.9% y/y last month. Meanwhile the central bank is set to begin tightening policy," he added.
While there are signs of recovery, the superlative year-on-year growth rate last quarter was also partly due to the so-called "low base effects". This means that the GDP reading inevitably turned out strong because the figure was compared to 3.8% contraction posted in the first quarter of 2021, or when the Philippines was still in recession.
"Base effects will continue to come to play in the second quarter which is why we think it (growth) will be close to 9% even with the conflict in Europe," Jun Neri, lead economist at Bank of the Philippine Islands, said. He was referring to the war in Ukraine that has been pushing up world oil prices.
But there are streaks of good data that came out as vaccination picked up while more restrictions had been rolled back. Household consumption, a traditional growth driver, expanded 10.1% year-on-year in the January-March period, a reversal from 4.8% slump a year ago as virus curbs ease.
"With much-relaxed quarantine restrictions and more vaccinated Filipinos, family activities, leisure, travel, and tourism have all grown significantly," Socioeconomic Planning Secretary Karl Kendric Chua said in a press conference.
However, government spending slowed to 3.6% in the first quarter compared to 16.1% growth posted a year ago "as the election spending ban began," Chua added.
The next president
As it is, the next administration is poised to inherit an economy that managed to sustain its recovery despite headwinds at the start of the year. And the second quarter GDP growth is also likely to show a strong performance due to election-related spending and lingering base effects.
But once the favorable base effects fade, Sonny Africa, executive director at IBON Foundation, a non-profit think tank, said nurturing the delicate rebound would be a big challenge for the new president.
"These seemingly high growth rates are unlikely to be sustained as the base affects are exhausted and especially amid high inflation, rising global interest rates, and the rolling back of stimulus measures worldwide," Africa explained.
That said, Nicholas Mapa, senior economist at ING Bank in Manila, believes it is time for Ferdinand "Bongbong" Marcos Jr., presumptive president-elect, to let the people know his policy direction. During the campaign trail, Marcos avoided debates meant to give candidates a platform to explain their plans.
"The investor community now awaits Marcos' cabinet picks, in particular the composition of his economic team and his plans on how to address key issues such as accelerating inflation and debt consolidation," Mapa said.
"Marcos will be inheriting an economy fully recovered from the pandemic but he will need to deal with above-target inflation and a sizable amount of debt from his predecessor," he added.