Power sector bounces back; energy demand recovery to continue
January 5, 2022 | 12:00am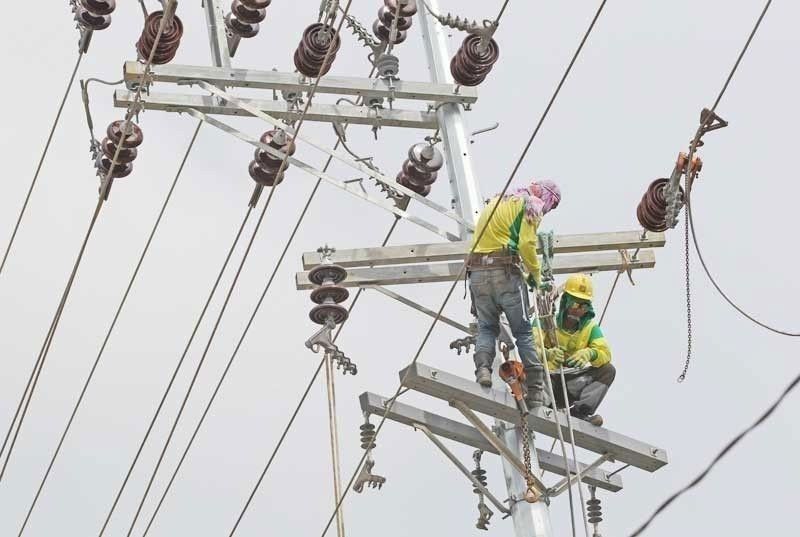 MANILA, Philippines — Despite the slowdown caused by COVID-19, the Philippine power sector bounced back and nearly returned to pre-pandemic levels in 2021.
Power demand has now reached close to if not the same level as pre-pandemic figures as the economy opens further with the easing of COVID-19 infections in the country.
While this is good news, the power sector has yet to catch up with demand amid the growing list of aging power plants in the grid.
While the Department of Energy (DOE) has maintained that the country has enough supply to meet the growing demand, the private sector offers a differing view due to several reasons.
Pending the impact of the Omicron variant, demand recovery is seen this year, but how much improvement it will make will be a major factor as the country is into the last stretch of the Duterte administration.
"It's a silver lining, the demand recovery that we've seen last year. We're already back to pre-pandemic or 2019 levels. I can only imagine what it would be next year given the emerging recovery. We're already seeing the models are getting full. So, demand recovery next year will play a critical role," ACEN president and CEO Eric Francia said.
While the COVID-19 pandemic has provided an opportunity to catch up and boost supply, not much power generation has been developed due to travel restrictions amid the pandemic.
Meralco Powergen Corp. (MGen) president and CEO Jaime Azurin said generators find it hard to catch up with demand since most of the competitive selection process (CSP) implemented by power distributors are "as when it is needed."
"The problem of catching up with demand is structural in nature. If you would look at all the CSP, it's six months before an expiry of a contract. So how do you actually engage new and better facilities? Our coal plants are all aging. The latest estimates are about 16 to 17 years old, that's the average age of coal plants. But of course, in terms of competition, they will be cheaper (to contract) than a new build," he said.
Azurin said CSPs should be forward looking, like five years from now, to help generators plan and move on with better technologies.
"So it's upon the government and for the cooperatives and distribution utilities to plan ahead for their CSP, so that we can encourage new facilities better in terms of emissions so that it will not be a problem that keeps on recurring," he said.
As the country's largest power distributor, this is what Manila Electric Co. (Meralco) is doing. The company is eyeing to procure nearly 3,850 MW of baseload and mid-merit supply in the next two years to meet its projected demand growth until 2049, as stated in its Power Supply Procurement Plan 2021-2030 submitted to the DOE.
But for now, the only major power plant serving the forecasted demand growth next year is GNPower Dinginin Ltd. Co. (GNPD), which scheduled the commercial operations of its 668-megawatt (MW) Unit 1 coal-fired power plant in Bataan last November and the synchronization of the second 668-MW Unit 2 in the first quarter of 2022.
"Energy demand is continuously picking up as the country recovers from the pandemic…This will deliver the much-needed energy into the grid to meet the country's growing demand," Aboitiz Power Corp. president and CEO Emmanuel Rubio said.
GNPD, a joint venture among AboitizPower, AC Energy Corp Energy and Infrastructure Corp. (ACEIC) and Power Partners Ltd. Co., faced challenges in completing its power plant due to the COVID-19 pandemic.
Construction for the first unit commenced in September 2016 and was supposed to be completed in 2019 while the second unit started construction in December 2017 with completion six months after the first unit.
Project completion was moved to 2020 due to the travel ban and lockdowns imposed to contain the pandemic.
Apart from the construction of power plants, implementation of maintenance works on existing power plants has also become a challenge amid the travel restrictions during the pandemic.
In May, the Luzon grid experienced rotational brownouts due to unplanned shutdowns of power plants which are mostly coal-fired power facilities, with at least 4,000 MW lost to the grid.
"One worry that I have is we haven't been able to do a lot of maintenance in our plants over the last couple of years because through the pandemic restrictions, we were not able to bring technical advisors. We rely on technical advisors to come in and help us for maintenance during the planned outages of the units," Quezon Power (Philippines) Ltd Co. managing director Frank Thiel said.
And with national and local elections slated in May next year, power generators will have to squeeze in all maintenance works before or after the critical election day.
"But the summer is going to be very challenging. We also have elections at that time. We've been given a directive by the government that we cannot take any shutdowns two months before and two months after the election period which presents a bit of a challenge as well," Thiel said.
Another major factor in the supply-demand margin next year is the gas supply from the Malampaya deepwater gas-to-power project, which supplies fuel to around 40 percent of gas-fired plants with around 3,500 MW in combined capacity in Luzon.
Rubio said that with the derating of gas-fired power plants, current supply is quite far from the assumed numbers in the company's forecast.
"And I think it's going to be like that in the years to come until it runs out. I think that's something that we need to plan for. It's way below the output we have forcasted. I hope it's temporary," he said.
The Malampaya gas field has had gas supply restrictions in March to June and in September, which have resulted in tight supply conditions in the Luzon grid and, in turn, pushed up electricity prices as some gas-fired power plants were forced to shift to more expensive liquid fuel or condensate.
Service Contract 38 will end in 2024 but supply from the Malampaya gas field was projected to be depleted by early 2022 or latest by 2027.
"On the supply side, definitely Malampaya is something to watch out for and the ability to replace that declining capacity of Malampaya. We believe that the decline has already begun one year sooner than expected. We all expected Malampaya to decline in 2022, after the Ilijan contract expires in June. But it's been curtailed 500-600 MW for most of the year. So that's probably the new normal for Malampaya," Francia said.
To resolve the Malampaya supply issue, the DOE has charted a vision of making the country's liquefied natural gas (LNG) trading and trans-shipment hub in Asia-Pacific, placing the country as an LNG distributor and exporter as well.
So far, it has cleared the development of six proposed LNG terminals to import the much fuel needed by existing and new gas-fired power plants.
First Gen Corp., which runs and operates the biggest gas platform in the country, is among the six proponents of LNG terminals in the country.
First Gen's subsidiary FGEN LNG Corp. is developing the interim offshore LNG Terminal to accelerate its ability to introduce LNG to the Philippines and the project is expected to be completed in the third quarter of next year and set to deliver LNG by fourth quarter.
"The reduction in supply and the depletion in Malampaya has affected our own operation. What that has resulted in is that some of our gas-fired plants have had to operate on liquid fuel...what that has translated into is that…in 2021, we've never imported as much as substitute fuel, condensate, in order to supplement the operation of our gas fired plants. It's just very clear signal that LNG is needed sooner than later," First Gen president and COO Francis Giles Puno said.