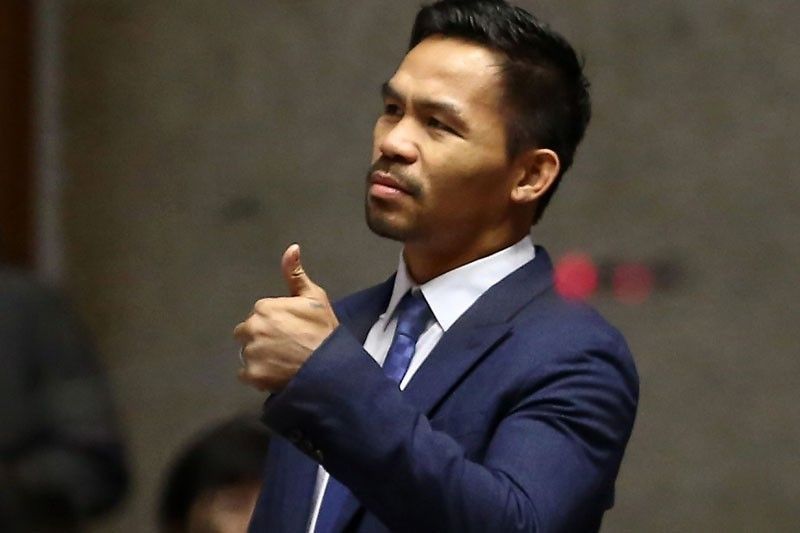 Senator Manny Pacquiao
File
Pacquiao, Ma partner for e-commerce venture in Philippines
Paolo Romero
(The Philippine Star) - November 4, 2019 - 12:00am
MANILA, Philippines — World boxing idol and Senator Manny Pacquiao and Alibaba Group founder Jack Ma have agreed to work together to put up logistics and e-commerce hubs in the country that is expected to generate thousands of jobs.
Pacquiao said Ma, who is also known as Ma Yun, has expressed his interest to invest in the Philippines to provide more employment for Filipinos.
According to the boxing legislator, Ma, who is his personal friend, has been exchanging notes with him "for quite some time now" on how he could help the Philippines, especially in job-generation.
Pacquiao went to Hangzhou, China last week to meet Ma to discuss the details on how to go about their new project. He said Ma is set to visit Pacquiao's home in General Santos City, hopefully, within the year.
The senator said they have agreed that the best way to do this is for them to partner in setting up logistics and e-commerce centers all over the Philippines.
He said Ma, the richest man in China, wants put up a company run and managed by Filipinos.
He said the pilot area for their collaboration would be in General Santos City and would slowly expand all over the Philippines until they reach their target of providing direct jobs for thousands of Filipinos.
"This should directly benefit at least thousands of Filipino families and also provide livelihood for millions more in indirect employment. These investments will surely need suppliers and manufacturers who also have to hire more people as they expand," Pacquiao said.
Pacquiao said he and Ma share a mutual passion to help the poor because both of them lived a life of abject poverty before they became wealthy through dedication to their chosen profession and sheer hard work.
"We are very comfortable with each other because we came from the same situation. We both know how it is to feel hungry every day" Pacquiao said in Filipino.
"If we are able to provide jobs for more Filipinos, we are not only helping their families rise up from poverty, but we are also helping the country in its fight against crime," he said.
From being a street urchin doing menial jobs as construction laborer and bakery assistant, the 40-year old Pacquiao became a professional boxer at the age of 16 just to be able to make ends meet. He soon became one of the world's greatest boxer and one of the world's richest sportsman before joining politics as a congressman, and now as a senator.
At an early age, the 55-year old Ma, on the other hand, had to cycle 70 kilometers a day just to earn a living as tourist guide and struggled in college to be able to get a degree.
After having been rejected multiple times in his job applications, Ma rose to become the founder of Alibaba, which is now the world's biggest online commerce platform.
Ma retired from Alibaba last month and said he would focus on philanthropy and education.
Pacquiao also shared that one of the most important lessons he learned from Ma during their meeting was: "You don't have to know a lot of things to succeed, you have to find the right people to do the job, and make sure that they work together, and believe in the same vision."