DDB Group wins back-to-back 'Agency of the Year' award from Philippine Quill
September 11, 2019 | 8:25am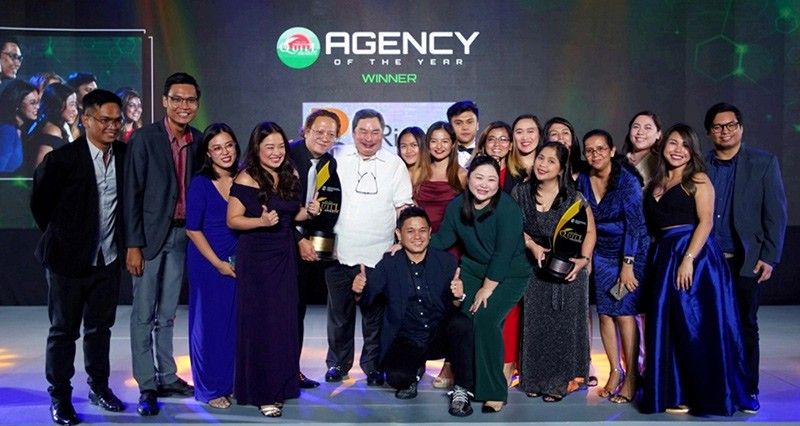 MANILA, Philippines — DDB Group Philippines and its integrated PR solutions arm, Ripple8, copped the much-coveted Agency of the Year title for the second consecutive year, winning a total of 15 trophies, in the 17th Philippine Quill Awards held at the Marriott Grand Ballroom, Pasay last August 30.
The AOY recognition was given to DDB/Ripple8 for having won the greatest number of Philippine Quill awards of excellence–10 in all–in the country's most prestigious awards program in business communication, organized by the International Association of Business Communicators (IABC) Philippines.
Gil Chua, chairman and chief executive officer of DDB Group Philippines, expressed his deep appreciation for the IABC Philippines and the board of jurors for once more recognizing the Group's and its clients' work in advancing excellence in professional communication.
"We are deeply honored and thankful for these awards given by IABC to us and our clients. As a true committed partner of our clients' success, we at DDB Group focus on our clients' business to be able to create utmost value for their brands. We consider their triumphs as our own. Our back-to-back win in the Philippine Quill Awards is indeed a victory for such excellent partnerships," he said.
Ripple8 hauled a total of 14 Quills (Excellence and Merit), 11 of which were for campaigns co-created with Jollibee Foods Corporation; two for its long-running campaign with Manila Electric Company (Meralco); and one for a PLDT campaign.
Robert Vito, managing director for Ripple8 said, "The truth is, we are in the business of nurturing relationships. And it starts with our relationship with our clients. We count ourselves lucky to be able to collaborate with clients who trust in our passion, creativity, and understanding of their brands. Our focus has never wavered, we create ripples of positive change for our clients and their customers through predictive and proactive public relations strategies and programs."
As Jollibee's partner agency in different Quill-winning campaigns, Ripple8 won seven excellence awards and four merit awards.
The campaigns that won excellence awards include: Fall in Love Again with Jollibee's One True Pair Web Series; Parent-Child Bonding with Jolly Spaghetti; The Irresistibly Langhap-Sarap Jollibee Yumburger; The Launch of Jollibee Studios; The Jolly Hotdog EPIC Takeover; Fall in Love again with Jollibee's One True Pair Web Series; and 14/29–The Petsa de Peligro JolliSerye.
Ripple8's partnership with Meralco garnered two Excellence trophies for the "Meralco Advisory: Evolving to Empower Consumers through Communications" and the "Meralco Advisory: Media Relations through Innovative Communications." Launched in 2013, the Meralco Advisory started this year a more digital and social media approach by means of animation on its monthly TVC materials.
Ripple8 was also the partner agency of PLDT for its "PLDT At Your Service" campaign, which won the merit award.
The 15th trophy was for a Quill excellence award for DDB Group Philippines' "Macho Choir: Raising Our Voices Against Catcalling," a radio campaign it produced with the help of its digital agency, Tribal Worldwide, for the Philippine Commission on Women. Macho Choir replaced lyrics of Filipino nursery rhymes with anti-catcalling messages and used these as radio plugs to create awareness on gender-based sexual harassment in public spaces.
"We are heartened by all the recognitions we have received for Macho Choir here and abroad. We are happy to have contributed in making public places safer from catcalling and other forms of sexual harassment," said Anna Chua-Norbert, culture chief of DDB Group Philippines, who managed the campaign as part of the Group's corporate social responsibility initiatives.
Aside from the two-peat win this year, DDB Group Philippines first won the Agency of the Year title in 2013.
The country's first and largest integrated marketing communications and business solutions conglomerate, DDB Group, comprises three agency networks: DDB PHL, DDB MNL, Tribal Worldwide; three specialist agencies: Ripple8, Agile Intelligence, Bent and Buzz; and seven strategic business units: Touch XDA, Optimax, Beyond Advertising, Field Outsource Asia, Philippine Movers, Strawberry Jam Creative Services Inc., and The Bernbach School.
Operating in five cities and seven other locations nationwide with over 3,000 employees, DDB Group Philippines is part of DDB Worldwide, one of the world's largest and most influential advertising and marketing networks under the Omnicom Group. DDB Worldwide consists of over 200 offices in over 90 countries.