Special Report : Inside a Philippine offshore gaming company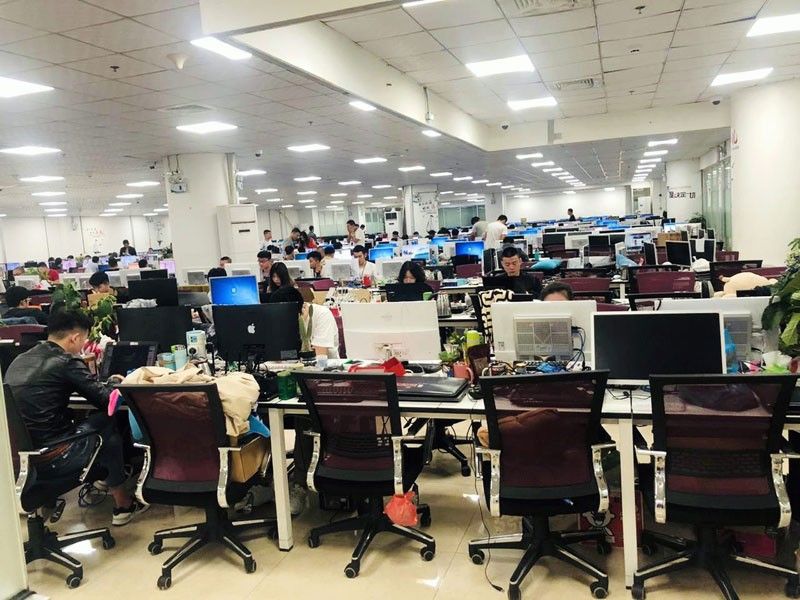 MANILA, Philippines — On the fourth floor of an offshore gaming firm somewhere in Paranaque City, a sprawling cafeteria serves a variety of Chinese food.
At mealtime, hundreds of workers form long queues beside rows of chafing dishes filled with everything Chinese – fresh, leafy Chinese broccoli, beef stew, Chinese fried rice, crunchy, yellow noodles and a variety of dimsum and dumplings.
A Chinese chef, aided by a team of Filipino cooks, is in charge of preparing the daily menu. The cafe serves all 7,000 Chinese employees of the online company who work on two 12-hour shifts to ensure the gaming entity's 24/7 operations.
Not far from the mess hall is a small booth selling milk tea, a popular beverage in Taiwan that has become a craze among Filipinos and Chinese alike. On the same floor is a convenience store catering exclusively to employees of the gaming company.
Within the offices are bright red Chinese lanterns, corners with tables for tea and wall hangings bearing auspicious Chinese symbols.
There are rows and rows of long tables with dozens of desktops, each manned by a Chinese worker. They are young Chinese men and women, mostly in casual clothes – jeans and shirt – seated side by side.
They are all glued to their desktops, typing an email, responding to a chat or addressing a phone call on their microphones and headphones.
Mobile phones are neatly stacked at the end of every table as their owners are prohibited from using them while on duty.
Any first time visitor might easily think of it as an office in China with rooms filled with Chinese workers.
However, there are also a sizeable number of Filipinos – game developers and I.T. staff, finance and admin personnel, electricians, carpenters, drivers and other maintenance crew – inside the facility. A high-tech surveillance and computer server room is manned by an all-Filipino I.T. team.
The company is just one of 55 licensed Philippine Offshore Gaming Operators (POGOs) in the Philippines. Yet, it already employs thousands of Chinese workers expatriated straight from mainland China.
What are POGOs?
The Philippine Amusement and Gaming Corp. (Pagcor) introduced the POGO system in 2016.
POGOs are offshore gaming firms that facilitate online gaming via the internet. They use networks and software exclusively for authorized players outside the Philippines who have registered and established an online gaming account with the POGO operator.
From each POGO applicant, Pagcor charges application fees of $150,000 for an e-casino and $120,000 for sports betting. License fees, on the other hand, is $200,000 per e-casino and $150,000 for sports betting. A cash bond of $300,000 is also required per licensee.
Only foreigners based in another country are authorized to play, while foreign nationals in the Philippines and Filipinos residing abroad are not allowed to participate in online gaming activities according to POGO rules. This is to discourage or limit gambling among Filipinos especially minors.
Chinese Influx
Chinese workers are critical to POGO operations. They provide backroom support to these entities. Their work is divided into different divisions like marketing, customer service, research and gaming.
Marketers send emails to potential customers to entice them to play different online games, while those in customer service cater to online gambling concerns. The workers serve Chinese companies that cater to Chinese-speaking players from different countries.
There's also an R&D and computer software division which creates new gaming apps or improves existing programs.
Queries from gamers are made through phone calls, online chats or emails. Questions can be as basic as how to play games or why a certain platform or app isn't responding.
Because most players are Chinese-speaking and can't understand English, it's essential for responders and back up support staff to speak and write Mandarin. This explains the growing population of Chinese workers in the Philippines.
While there are no official figures yet, industry estimates indicate that there are now 100,000 to 150,000 Chinese workers in the country.
"If only Filipinos can do this kind of work, our company would be more than happy to hire Filipinos," the Filipino-Chinese manager of the gaming facility told The STAR.
This is not to say that POGOS employ only Chinese workers.
The STAR also visited a studio for a virtual gaming floor and saw rooms filled with gaming tables manned by Filipina card dealers.
One studio has 25 gaming tables employing 150 Filipinas rotating on three shifts for 24/7 broadcasting. There are also some Koreans and Vietnamese targeting specific markets.
The work of the Filipinas is no different from dealers in brick and mortar casinos, except that gaming floors are broadcast live from POGO offices in the Philippines all the way to the computers, mobile phones or gadgets of players based in other countries.
The dealers are mostly attractive young ladies in their 20s who usually don brightly coloured Cheongsams, cherry red lipstick, pompadour hair and heavy make-up. They make an average of P30,000 a month, according to one of the dealers interviewed by The STAR.
"They need to look pleasant to keep players' attention but there's no physical contact since the whole operation happens in cyberspace. Whatever interaction is limited to occasional greetings online," their supervisor said.
Taxing POGOs
POGOS are now at the center of government's tax drive with the Department of Finance (DoF) saying that gaming entities must pay more taxes.
The DoF and the Bureau of Internal Revenue (BIR) are chasing about P32 billion in alleged unpaid income taxes from POGO workers.
This is computed based on an assumed salary of $1,500 per month for each of the estimated 138,000 foreign POGO workers slapped with a 25 percent income tax.
However, the BIR's basis of $1,500 monthly salary allegedly differs from the actual pay of POGO workers.
Minimum wage in China
In a recent report of the Philippine Center for Investigative Journalism, it cited an interview with a Chinese POGO worker.
The worker said his pay amounted to $600 a month as a POGO employee in the Philippines. It could be as high as $2,800, but his employer deducts lodging expenses.
Still, for many young Chinese working in another country like the Philippines, the pay of online gaming workers is a better and more viable option than working in China. Despite its taunted growth, minimum wages in China, especially in the provinces, remain low.
Thus, the pay they receive in the Philippines is much higher -- though way below BIR's estimate of $1,500 monthly salary -- than if they were working in their home country.
Since the highest minimum wage in Shanghai is $348 a month, the $800 to $1,000 monthly salary range of a POGO worker in the Philippines is still two to three times higher.
Chinese provinces set different classes of minimum wage levels for different areas depending on the given region's level of development and cost of living.
In 2018, three of China's wealthiest coastal provinces –Guangdong, Jiangsu and Shandong were among the provinces that increased their minimum wages.
Guangdong, for instance, has surpassed the $287.62 mark for monthly minimum wages, joining the ranks of higher paying cities like Beijing and Shanghai.
At the lowest end, the minimum wage in certain areas of Guangxi province is $143.81 per month. The data was compiled by Dezan Shira & Associates, an advisory company to international corporate investors.
This list only shows why Chinese nationals are choosing the Philippines. While the pay is a far cry from the $1,500 or $2,800 estimate by the DoF and BIR , the $800 to $1,000 monthly salary range of POGO workers are still way better than what they would get as a factory or construction worker back in China.
As part of its mandate, the BIR is determined to run after POGO workers. However, the agency must ensure that its tax computations are based on sound, realistic figures – not mere estimates or conjecture. This is to avoid causing undue harm to a fast growing industry with significant contributions to the country's economic growth.
Fortunately, sober discussions are reportedly underway to resolve the impasse. While government's aim is to collect more income taxes from POGO workers, it must do so while observing the basic tenets of fair play.