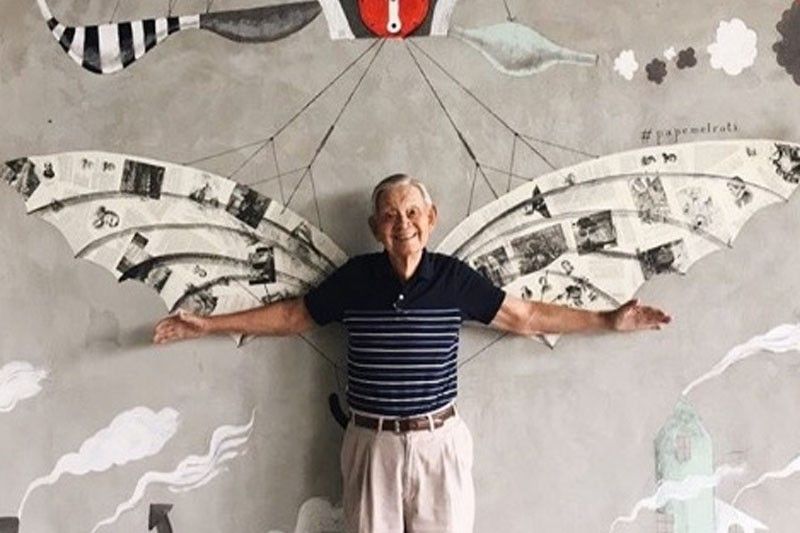 Bienvenido "Benny" Alejandro passed away on Wednesday at the age of 92.
Papemelroti/Instagram
Papemelroti co-founder dies at 92
(Philstar.com) - May 16, 2019 - 5:36pm
MANILA, Philippines — One of the co-founders of Papemelroti, Bienvenido "Benny" Alejandro, passed away on Wednesday. He was 92.
Bienvenido is known to be one of the people behind Papemelroti, a family-run business that offers original eco-friendly arts and crafts, gifts, stationery and home decors. He founded it with his late wife Corit in 1967.
"The papemelroti family sends off our co-founder, our beloved Sir Benny. May he rest in God's eternal peace," the arts and crafts company said on Wednesday.
Benny was survived by his children Patricia, Peggy, Meldi, Robert and Tina, whose names were used for the family business PaPeMelRoTi. The store was initially named "KorBen Gifts" after the first syllables of the Alejandro couple, Corit and Benny before they changed it after their children.
One of his daughters, Patricia Alejandro-Paterno, took to social media to pay tribute for Benny.
"My father lived life to the full. Even when bedridden from his bad back, he was never idle. He was always so busy, researching things on the internet, fiddling around with a new product to sell, solving a problem in his mind, planning his next adventure on the high seas," Alejandro-Paterno wrote.

"I thank God for my father. He taught me that life is an adventure. That it can be amazing if we use all the gifts God has lavished upon us, every last drop, never giving up unless we really had to, even when we are old," she added.
The Alejandro patriarch's wake is at the Loyola Memorial Chapel in Commonwealth, Quezon City, according to Alejandro-Paterno.
— Rosette Adel