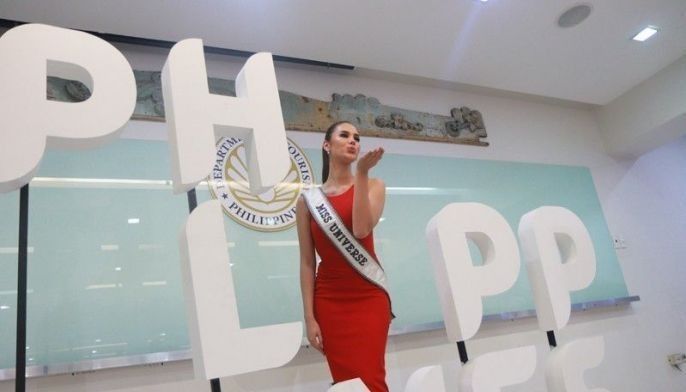 "Then the credit rating agencies like the judges in a beauty contest will be able to sustain their glance and give us a gaze instead," BSP Deputy Governor Guinigundo said.
Philstar.com/Kat Leandicho, file
BSP: Philippines should do 'Catriona swirl' to wow credit raters
MANILA, Philippines — The Philippines should do a "Catriona swirl" in explaining the positive developments in the economy to get the attention of debt watchdogs and investors and to secure a credit upgrade, a central bank official said yesterday.
Bangko Sentral ng Pilipinas Deputy Governor Diwa Guinigundo said there are two keys in getting a credit upgrade namely sustained, focused and persevering pursuit of policy and structural reforms and engagement with credit rating agencies and investors.
With regard to engaging with credit raters and market players, Guinigundo said the government should grab every opportunity to explain what is happening on the ground and to provide updates on the latest economic and financial indicators.
'We have a beautiful narrative'
"We must do a Catriona swirl to be noticed, to be set apart from the rest because indeed, like Catriona, we have something beautiful to show them," Guinigundo told reporters in Malacañang.
"We have a beautiful narrative of how a sub-investment jurisdiction like the Philippines was able to leap frog to an investment grade that is now just one notch away from the 'A' category," he added.
Guinigundo was referring to beauty queen and model Catriona Gray, who bagged the Miss Universe 2018 crown. She became famous for her 'slow-mo twirl' during the pageant's swimsuit competition.
The BSP official made the remark days after credit rater Standard & Poor's upgraded the Philippines' debt rating to BBB+ with a stable outlook, just a step away from the 'A' grade.
Guinigundo said the Philippines has to get the attention of credit raters, noting that hundreds of other jurisdictions are also seeking rating upgrades. He said the meetings organized by the Asian Development Bank meetings, International Monetary Fund, Association of Southeast Asian Nations, and Bank for International Settlements provide opportunities for the government to discuss the country's economic developments.
"Then the credit rating agencies like the judges in a beauty contest will be able to sustain their glance and give us a gaze instead," the BSP official said.
To tell a "beautiful narrative" to credit raters and investors, Guinigundo said the BSP and Department of Finance (DOF) is embarking on an agenda called "The Road to A."
He said the agenda involves the creation of an inter -agency committee that would formalize a road map to articulate and systematize the Philippines' active pursuit of an A level rating.
"Such a road map will evidence the buy-in and commitment of key economic and infrastructure officials to get our efforts properly credited to A before 2022 to help further bring about more benefits to the economic and to our people," Guinigundo said.
'Reforms must continue'
Guinigundo also stressed the need to continue policy and structural reforms to maintain economic growth.
"We reap what we sow. If we pursuie policies that would further strengthen and increase our potential output, including infrastructure and medical health and education, as this government is doing, we shall see economic growth surging with employment opportunities and poverty alleviation," he said.
Such reforms, Guinigundo said, would increase per capita income and would result in more modest price movements, a less volatile peso, an external payments position that is less vulnerable to external shocks, and growth in investments.
"We shall see a virtuous cycle that would emerge in favor of our economy and people," he said.
"Then the credit rating agencies will have no choice but to notice these achievements, give credit to these efforts and further elevate our credit ratings."