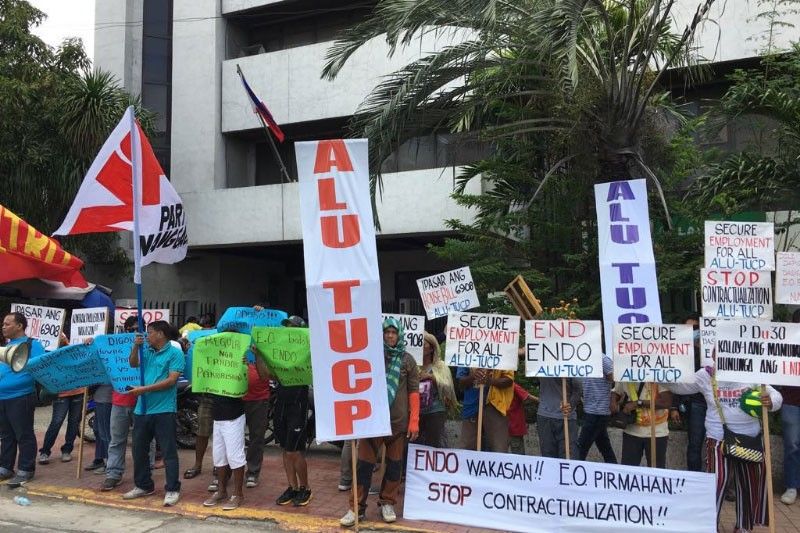 Several labor groups under the umbrella organization Nagkaisa yesterday picketed the offices of the Department of Labor and Employment in key cities of the country to pressure President Rodrigo Duterte into signing the Executive Order to abolish contractualization.
20M workers at risk as security of tenure bill nears own 'endo'
BAGUIO CITY, Philippines — Labor alliance Trade Union Congress of the Philippines is appealing to President Rodrigo Duterte to "lead from the front" for and on behalf of around 20 million contractual workers waiting for passage of the Security of Tenure law.
The law, TUCP believes, will restore regular worker status as the norm in labor relations.
"In order to end 'ENDO' and end the epidemic scale of oppressive contractual work the NAGKAISA labor coalition pleads with our president to lead from the front and prod and call upon our senators to immediately pass the bill," TUCP president Raymond Mendoza said.
ENDO refers to "end of contract", a term originally used for short-term labor contracts that ran shy of six months.
"Should Congress adjourn without acting on the measure, that will spell doom for these workers," he said.
The 17th Congress is holding the last of three regular sessions and will be on a break from February 9 to May 19. It will meet again from May 20 to June 7 before adjourning sine die.
Duterte calls for Congress to pass bill on contractual labor
In his State of the Nation Address last July, Duterte called on Congress to pass a law that would prohibit contractual labor, where workers are hired temporarily and without benefits.
"I add mine to (worker's) voices in asking Congress to pass legislation ending the practice of contractualization once and for all," he said after acknowledging that an executive order he issued emphasizing the prohibition of illegal contractualization of labor could only do so much.
RELATED: Duterte certifies 'end to endo' bill as urgent
The House has already passed a bill that protects the security of tenure of workers and prohibits sub-contracting work. It does not ban contractual labor, which employers' groups say companies need during busier seasons.
A counterpart bill at the Senate remains pending and puts around "20 million workers in precarious jobs" at risk if it is not passed, Mendoza said.
"They are the agency-hired workers, the casuals, the seasonals, the project-based, the contractuals. They are the ones who have sacrificed to 'build,build,build' our 6.1 percent GDP growth even as they tightened belts through the worse inflation spike in nine years."
Mendoza acknowledged that the Department of Labor and Employment has helped get more workers regularized through worksite inspections.
Unofficial estimates of voluntary regularization of employees by their employers and regularization of employees through DOLE workplace inspections is between 350,000 to 400,000 workers.
"This is good work by Secretary [Silvestre III] Bello. But it is still a drop in the bucket. Having a new law will greatly accelerate the process since the new law would say that if all that is being done by an agency is to recruit and deploy workers, that is illegal labor-only contracting, and that is regardless of whether the agency has equipment or capital,"said Mendoza.
"Under the new law, the workers so deployed would then be deemed regular workers of the principal who is the real employer."