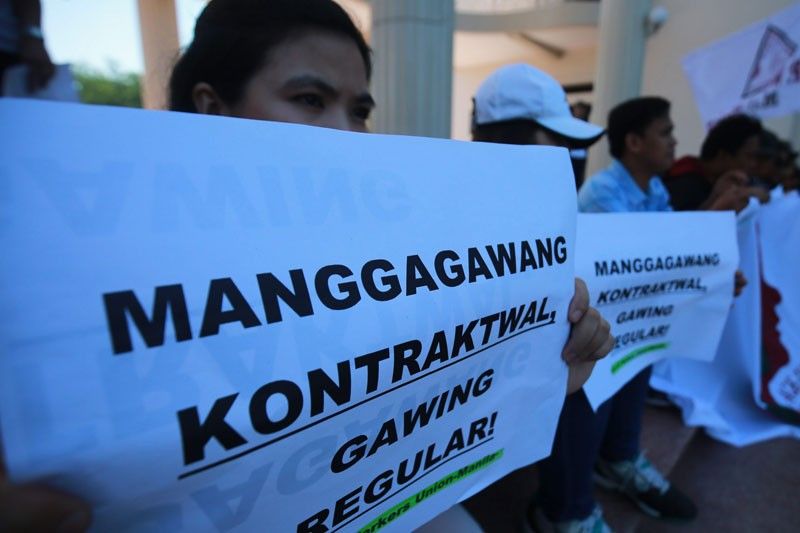 He cited the need to immediately enact Senate Bill 1826, titled "An Act Strengthening Workers Right to Security of Tenure," in a letter to Senate President Vicente Sotto III dated Sept. 21.
Michael Varcas
Duterte certifies 'end to endo' bill as urgent
Alexis Romero
(The Philippine Star) - September 26, 2018 - 12:00am
MANILA, Philippines — MANILA, Philippines — President Duterte has certified as urgent a bill that seeks to prohibit contractualization and labor-only contracting, practices that he said are causing poverty and underemployment in the country.
He cited the need to immediately enact Senate Bill 1826, titled "An Act Strengthening Workers Right to Security of Tenure," in a letter to Senate President Vicente Sotto III dated Sept. 21.
The President said the measure would strengthen workers' security of tenure by prohibiting the "prevalent" practices of contractualization and labor-only contracting, describing these as something that "continue to immerse our workers in a quagmire of poverty and underemployment."
"It is now certified urgent by the President, in line with his promise to put an end to endo (end of contract)," presidential spokesman Harry Roque said at a press briefing yesterday.
When the president certifies a bill as urgent, it will not be covered by the rule which states that a measure can only be approved on final reading three days after its approval on second reading.
The House of Representatives approved its version of the bill last January.
Roque said the Senate version aims to bar all forms of labor-only contracting and does not exempt contractors with huge capital.
Under the bill, there is labor-only contracting if the job contractor, whether licensed or not, merely recruits, supplies or places workers to a contractee, whether he has substantial capital or investment.
If the bill is enacted, companies would have to hire employees directly and could no longer source workers from employment agencies.
"This effectively repeals the provision of the Labor Code that permits labor-only contracting as long as the company has enough capital and assets," Roque said.
Labor groups are becoming more optimistic that the country is closer to ending illegal short-term employment.
"We are near the goal. It's closer than it has ever been, but we still have some work to do. The Senate has been given a directive to craft a law that will end contractualization. We must see this through and ensure that the proposed measure shall address the weaknesses of existing laws on security of tenure," said labor coalition Nagkaisa chairman Sonny Matula.
He said the workers' campaign to eradicate the endo scheme and other illegal forms of contractualization got a big push after Duterte certified the security of tenure bill as urgent.
"Labor's persistence has so far paid off. Our relentless efforts have shown dividends. After more than two years, the Duterte administration has finally made a big step towards the fulfillment of a campaign promise," Matula noted.
To ensure that legislators act on the certification, he said labor groups would mount more rallies to ask the lawmakers to pass the bill at the soonest time.?"With the election season fast approaching, the Senate and House of Representatives, voting separately, are under pressure to ratify the harmonized version and submit the law for the President's enactment," Matula said. ?The Associated Labor Unions-Trade Union Congress of the Philippines (ALU-TUCP) also lauded Duterte for certifying as urgent the security of tenure (SOT) bill, which was already approved by Congress on third reading.
Gerard Seno, ALU-TUCP national executive vice president, said the certification of the SOT bill is definitely a positive vibe to workers whose morale has been low due to rising cost of living.?"We pray that it will be passed by Congress consistent with the presidential promise instead of being watered down by the corporate vested interests which are overrepresented in Congress," he said.?TUCP party-list Rep. Raymond Mendoza said the certification from the President is an early Christmas gift for workers who continue to struggle in making both ends meet.
Labor Secretary Silvestre Bello III claimed that DOLE has long recommended the need to certify the SOT bill as urgent.
"We are now looking forward to the better implementation of regulation ensuring security of tenure of workers with the expected passage of the SOT bill," he said.?Labor Undersecretary Joel Maglunsod hopes that the bill will be passed by November, if not early next year. – With Mayen Jaymalin