Duterte calls on Congress to end labor contractualization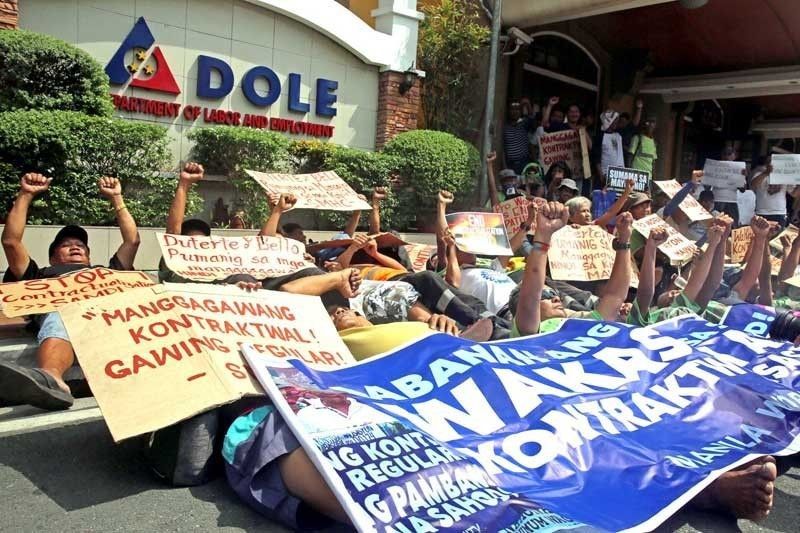 MANILA, Philippines — President Rodrigo Duterte on Monday urged Congress to pass a law prohibiting labor contractualization as he admitted that his executive order on security of tenure could not address all workers' issues.
Duterte admitted he does not have the power to enforce a total ban on contractualization.
"Read my lips, I understand that this does not satisfy all sectors. I share their sentiment; I truly do. Much as I would like to do the impossible, that power is not vested upon me by the Constitution," he said.
"Neither will I make both ends meet even if I violate the laws to achieve that purpose. Simply, it is not part of my territory," he also said.
"That is why I add mine to their voices in asking Congress to pass legislation ending the practice of contractualization once and for all," he added.
Duterte claimed that his campaign against end of contract or 'endo' has led to the regularization of more than 300,000 workers as of early this month.
Prohibiting 'endo' is one of the campaign promises of Duterte, who won the 2016 presidential polls by a landslide.
Putting an end to "endo" was among Duterte's campaign promises. "Endo", from "end of contract", initially referred to the practice of short-term contracts short of the six months that would make a worker a regular employee with benefits. It has since been expanded to include contractual labor in general, which, IBON think tank contributes to "the prevalence of jobs that are insecure, low-paying, and lacking in benefits."
In April, presidential spokesperson Harry Roque proclaimed that "the president had fulfilled his election promise to do away with '555 endo'" but that further action would be up to Congress.
The House has already passed a bill that protects the security of tenure of workers and prohibits sub-contracting work. It does not ban contractual labor, which employers' groups say companies need during busier seasons.
"It is impractical and costly for the enterprise to maintain workers beyond what it needs, operating in a highly competitive trade environment that requires just-in-time production," Employers Confederation of the Philippines acting president Ortiz-Luis said in June.
Last May, Duterte signed EO No. 51 prohibiting labor contracting or subcontracting "when undertaken to circumvent the worker's rights to security of tenure, self-organization, and collective bargaining and peaceful concerted activities pursuant to the 1987 Philippine Constitution."
Some labor groups were not satisfied with the order, noting that the provisions on labor-only contracting are already in the Labor Code.
Duterte stressed that his government is working to improve the lives of Filipinos
"As a worker of government, I promised to do whatever it would take to give all Filipinos a comfortable life, fighting powerful interests and making sacrifices. My obligation is to promote and uphold the greatest good, for the greatest number," he added. — Alexis Romero