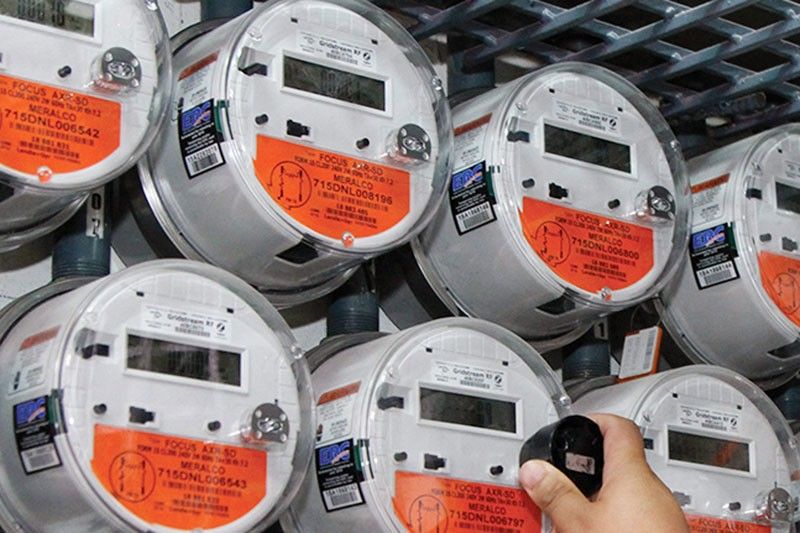 Meralco started rolling out smart meters in 2015 and has shown strong demand for the shift to prepaid meters.
File
Regulatory lag slows down Meralco's smart metering system
MANILA, Philippines — The adoption of smart meters within the franchise of Manila Electric Co. (Meralco) has slowed due to regulatory lag.
Meralco started rolling out smart meters in 2015 and has shown strong demand for the shift to prepaid meters.
It then set a target of 3.3 million smart meters by 2024 in a bid to transform its network into a smart grid.
However, the power distributor has only breached the 100,000 level in terms of smart meter installations out of the 140,000 meters approved by the regulator, Meralco senior vice president Alfredo Panlilio said.
"We intend to finish up the 40,000 this year," he said.
The Energy Regulatory Commission (ERC) is still working on the details of the rules for Meralco's advanced metering infrastructure (AMI) project.
"I think the first step we need is to finalize the AMI business rules, once they've finalized that, they should approve our filings on the meters," Panlilio said.
The AMI rules cover not only prepaid meters but also postpaid smart meters, the Meralco official added.
AMI is an integrated system of smart meters, communications networks and data management systems that enable two-way communication between utilities and customers.
The system will enable Meralco to determine what is happening in its electric grid, quickly respond to events, and restore power swiftly, thereby improving overall operational efficiency.
It will also allow customers to efficiently manage their energy usage and budget through consumption information, alerts and notifications.
"With smart meters, consumers will be able to see their daily consumption and we are also developing an app for that," Panlilio said.
While Meralco is awaiting the ERC's approval on the AMI rules, it hopes to fully roll out the 145,000 approved meters within the year.
The prepaid meter system allows customers to monitor their electricity consumption, allowing them to budget their consumption and expenses. It will also enable them to monitor their electricity consumption as it happens.
Based on Meralco's consumer research, customers who shifted from postpaid to prepaid are able to effectively monitor their consumption daily via SMS and as a result, they can save an average of 20 percent on electricity consumption, translating to total savings of around P300 per customer.