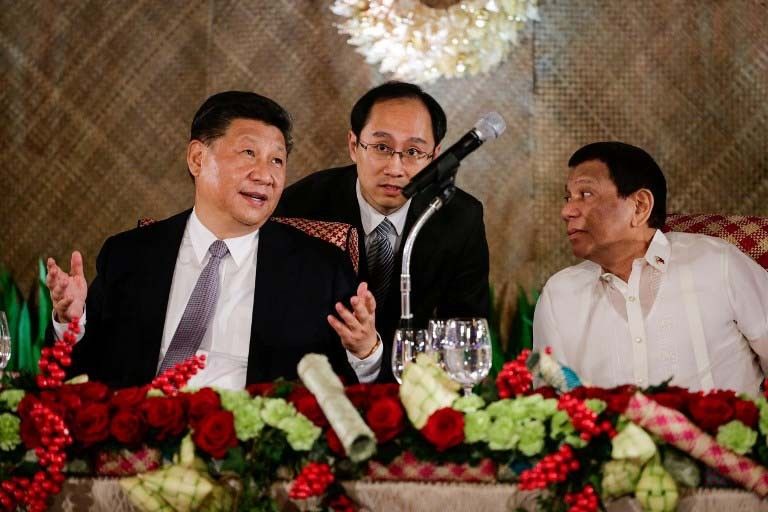 Chinese President Xi Jinping (L) gestures as Philippines' President Rodrigo Duterte (R) looks on during a state banquet at the Malacanang Presidential Palace in Manila on November 20, 2018. Chinese President Xi Jinping called his visit on November 20 to long-time US ally the Philippines a "milestone", as he aimed to boost blossoming ties on the promise of billions of dollars in backing for mega-projects.
Pool/AFP/Mark R. Cristino
Fitch: Warmer ties with China a boost to Philippines' construction industry
MANILA, Philippines — Increased Chinese involvement in Philippine infrastructure projects would be supportive of the country's construction industry, a Fitch Group unit said, as President Rodrigo Duterte cozies up to China in a bid to secure billions of dollars in backing for mega-projects.
Duterte plans to spend trillions of peso to bridge the Philippines' infrastructure gap, and to do that he sought Beijing and other countries' help for funding to reduce strain on his government's budget.
Last month, 29 bilateral deals were signed in the presence of Duterte and visiting Chinese President Xi Jinping, including new plans for increased infrastructure investments and a preliminary agreement to cooperate on oil and gas exploration in the disputed South China Sea.
In a commentary sent to reporters on Friday, Fitch Solutions Macro Research said the Philippines' construction sector is "in pole position" to benefit from agreements signed between the two leaders.
Citing heightened Chinese participation in Philippine infrastructure projects, Fitch Solutions raised its forecast for the Southeast Asian nation's construction sector, which is now seen achieving an average real growth of 9.0 percent from 2019 to 2027, up from 8.8 percent previously.
"Riding on the positive momentum of improving ties between the Philippines and China, we anticipate Chinese companies to play a greater role in rail and road projects," the Fitch unit said.
"We note that the largest foreign investors in the road and rail sector currently are the United States and Japan, and China has little involvement in these sectors," it added.
About half of the 75 big-ticket infrastructure projects under Duterte's "Build, Build, Build" program are to be bankrolled through Chinese loans and grants.
But some analysts believe Xi's Manila visit last November did not yield material gains for the Philippines, saying the deals signed were in broad strokes and vague.
Duterte's management of the South China Sea dispute has frustrated nationalists, who criticized his seeming inaction towards Beijing's military buildup in the contested waters, part of which is the West Philippine Sea.
A few hours before Xi landed on Philippine soil, an opinion poll was released showing 84 percent of Filipinos protesting the government's apparent neglect of the country's sovereign rights to resources in the disputed sea.
In the same commentary, Fitch Solutions said Duterte's pivot towards China exposes his nation's construction industry to "some degree of downside risk," noting the historical tensions between the two countries.
"The South China Sea dispute will continue to pose a downside risk as projects can potentially be suspended or cancelled if tension between the two nations escalate," it said.
"Such a risk will be amplified once the leadership transition takes place during the 2022 Philippine presidential election, where the current President Rodrigo Duterte is expected to step down," it added.