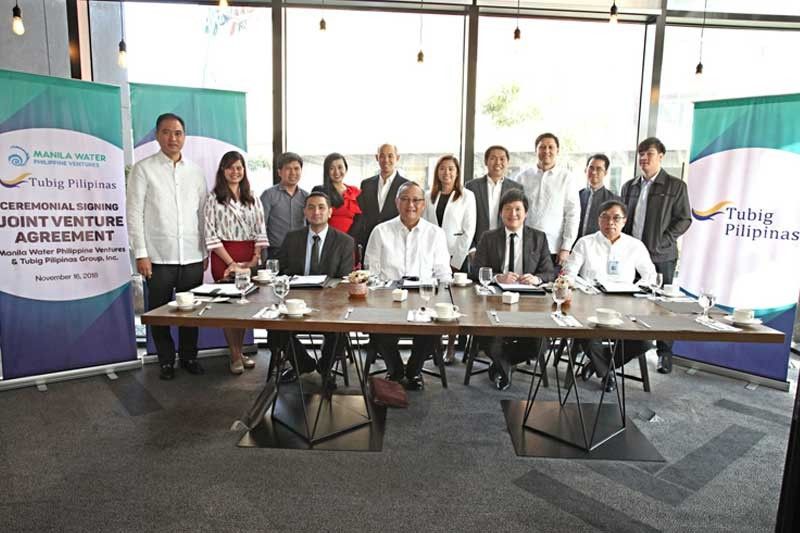 In photo are (seated, from left) TGPI chief operating officer Conrad Belisario; Manila Water Philippine Ventures president and CEO Virgilio Rivera Jr; TGPI president Ryan Yapkianwee; Filipinas Water president Abelardo Basilio; with Manila Water Co. Inc. president and CEO Ferdinand dela Cruz (standing); and the rest of Manila Water Philippine Ventures North Luzon Regional Business Development team headed by Robert Baffrey (8th standing).
Manila Water signs joint venture for Isabela, Pangasinan water projects
MANILA, Philippines — Manila Water Co. Inc. has signed two joint venture agreement (JVA) to provide water services in Isabela and Pangasinan.
In a disclosure to the Philippine Stock Exchange, the company said its wholly-owned subsidiary Manila Water Philippine Ventures (MWPV) signed an agreement with Tubig Pilipinas Group Inc. to provide waters services in the municipality of Malasiqui, Pangasinan.
The two companies shall incorporate a joint venture company (JVC) to implement the project.
Under the JVA, MPWV and TPGI shall own 50 percent each.
The initial subscribed and paid-up capital of the JVC is P35 million and P8.75 million, respectively, with each party subscribing to P17.5 million worth of shares.
The project will be implemented over a 25-year period.
In a separate disclosure, Manila Water said MWPV entered into a partnership with the City of Ilagan Water District (CIWD) to develop, operate and maintain bulk water supply in Ilagan City, Isabela.
Under the JVA, FWHC and CIWD shall own 90 percent and 10 percent, respectively of the JVC.