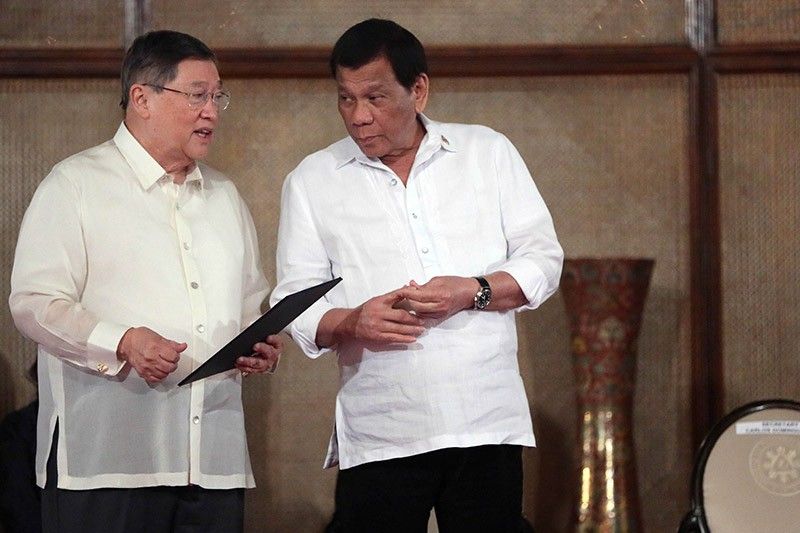 President Rodrigo Duterte talks to Finance Secretary Carlos Dominguez III during the Government Owned and Controlled Corporation Day at the Rizal Hall in Malacañang Palace on Wednesday, Aug. 15, 2018.
The STAR/KJ Rosales
Gov't likely to miss economic growth target in 2018 — Dominguez
(Philstar.com) - September 3, 2018 - 8:13pm
MANILA, Philippines — The Philippine economy would grow faster this year, but would miss the government's target, Finance Secretary Carlos Dominguez III said.
"I think we will still be close to 6.8 percent this year," Dominguez told in an interview with credit rater Fitch Ratings last August 18. Link to the recorded interview was sent to reporters on Monday.
While Dominguez's forecast would be faster than the 6.7 percent recorded last year, if realized, it would fall below the Duterte administration's 7-8 percent goal for 2018.
The slowdown in the economy was already evident in the second quarter, when gross domestic product growth slowed to 6 percent, the slowest in three years.
While he did not specifically point to a reason why the target would not be met, Dominguez said higher interest rates, used to temper inflation running at a nine-year high in July, could affect growth "a bit."
"It's not yet growth-threatening," he clarified.
The finance chief, however, said that the economy is doing "so far, so good" and that he expects the government's "Build, Build, Build" infrastructure program to support it over the near-term.
"We are really moving quite well in our infrastructure program," Dominguez said, adding that President Rodrigo Duterte himself is "really on top" of the economy.
"We are managing this very intensely," he added.
Dominguez said "roadblocks" to infrastructure projects financed by development partners like China and Japan are being addressed. The interview was taped before Philippine officials visited China recently.
The visit, Dominguez earlier said, was meant to address delays in the projects to be financed by Beijing such as co-financing terms with other multilateral lenders.
In addition, he said in the interview that the government is also solving right-of-way issues "very intently" as well as project budgetary requirements.
Aside from the infrastructure program, Dominguez also pointed to rising foreign direct investments as a reason for faster growth. After hitting a record high of $10 billion in 2017, FDI posted a net inflow of $4.847 billion in May, up 49 percent year-on-year
He said this indicates that President Rodrigo Duterte's deadly war on drugs has not deterred investor interest.
"People are investing here... As I said, we just look at the numbers. Of course, the newspapers and the media, in one way, especially from the West, are quite critical. But if you look at our citizens, they feel a lot safer than they were, they see that there are less drugs...," he said.
Externally, the Philippines may also be affected by the escalating trade war between the US and China.
"If these trade issues don't get resolved in a way that is sensible, in the long run, we will be affected by it. In the short run though, steel prices will soften because the markets in the US will basically close. and since we are spending a lot on infrastructure, that should benefit us," the finance chief explained.
"We are hopeful that in the medium term, there will be a good settlement of these trade issues that are happening," he added.