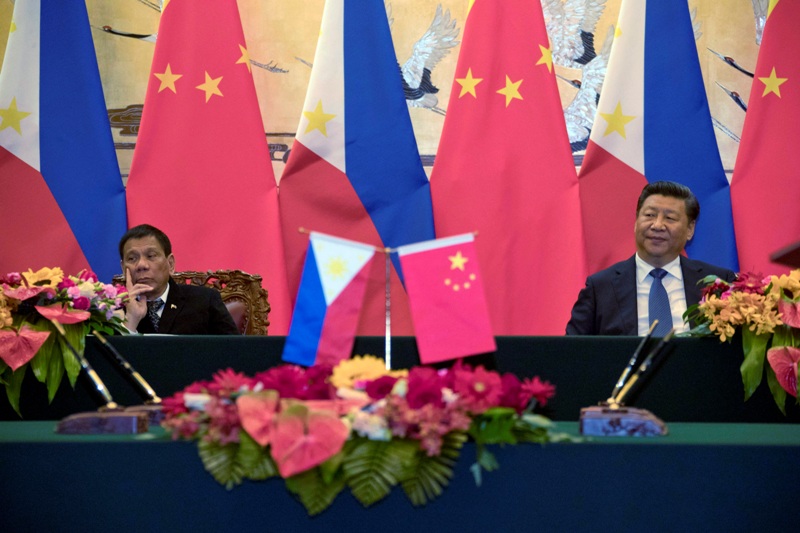 Philippine President Rodrigo Duterte, left, and Chinese President Xi Jinping attend a signing ceremony in Beijing, China, Thursday, Oct. 20, 2016.
AP/Ng Han Guan, Pool
Chinese aid sought for feasibility studies on 12 infra projects
(Philstar.com) - August 31, 2018 - 4:05pm
MANILA, Philippines — The Philippine government has submitted an indicative list of 12 big-ticket infrastructure projects to a newly established Chinese aid agency for feasibility studies, the Department of Finance said Friday.
The DOF also said China International Development Cooperation Agency, or CIDCA, agreed to provide a $13.4-million grant to fund the feasibility study of the proposed bridge project that will link the islands of Panay, Guimaras and Negros in the Visayas.
According to the National Economic and Development Authority, a feasibility study refers to the culmination of all preparatory work that provides a comprehensive review of all aspects of the project before a final decision about its viability is taken.
Completion of a feasibility study does not mean the project will be approved.
Philippine officials struck this deal with CIDCA during a meeting in Beijing last week. At a forum last Tuesday, Finance Secretary Carlos Dominguez said "roadblocks" on the flow of Chinese aid had been resolved already.
The 12 flagship projects in the indicative list are:
The future phases of the Mindanao Railway Project,
Luzon-Samar (Matnog-Alen) Bridge
Dinagat (Leyte)-Surigao Link Bridge
Camarines Sur-Catanduanes Friendship Bridge
Development of the Luzon Eastern Seaboard
Bohol-Leyte Link Bridge
Cebu-Bohol Link Bridge
Negros-Cebu Link Bridge
Ipo Dam No.3
Port Irene Development-Navigational Channel
Cabadbaran Small Reservoir Irrigation Project
The River Basin and Watershed Management Project in Camarines Sur
President Rodrigo Duterte has vowed to upgrade the country's dilapidated and aging infrastructure through his administration's P8-9 trillion "Build, Build, Build" program. He has courted regional rivals China and Japan to help foot the bill for the construction boom.
Despite Duterte's warm relations with China, the Philippines has a long history of mistrust of it as the two countries continue to spar over the resource-rich South China Sea.
CIDCA is China's new organization responsible for administering foreign aid and development assistance to other countries.
Following the meeting with CIDCA, the DOF said the Philippine delegation also met with Export-Import Bank of China to discuss loan financing and co-financing arrangements for the Philippines' infrastructure projects.
As a follow up to the high-level meetings last week, Chinese President Xi Jinping is set to visit the Philippines in November 2018. At least 10 infrastructure funding deals with China are expected to be formalized during Xi's trip to Manila. — Ian Nicolas Cigaral