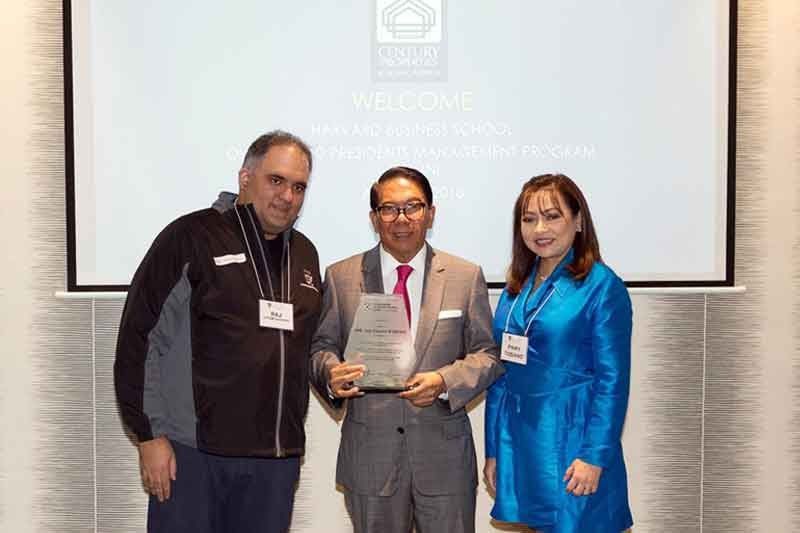 Rajan Uttamchandani and Pinky Tobiano Robles flank Century Properties chairman Jose Antonio who received a plaque of appreciation for serving as the featured speaker of the Harvard Business School Owners and Presidents Management Program Philippine Alumni roundtable discussion last Aug. 7.
Century Properties founder sees growing opportunities from expanded middle class
(The Philippine Star) - August 11, 2018 - 12:00am
MANILA, Philippines — In 2020, emerging markets globally will have an expanded middle-class segment of close to two billion people – a powerful source of world GDP which also provides well-established and young businesses new market opportunities.
At a recent roundtable discussion at Trump Tower Philippines in Makati – the largest gathering to date of Filipino business leaders who attended the Harvard Business School Owners and Presidents Management Program (OPM) – lead speaker, Harvard OPM alumnus and Century Properties chairman Jose E.B. Antonio said that Philippine businesses should take advantage of the tremendous growth of the middle class locally and overseas.
Antonio emphasized that Philippine businesses must address the needs of the country's new middle class, especially in the areas of real estate, agriculture and tourism. "The middle-class market is growing because of OFW remittances and the increase in people's purchasing power. This set of new customers is now dictating the direction of the bulk of spending in real estate," he said.
The former stockbroker, who founded Century Properties with five employees in 1986, seven days before the People Power Revolution, also mentored the younger OPM alumni by sharing Century's six core business philosophies. He underscored the values of focusing on the customer, delivering a lights-out customer experience, execution with a moonshot mindset, building for quality, adapting industry best practices, and combining skills and knowledge with wisdom and experience.
His son, Marco Antonio, currently chief operating officer at Century Properties, also shared insights with the OPM alumni on how the company has worked effectively with global brands such as Trump, Versace Home, MissoniHome, Armani Casa, yoo inspired by Starck and Paris Hilton, among others, to enhance the value of its projects and attract different market niches.
The Harvard OPM alumni roundtable is held throughout the year to share valuable business insights and network with seasoned and young entrepreneurs.