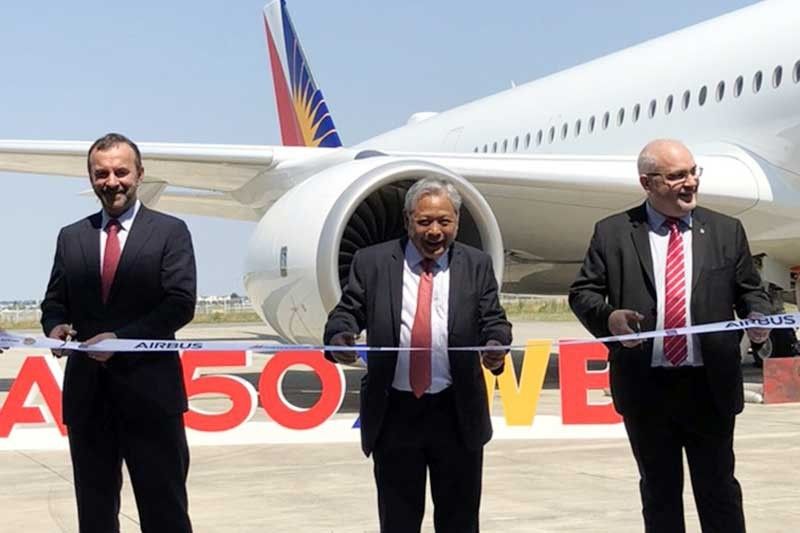 PAL TAKES DELIVERY OF AIRBUS A350-900: A ribbon cutting ceremony was held in Blagnac Airbus Delivery Center in Toulouse, France marking the delivery of the first Airbus A350-900 jet of Philippine Airlines. Shown in photo are (from left) Airbus Asia executive vice president Jean Francois Laval, PAL president and chief operating officer Jaime Bautista and Airbus senior vice president and Rolls Royce site director Christophe Molus.
PAL eyeing new routes to US, Europe next year
TOULOUSE – Philippine Airlines, the country's flag carrier, may open new routes to Europe and the US, officials said here on the sidelines of the delivery ceremonies for PAL's first of six new Airbus A350-900.
PAL is acquiring six new A350s, some of which may be used for the new routes. It also has the option to acquire an additional six more A350s – which may include the A350-1000 – from 2019 to 2020.
In Europe, the Lucio Tan-owned airline is exploring the possibility of flying to Paris and Rome as it hopes to hitch a ride on the growing tourism market between Manila and Europe and to cater to the continuously growing number of overseas Filipino workers.
In the US, PAL is also looking at opening possible routes to Seattle and Chicago within the next 12 months.
PAL president and chief operating officer Jaime Bautista said the new routes in Europe would open one at a time.
"It would depend on the slots," Bautista told The STAR.
For Rome, PAL would be targeting the overseas Filipinos as well as Catholic pilgrims who want to visit the Vatican.
The Manila-Paris route, meanwhile, can cater to Filipino travelers to Europe and the mainstream French market, Bautista said.
But Bautista said the company is still looking at these two routes to Europe, stressing that nothing is final yet.
PAL senior vice president for strategic planning Angelito Alvarez said the two new routes may be opened as early as next year, depending on the available slots in the targeted markets.
"We're looking at Paris and Rome. There is a market…It can be in 2019," Alvarez told The STAR.
Originally, PAL was looking at opening a Manila-to-Amsterdam route, but there were no slots available.
They are also keeping an eye on Brussels, he said.
Any additional route between Manila and Europe will be a welcome addition to PAL's Manila-to-United Kingdom routes.
New routes to the US would also complement PAL's flights to the US which include Manila-New York and Manila-Los Angeles.
PAL has accepted delivery of its first of six Airbus A350 aircraft orders in special ceremonies held here at the Airbus Delivery Center on Saturday.
Bautista said the A350 is the new flagship of the airline's long-haul operations.
"I am proud and happy to welcome the Airbus A350 fleet to the PAL family. The aircraft is a game changer in the industry with their greater range, lower fuel burn emissions and lower operating costs. This aircraft utilizes advanced technology and top-notch design for improved operational performance and will be assigned to premium routes and will thus address the need for comfort, convenience and efficiency," he said.
For his part, Airbus chief operating officer Eric Schulz cited "the strong working partnership between Philippine Airlines and Airbus through the years" as he emphasized "the all – new efficient design which includes the latest technologies improving operational performance burning 25 percent less fuel and generating 25 percent less CO2 emissions."
The A350's range and efficiency are the result of its all-new design and state of the art technology, starting with the aircraft's advanced Rolls Royce Trent XWB engine. The A350 can fly up to 8,000 nautical miles or 14,800 kilometers and boasts of a quieter cabin up to four times less noise, making it the quietest twin-aisle aircraft to date.
Four A350s are to be delivered this year and the other two are slated for delivery in mid-2019.
Philippine Airlines flights to the US and Europe will get a major boost, as the A350 will be deployed on the nonstop Manila-New York JFK and Manila-London Heathrow routes by the end of October 2018.