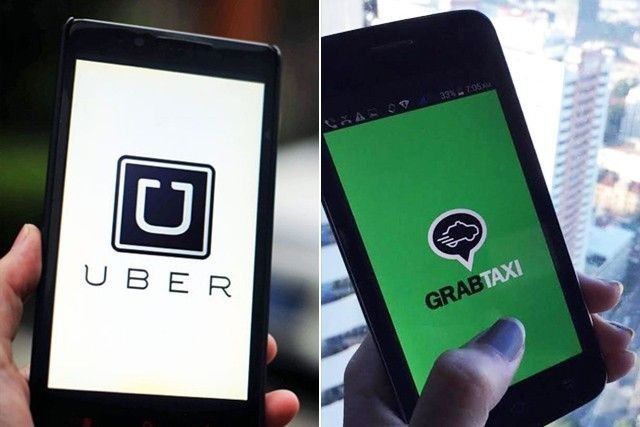 The Philippine Competition Commission said that it would scrutinize Grab's planned acquisition of Uber as this could result in a virtual monopoly of the market. File
Commission to look into 'far-reaching impact' of Grab-Uber deal
MANILA, Philippines — The Philippines anti-monopoly agency on Monday said it will review if Uber's sale of its business to rival Grab would lessen competition, a move that follows scrutiny by counterpart offices in other Southeast Asian nations.
According to the Philippine Competition Commission, Grab's acquisition of Uber would have a "far-reaching impact" on the country's riding public and transportation services.
"A merger or acquisition review using competition lens will determine whether the merger of two players in the ride-sharing market will substantially lessen competition," the commission said in a statement.
Specifically, the PCC said that it would probe into whether the deal would result in price increases, deterioration of ride-sharing services, fewer options for passengers and would hinder the possible entry of other transport network companies into the market.
If approved, the deal will leave Grab with a virtual monopoly of the market although the Land Transportation Franchising and Regulatory Board have said that at least three companies are interested in entering the market.
"The Grab-Uber acquisition is likely to have a far-reaching impact on the riding public and the transportation services. As such, the PCC is looking at the deal closely," PCC said.
Uber's decision to sell its Southeast Asia business is part of its strategy to stanch its losses and provide it with financial muscle to compete in other markets.
However, the decision of the PCC could pose a risk to Uber's strategy.
Grab and Uber would not be allowed to finalize the deal without PCC approval if the transaction is notifiable — or above the P2-billion threshold.
However, the PCC said the two parties should allow a voluntary review before signing the deal to minimize issues if anti-competition concerns were eventually discovered.
The PCC met with the representatives of Grab and Uber on Monday, the statement said.
"Should anti-competitive concerns arise out of the transaction review, the parties may propose commitments to remedy, mitigate, or prevent the negative effects to competition in the market after the acquisition," the PCC said.
If the two parties would not submit themselves voluntarily, the PCC could launch a review or file a case that would disentangle them or block the deal.
"PCC is committed to ensuring that Grab's acquisition of Uber in the Philippines will not harm the interest of the riding public," it said.
Aside from the Philippines, Malaysia and Singapore are also reviewing the deal on similar anti-competition concerns.